Director, Nick Bloxham, operates a very successful plant hire company, J Matthews Plant Hire, based in Norton Heath Essex. The company has been supplying the building, construction and civil engineering industries for over 50 years with equipment from the company's large fleet of well-maintained machines.
We caught up with Nick to talk about his latest purchase of seven compact Hyundai 1700kg R17-9A machines from local Hyundai dealer, Ernest Doe, based in Ulting, Essex.
Nick explained "J Matthews Plant Hire was established in 1962 and was a customer of Ernest Doe. I bought the business in 2017 and we remained Doe customers as they had an excellent reputation.
Nigel Booley is our salesman from Doe's and I was in the market for some new mini's to cope with the hire demands. Nigel convinced me that I should try the Hyundai mini and there was availability, where other brands had little or no stock and ridiculously long lead-times. So, I guess Nigel caught me on a good day – but I am more than happy with the machines – I have since ordered two more – taking the order up to seven machines in total."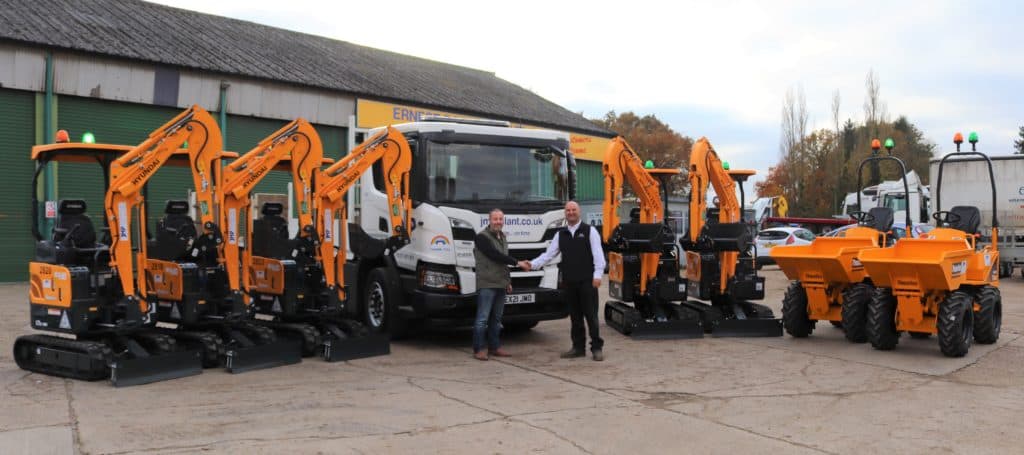 The R17Z-9A's boom swing function is designed for efficient work in congested residential and urban areas. The boom can be offset left or right within an operating range. The machine is also zero-tail swing which allows the operator greater flexibility when working in narrow urban areas from an alley and indoor to residential and small gardens.
It also has a heavy counterweight for stability, which is important in a small machine, the tracks also expand from 770mm to 1320mm again for stability, but also for access into small gaps and basements. It also benefits from a high lift dozer blade for clearing kerbs and operators can also raise the tracks.
The machines are powered by a Kubota D902 engine, which is the most compact multi-cylinder liquid cooled industrial diesel engines that comply with EPA Stage IV Emission regulations without additional After Treatment Tools.
Nick continued, "They are good performers and I have had no complaints – they are out on hire on a demolition job in London. These 1.7 tonne machines are very popular in the demolition sector as they are very compact and can get inside buildings. They are also hired out on self-drive to construction, utilities and housebuilding contractors."