Ernest Doe donated "The Ernest Doe Driving Experience Day" for three teams of five people at a recent Construction Industry charity auction. Rydon Homes, Day Group and GRS Building Products Ltd all raised their hands as winning bidders for this special one-off event held on 2nd and 3rd November.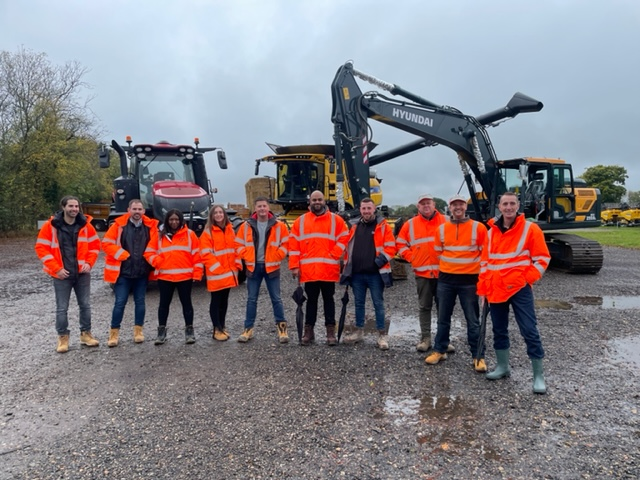 The day started with a short presentation at the Ulting headquarters of the 124-year-old family business by Colin Doe, Chairman. This was followed by the main part of the day, driving a £600,000 top of the range New Holland Combine Harvester, a New Holland Telehandler, a Case IH Magnum tractor, a Hyundai LC210 excavator, a New Holland T7 tractor and a Hyundai mini digger. Holes were dug, trailers reversed, pallets loaded and there was a dexterity competition with a mini digger to really put the participants to the test! All this was finished off with a 3-course meal in the boardroom cooked by the chairman's wife, Janet.
Although the visiting guests were primarily from the construction industry the digger and tractor driving was a first-time experience for many of them.
The Driving Experience Day was auctioned at a charity gala dinner, celebrating the completion of 'Ziggurat', an annual bike ride undertaken in September by the construction and built environment industry. 90 riders completed a 312 mile four-day ride from Epsom Downs Racecourse to Reims Cathedral in the Champagne region of France, raising over £230,000 for Action Medical, supporting medical research for sick babies and children.