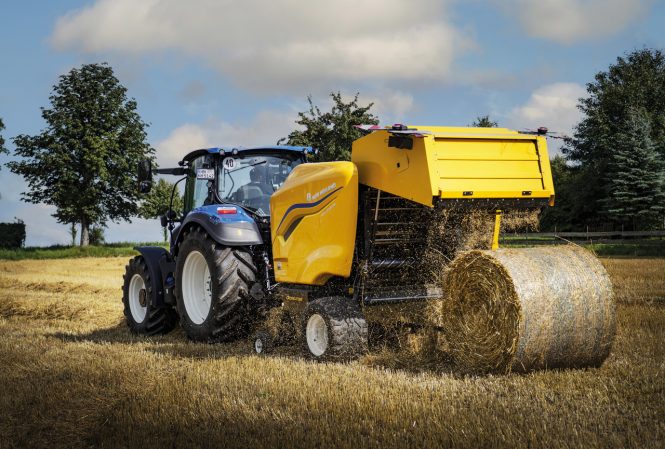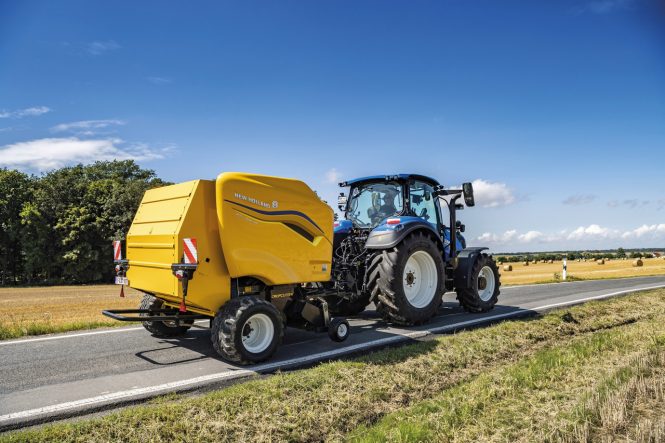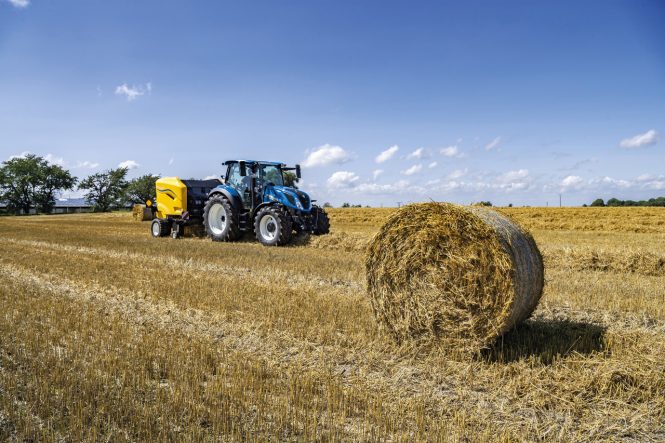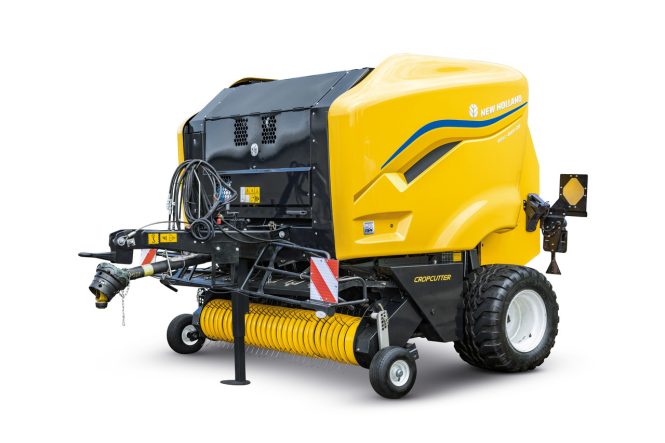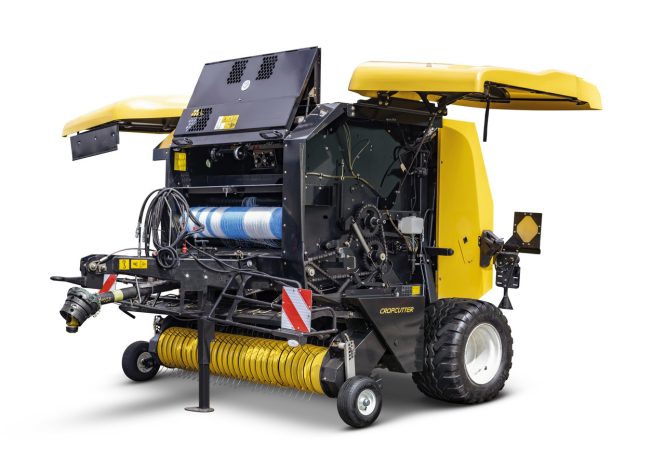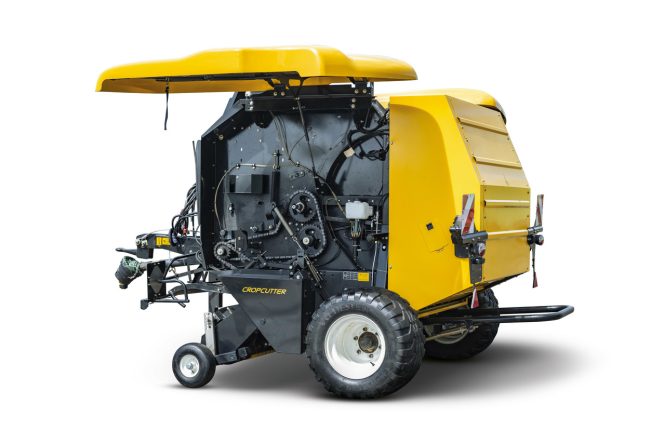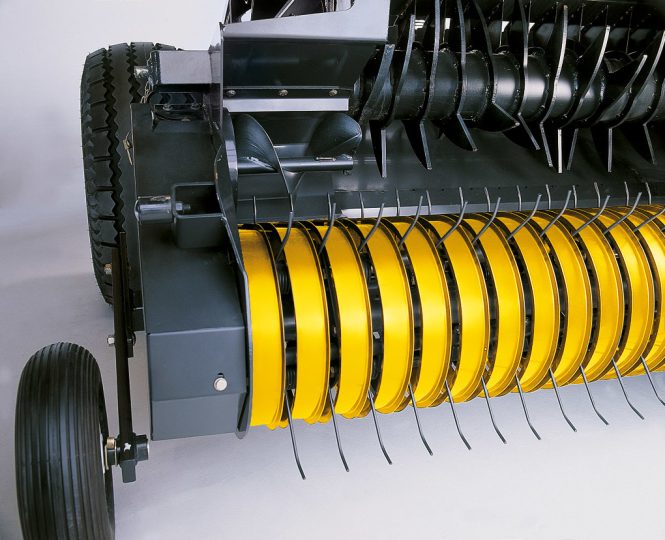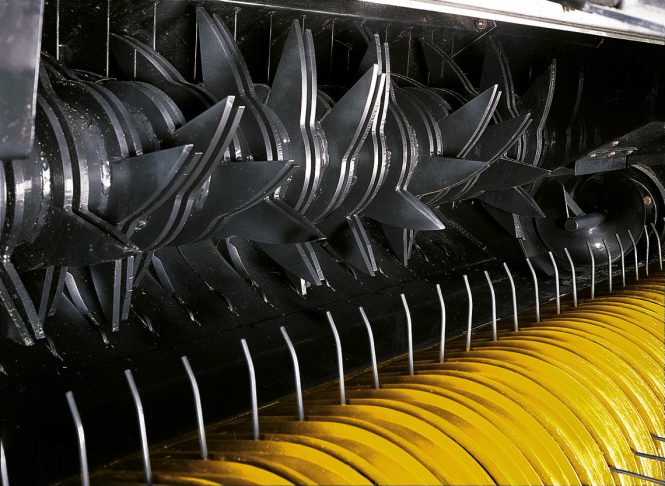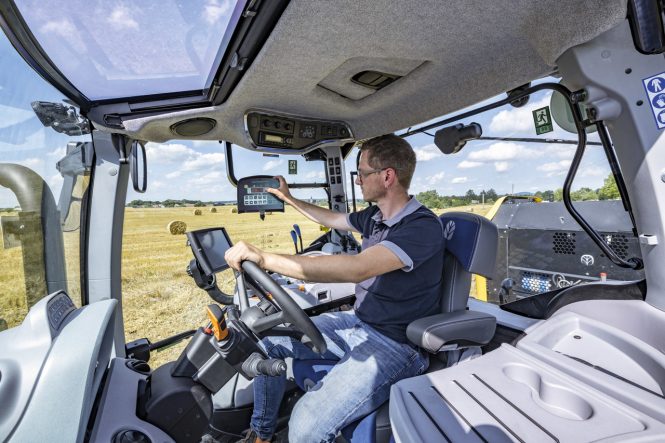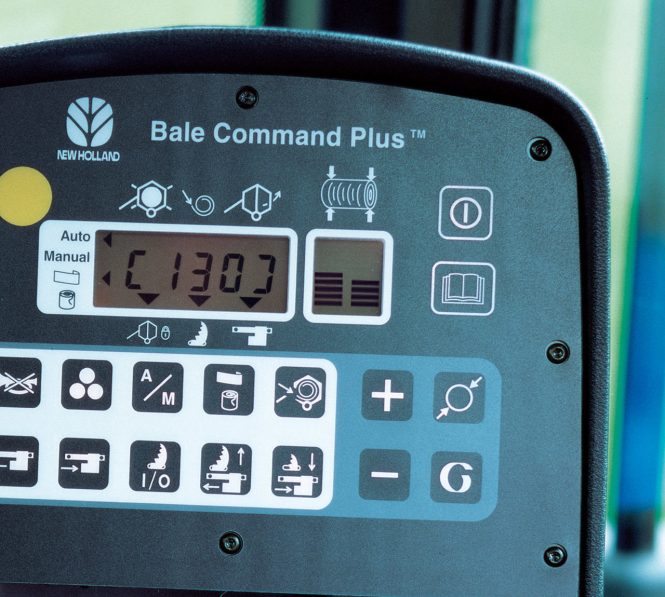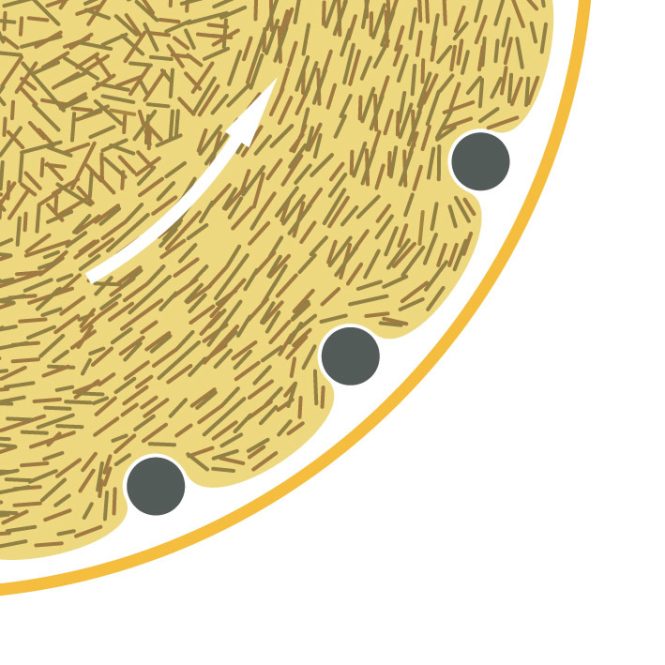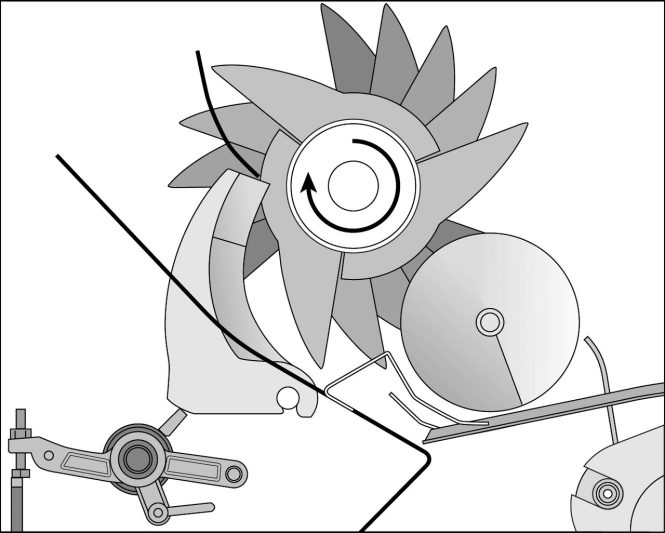 New Holland Roll-Bar 125
MODERN STYLING. PROVEN SIMPLICITY.
The new Roll-Bar™ 125 fixed chamber baler produces a bale of 1.25m diameter and is built on the strong heritage and DNA of the best selling BR6000 range. The proven characteristics of simple reliable drive-lines, easy maintenance and high crop flexibility have been improved and enhanced to meet the needs of today's farming operations. Modern side shields give the Roll-Bar 125 a stylish look and New Holland family appearance as well as easing servicing with their gull-wing opening design. All main drive chains have been strengthened to ensure maximum reliability in addition to new sealed bearings in key areas plus a hydraulic rotor reverser is available to order from factory. Whatever you have to bale, the New Holland Roll-Bar™ 125 baler can be specified to suit your requirements. There is a choice of feeding systems and if you have to cut the crop, the CropCutter™ system is also available.
THE ROLL-BAR™ SYSTEM, PROVEN RELIABILITY
The Roll-Bar™ 125 baler rotation bars become embedded in the bale, ensure positive turning. This allows the baling of any crop, whatever its condition, whatever the bale density required.
NEW INTUITIVE BALE COMMAND™ PLUS II MONITOR
• The 10 cm backlit screen is 10% larger than the previous version
• Select between twine or net wrap on the screen from the comfort of the cab
• Memorise up to 20 individual bale count records for accurate record keeping
PERFECT BALE SHAPE
• A heavy-duty floor roll provides a sure start for the bale, supporting it and ensuring excellent appearance with good weathering characteristics
• The core of the bale is softer than the outside for good aeration
Features
THE FASTEST WAY TO CLEAR FIELDS
The pickup on the Roll Bar 125 is perhaps the most important part of the baler. Designed to provide uniform flow from heavy to light swaths delivering high capacity, non-stop baling.
IMPROVED SILAGE QUALITY
• A 1.40m wide cutting rotor with fifteen three-lobe double fingers positively transfers the crop to the bale chamber
• With the CropCutter™ system engaged, bale density is increased and silage quality improved
• Blockages are easily cleared from the cab thanks to the hydraulic reverser option now available from factory
POWERFUL BALE FORMATION
• Excellent bale formation in all crops is ensured by a floor roll and a starter roller, together with high tensile steel bale rotation bars
• This all results in early core formation and positive rolling action in all crops and conditions.
MORE THAN A FULL DAY'S BALING
The standard Roll-Bar 125 baler carries three rolls of net (one active and two stored). Twine and net wrap balers can store up to six twine balls in place of a net roll.
MORE THAN WRAPPING
• The Bale Command™ Plus II monitor provides information about major baler functions and controls major settings
• Bale chamber filling left/right, near full bale warning, status of the wrapping control actuator, bale ready for ejection, status of the CropCutter™ control system, total bale count, field bale count, twine bale count, net bale count, cut bale count for example
Specifications
Roll-Bar™ 125
| | |
| --- | --- |
| Bale width / Bale diameter (m) | 1.20 / 1.25 |
| Width (m) | 2.00 |
| CropCutter™ number of knives | 15 (maximum) |