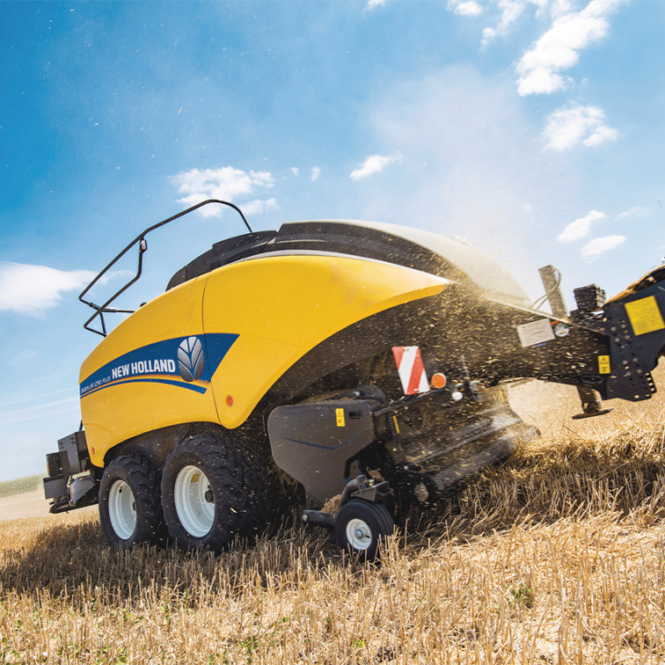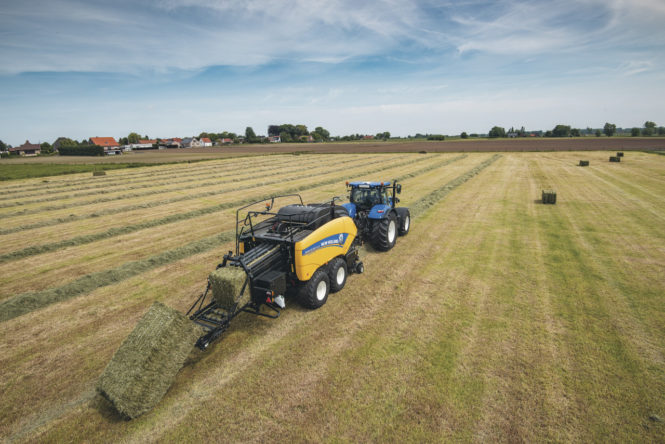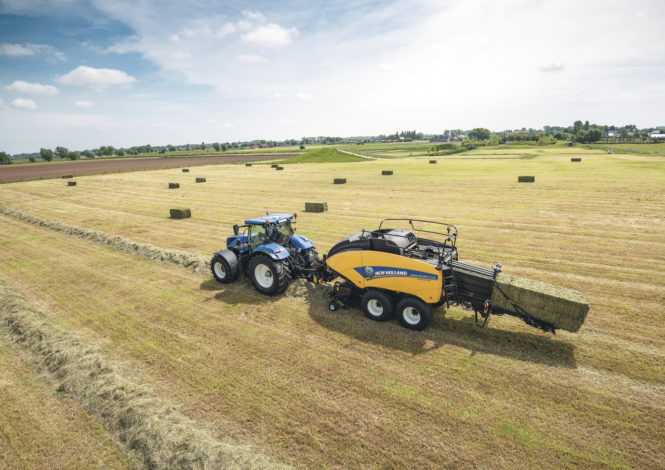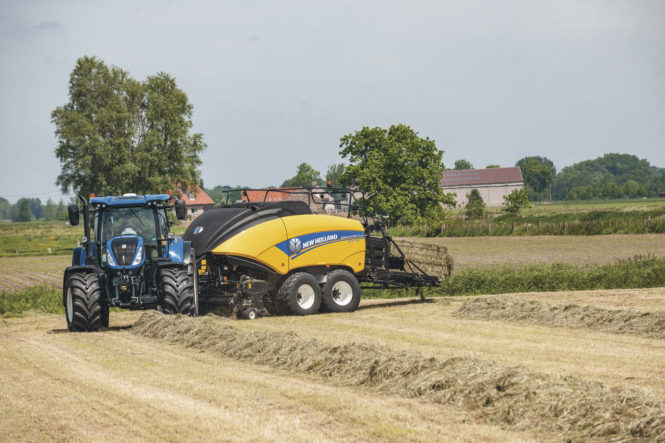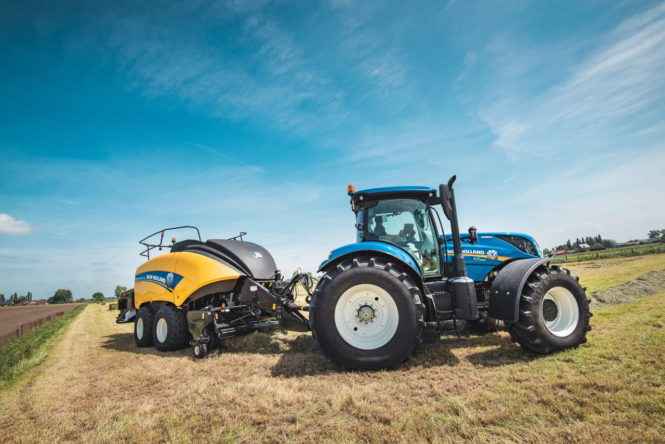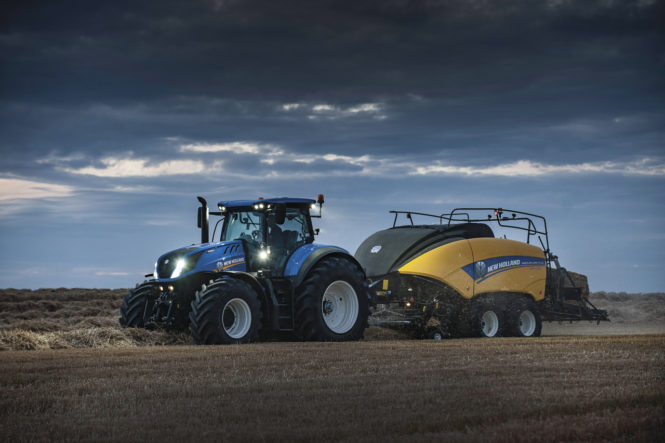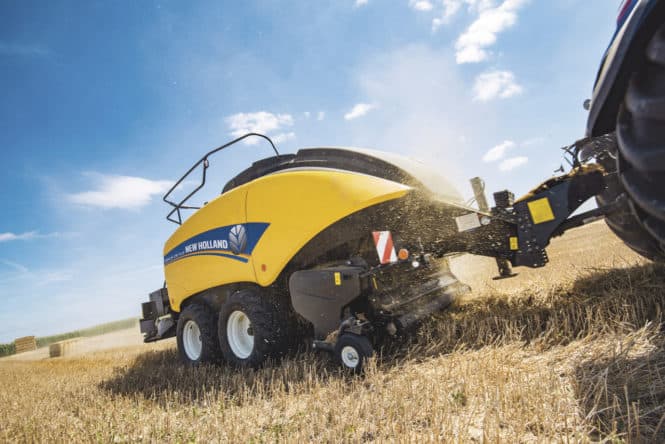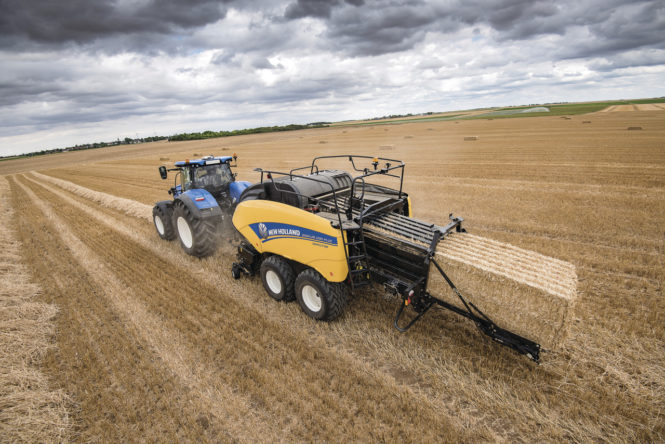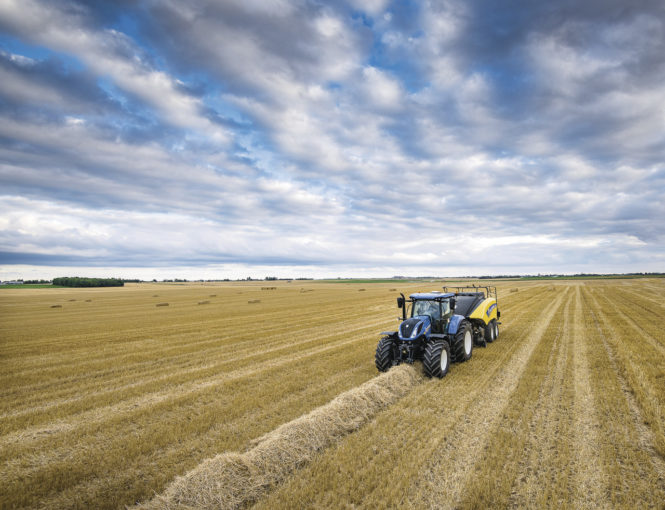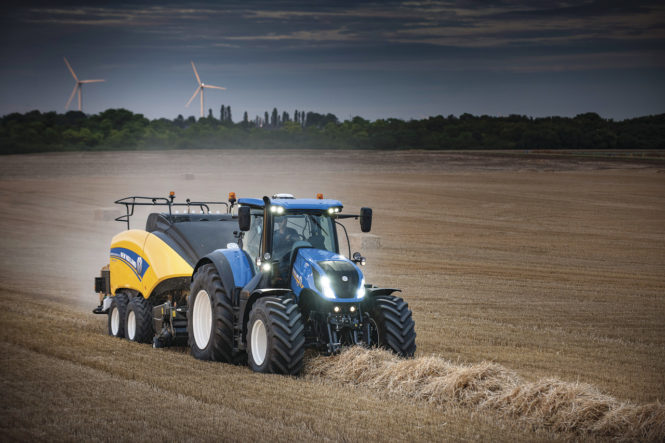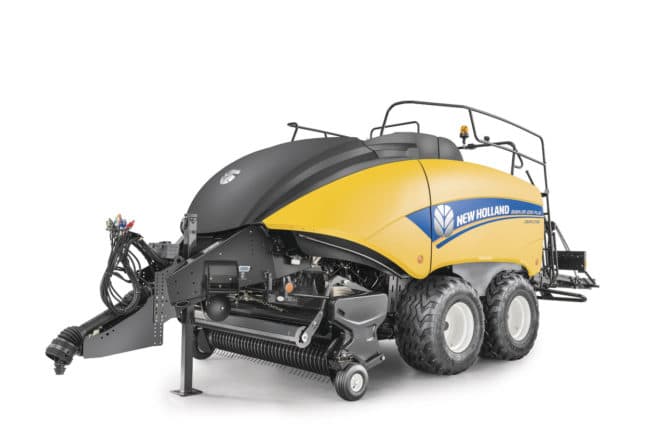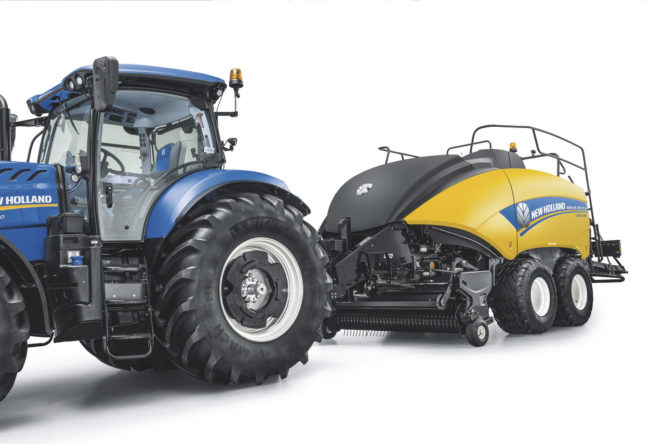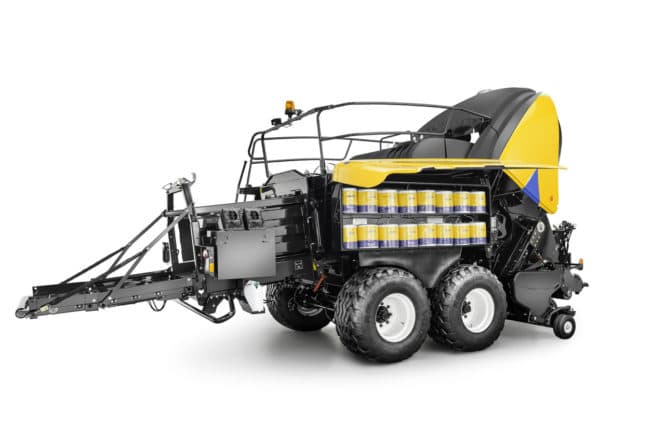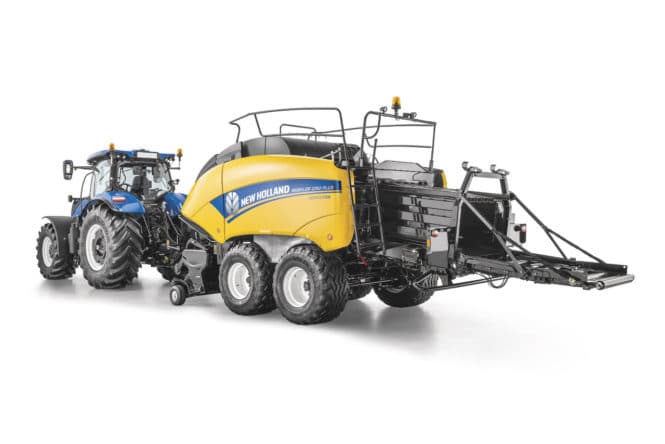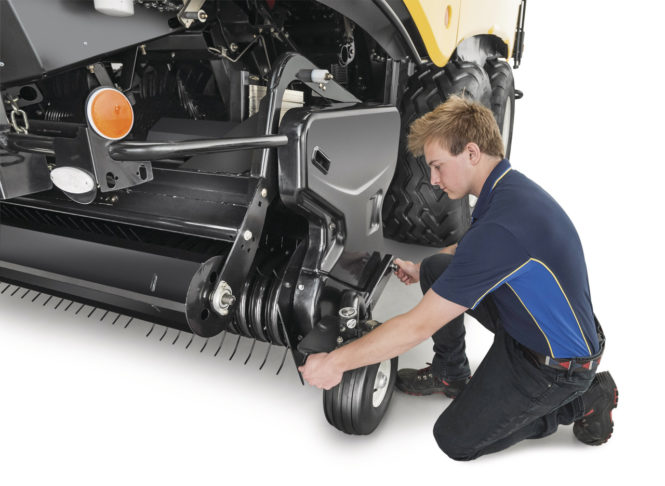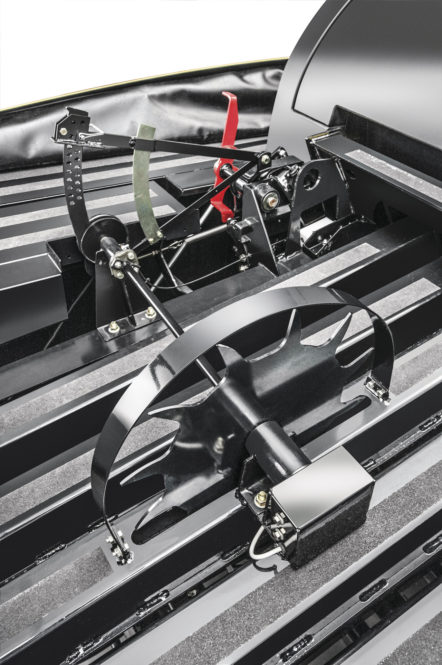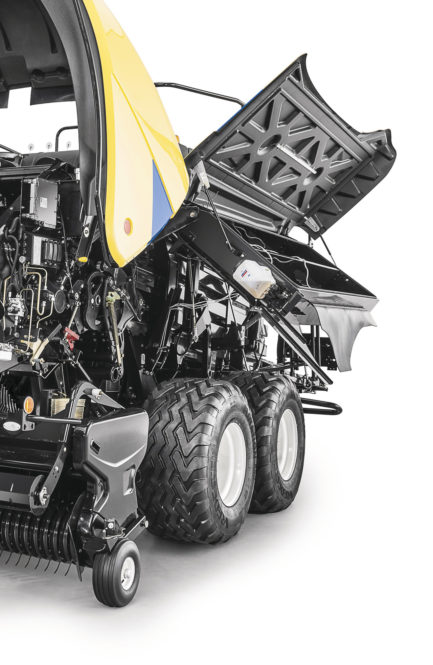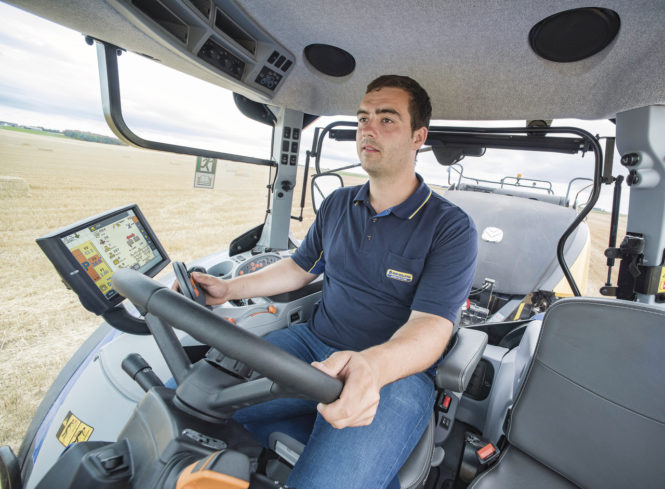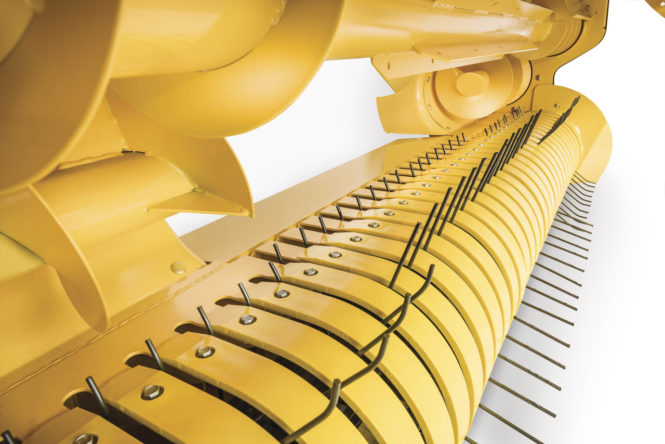 New Holland BigBaler Plus
PROFESSIONAL BALING FROM NEW HOLLAND.
New Holland has led the big baler segment for over 34 years, introducing a string of pioneering firsts that have revolutionised big baling throughout the world. The latest BigBaler Plus range introduces another baling first: Loop Master™ knotting technology. The second knot is now a loop style knot, producing:
• 37% stronger knot with a 26% improvement in tensile strength for reduced breakage
• Loop Master™ combines the key benefits of double and single knotting technology
• Eliminates twine offcuts, which are currently left in the field, or can even find their way into fodder
• over six kilometres or 46kg of twine are saved in a 10,000 bale season
Ultimate baling performance is guaranteed in all crops and all farms. Hay and forage operations, straw contractors, biomass businesses and large scale arable farmers will be won over by the Plus models which deliver consistent best-in-class bale quality from its proven and frequently improved design over the years.
INTRODUCING THE LATEST PLUS BALER RANGE
The new Plus models take the BigBaler range to a whole new level of productivity and efficiency. Enjoy the following features
• Up to 10% higher density
• Consistent day-long density
• Improved bale shape
• Minimal risk of twine or knot snapping thanks to Loop Master™ 37% stronger twine-knot combination
• Bale even in the hottest conditions
• Gentler bale drop
• Easier and more accessible maintenance
• Easier to clean
BIGBALER: THE ULTIMATE CHOICE
The four model BigBaler range enables you to pick the baler that is right for your business. The range extends from the standard 80x70cm model right through to the largest 120x90cm variant. You can also specify the crop processing method, standard, Packer Cutter or CropCutter™ options.
Features
CLEARING FIELDS AT HIGH SPEED
The pick-up is perhaps the most important part of your BigBaler. New Holland has completely redesigned the MaxiSweep™ pickup for unbeatable collecting performance. Now available with 5 tine bars for 1270 and 1290 CropCutter™ models for increased performance and durability, this configuration offers a 25% increase in double tines vs previous models. Two different widths are available, the ultra-wide 2.35m is perfect for the widest straw swaths from todays' high capacity combines, and the standard 1.96m width is the ideal choice for silage operations. The heavy-duty 5.5mm coil tines on CropCutter™ models have been designed to increase durability when working on the roughest, stoniest ground.
ULTIMATE FEEDING PERFORMANCE
• A brand new feeding logic has been developed which is set to significantly improve baler efficiency
• Two contra rotating overshot and undershot augers direct and merge the crop flow to ensure that it is the same width as the rotor or feeder
• Efficient throughput has been further enhanced with the addition of a feed assist roller, which positively directs the crop into the rotor or feeder to maintain a constant crop flow at all times
• To prevent blockages during silage baling a new optional hydraulically driven assist roll is now available which has the added benefit of being reversible
FLEXIBLE CROP PROCESSING SOLUTIONS
As no two baling operations are the same, the BigBaler offers a whole host of crop processing options with different chop lengths to suit your individual requirements. From the standard direct flow option through to the Packer Cutter and CropCutter™ variants, the BigBaler has the solution no matter what the crop, growing conditions, usage profile or conservation method used. When baling in extremely abrasive conditions, the new heavy duty rotor has been developed, ideal when baling tough crops. The rotor has an abrasive finish, which can extend its life by up to four times.
PERFECTLY FORMED, DENSE BALES AS STANDARD
Density is king when it comes to producing big bales. Whether they are straw bales with an improved combustion profile for biomass operations, tightly packed silage bales with enhanced fermentation characteristics or simply bales that take up less space for easier storage or transport, density is at the heart of big baling excellence. The next generation best-in-class SmartFill™ II bale direction sensing system now has even greater accuracy to ensure the operator feeds the crop in an even manner, and the strong, reinforced monocoque frame, machined from reinforced steel, guarantees durability, season after season.
RELIABLE DOUBLE KNOTTING. GENTLE BALE HANDLING.
Pioneering double knot technology for over 34 years, New Holland has been on an unswerving quest to continually improve this industry leading technology. The BigBaler's double knot system guarantees higher bale density with lower knotting strain. And the new big baler range introduces another baling first: Loop Master™ knotting technology. The second knot is now a loop style knot, producing a 37% stronger knot with a 26% improvement in tensile strength for reduced breakage, but, perhaps even more importantly it eliminates the twine offcuts, which are currently left in the field, or can even find their way into fodder. It might not sound much, but consider that over six kilometres or 46kg of twine are saved in a 10,000 bale season. Knotting technology has been tailored to the BigBaler's dimensions, with eight knots on the BigBaler 870 Plus and 890 Plus models or 12 knots per bale on the BigBaler 1270 Plus and 1290 Plus variants. Improved debris management and gentle set-down logic complete the most advance baling technology around. Quite simply, the BigBaler still leads the field over a quarter of a century on.
FINGERTIP BALER MANAGEMENT
Managing your BigBaler has never been simpler, as the new state-of-the-art user interface makes managing your baler even easier. All key operating parameters can be controlled whilst on the move via the IntelliView™ IV colour touchscreen monitor which comes as standard. Furthermore, the BigBaler is fully ISOBUS compatible, for seamless SideWinder™ II armrest integration, so one-monitor operation is guaranteed.
INTELLICRUISE™ SYSTEM. OPTIMISED CAPACITY. ULTIMATE UNIFORMITY.
The IntelliCruise™ feature controls the tractor's forward speed through ISOBUS Class III technology, increasing productivity, improving operator comfort, improving fuel savings and optimising feeding rate in varying field and crop conditions. This system IntelliCruise has two running modes.
IntelliCruise™ technology enables
• Up to 9% more throughput
• Up to 4% fuel savings
• Reduced operator fatigue
Charge Control mode
• In Charge Control mode, available on CropCutter™ models only, the tractor speed is adapted to achieve optimum capacity by using sensor paddles which measure both the throughput of crop fed into the stuffer feeder channel, as well as the time to fill it to ensure the optimum tractor speed is maintained
Slice Control mode
• In Slice Control mode, available on both the Standard and CropCutter models, the tractor's speed is adjusted according to bale slice thickness and the system will strive to obtain the exact amount of slices defined by the operator
INTEGRATED YIELD AND MOISTURE SENSING
The BigBaler range of balers have been engineered by design with precision farming features. Bale weight and moisture information is continually updated and displayed on the IntelliView™ IV monitor. This data can be stored, downloaded and analysed with PLM® Connect telematics precision farming software to establish accurate yields maps. These can be used to fine tune inputs to maximise yields and minimise input costs.
FLOATING ACROSS THE FIELD, FLYING DOWN THE ROAD
BigBalers will work in a variety of different environments, from the largest arable operations where reducing soil compaction is of prime importance, to small fields and winding country lanes that mean hassle-free transport is a must. The range boasts a wide variety of axles and tyre options which all comply with the three metre transport width restriction to suit every operation. Furthermore, turn on a sixpence manoeuvrability to complete the package.
Specifications
New Holland BigBaler 870 Plus Standard
| | |
| --- | --- |
| Bale dimensions (cm) | 80 / 70 |
| MaxiSweep™ Pick-up width (DIN 11220) (m) | 1.96 |
| Feeder | 2 packer forks 6 single tines |
| Tying system | Loop Master™ double knot type |
New Holland BigBaler 870 Plus Packer Cutter
| | |
| --- | --- |
| Bale dimensions (cm) | 80 / 70 |
| MaxiSweep™ Pick-up width (DIN 11220) (m) | 1.96 |
| Feeder | 3 packer forks 6 single tines |
| Tying system | Loop Master™ double knot type |
New Holland BigBaler 870 Plus Cropcutter™
| | |
| --- | --- |
| Bale dimensions (cm) | 80 / 70 |
| MaxiSweep™ Pick-up width (DIN 11220) (m) | 1.96 |
| Feeder | Rotor Width 800mm "W"tine configuration |
| Tying system | Loop Master™ double knot type |
New Holland BigBaler 890 Plus Standard
| | |
| --- | --- |
| Bale dimensions (cm) | 80 / 90 |
| MaxiSweep™ Pick-up width (DIN 11220) (m) | 1.96 |
| Feeder | 2 packer forks 6 single tines |
| Tying system | Loop Master™ double knot type |
New Holland BigBaler 890 Plus Packer Cutter
| | |
| --- | --- |
| Bale dimensions (cm) | 80 / 90 |
| MaxiSweep™ Pick-up width (DIN 11220) (m) | 1.96 |
| Feeder | 3 packer forks 6 single tines |
| Tying system | Loop Master™ double knot type |
New Holland BigBaler 890 Plus Cropcutter™
| | |
| --- | --- |
| Bale dimensions (cm) | 80 / 90 |
| MaxiSweep™ Pick-up width (DIN 11220) (m) | 1.96 |
| Feeder | Rotor Width 800mm "W"tine configuration |
| Tying system | Loop Master™ double knot type |
New Holland BigBaler 1270 Plus Standard
| | |
| --- | --- |
| Bale dimensions (cm) | 120 / 70 |
| MaxiSweep™ Pick-up width (DIN 11220) (m) | 2.23 |
| Feeder | 3 packer forks 9 single tines |
| Tying system | Loop Master™ double knot type |
New Holland BigBaler 1270 Plus Standard
| | |
| --- | --- |
| Bale dimensions (cm) | 120 / 70 |
| MaxiSweep™ Pick-up width (DIN 11220) (m) | 2.23 |
| Feeder | 3 packer forks 9 single tines |
| Tying system | Loop Master™ double knot type |
New Holland BigBaler 1290 Plus Standard
| | |
| --- | --- |
| Bale dimensions (cm) | 120 / 90 |
| MaxiSweep™ Pick-up width (DIN 11220) (m) | 2.23 |
| Feeder | 3 packer forks 9 single tines |
| Tying system | Loop Master™ double knot type |
New Holland BigBaler 1290 Plus Cropcutter™
| | |
| --- | --- |
| Bale dimensions (cm) | 120 / 90 |
| MaxiSweep™ Pick-up width (DIN 11220) (m) | 2.35 |
| Feeder | Rotor Width 1200mm "W"tine configuration |
| Tying system | Loop Master™ double knot type |
Download Brochure
BigBaler Plus Range

PDF, 5.6 mb

Download