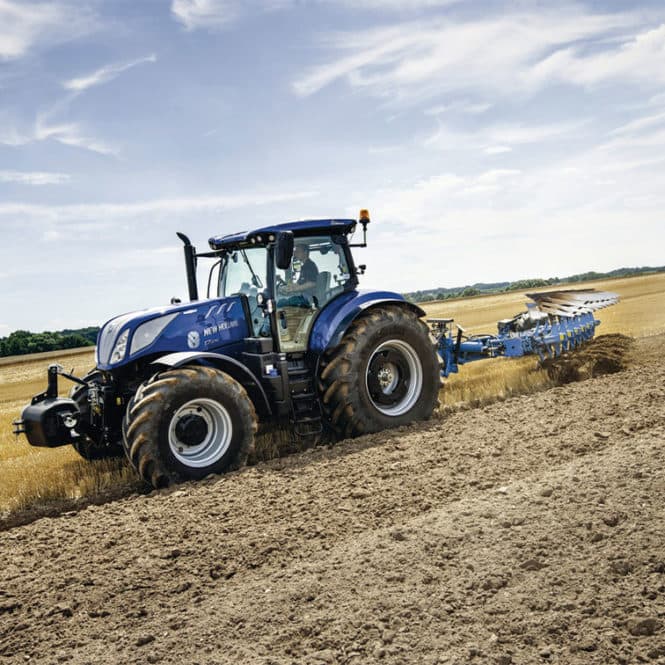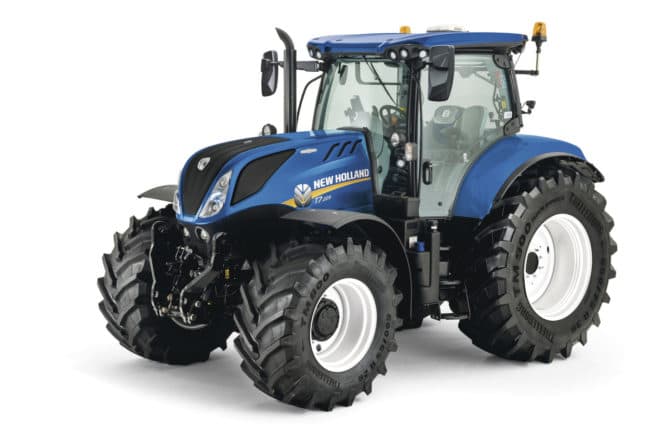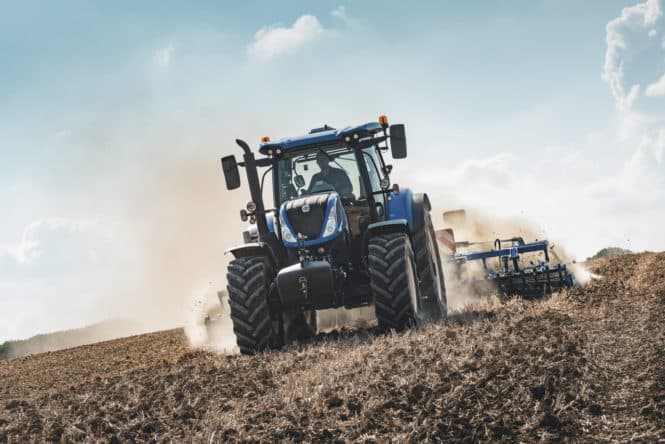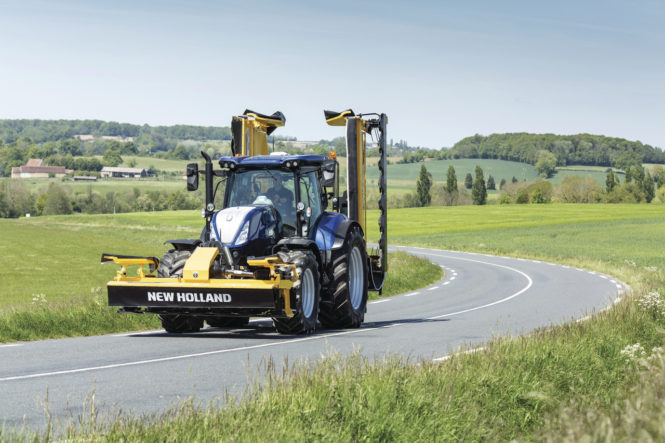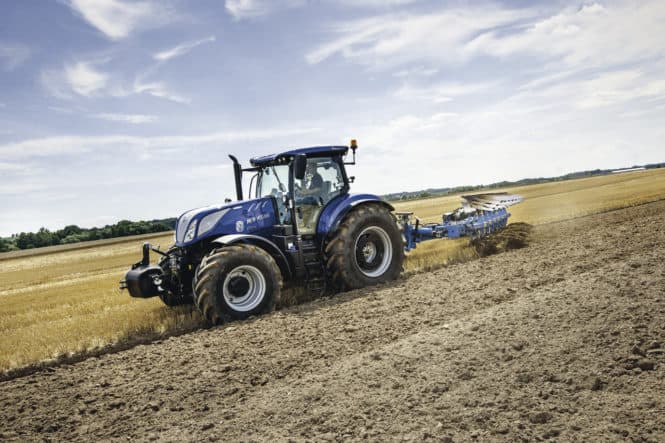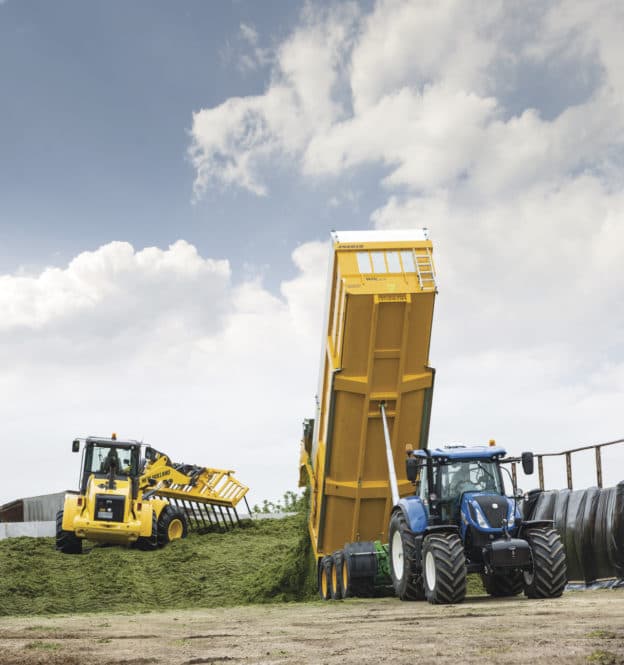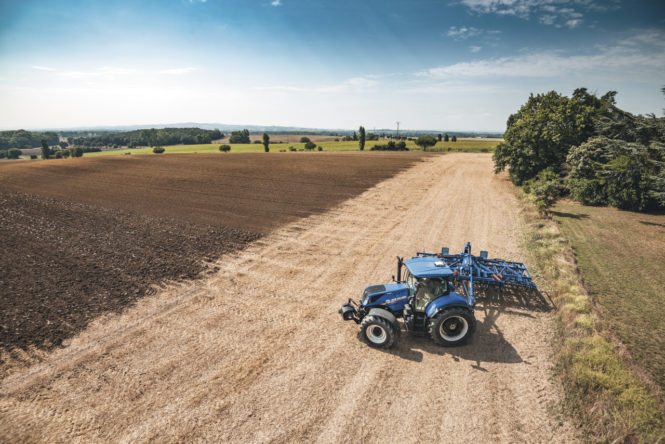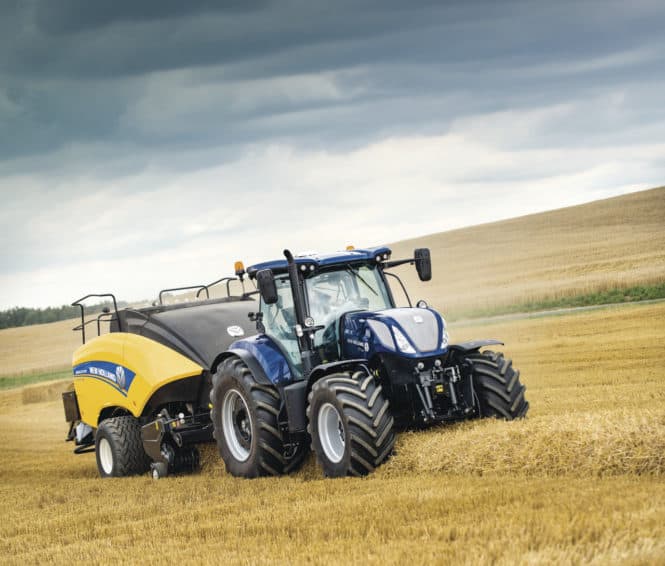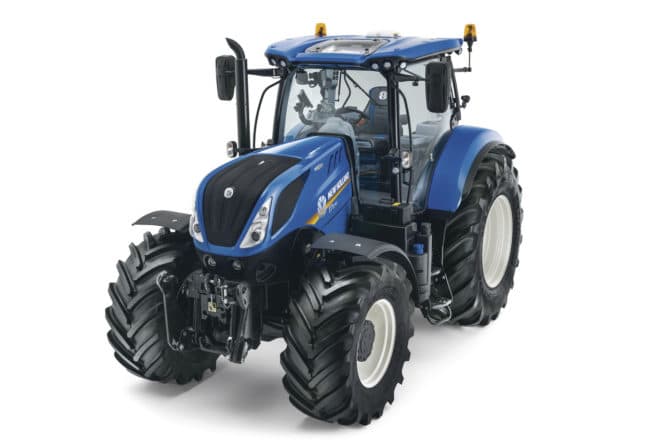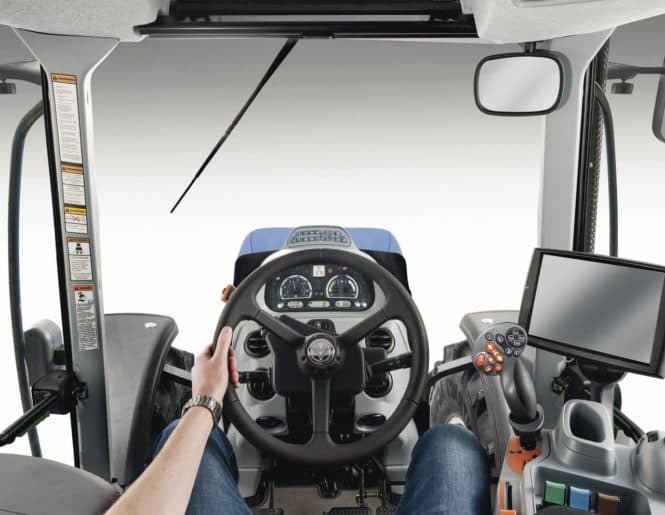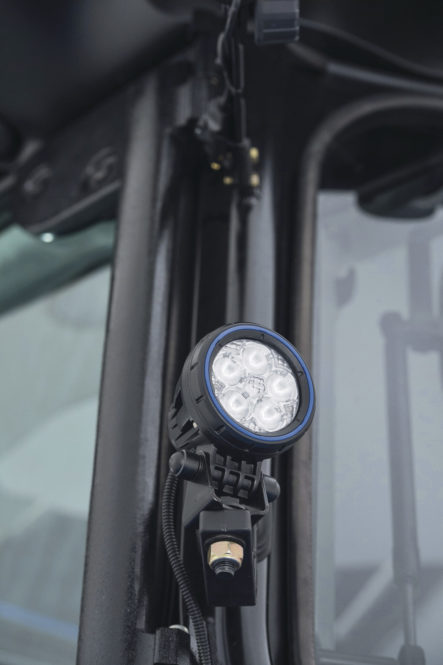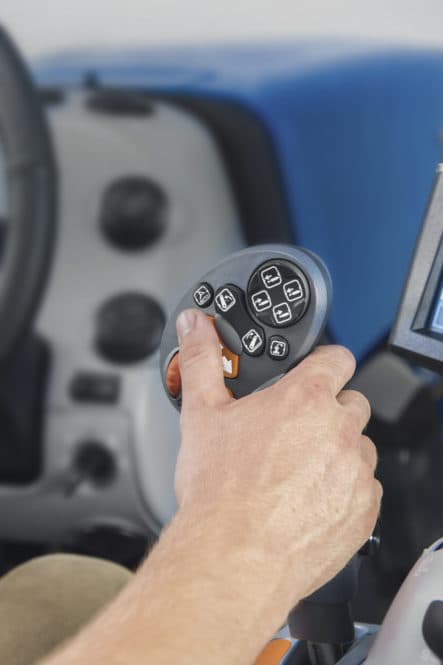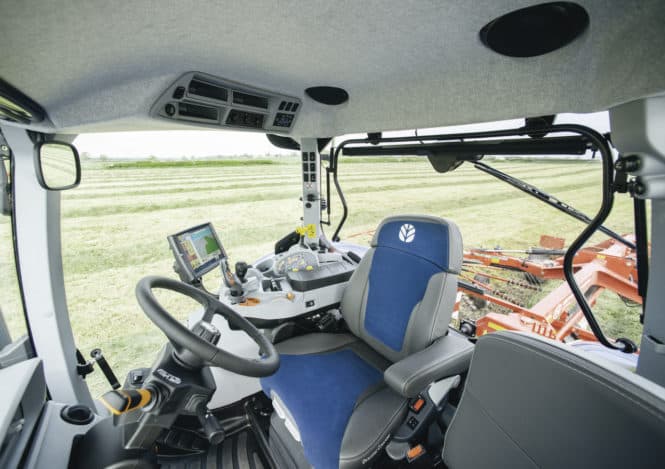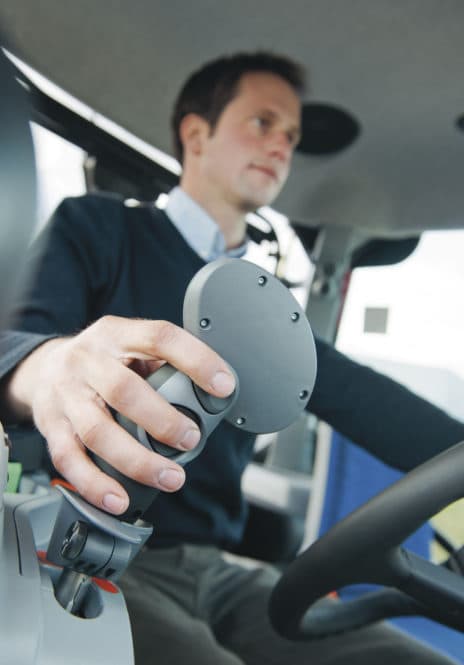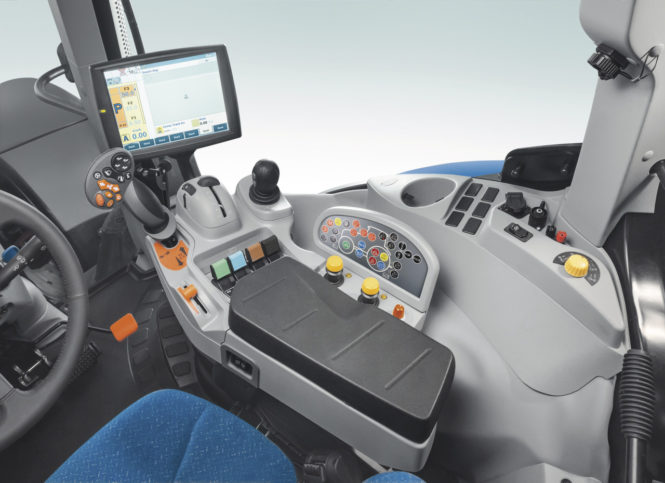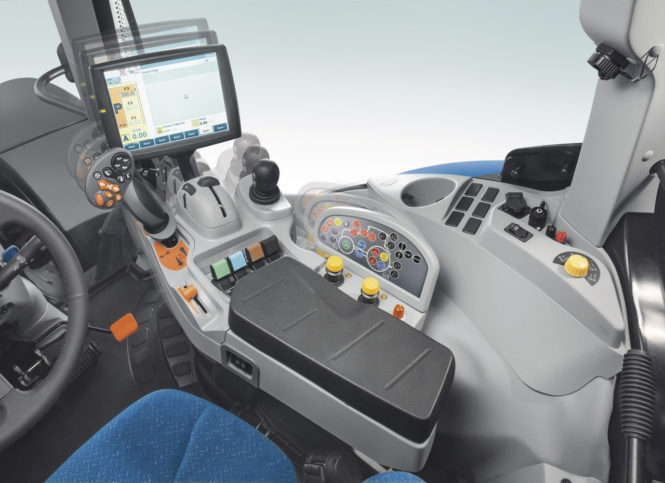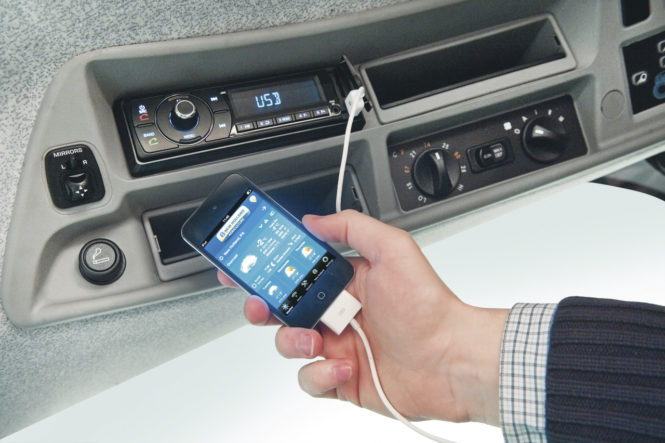 New Holland T7 SWB
THE NEW GENERATION TRACTOR FOR THE FUTURE OF FARMING
Sleek lines. Appealing curves. Let's welcome the five model T7 Standard Wheelbase range. The head turning styling features 'cat-eye' lights, aggressive fish gill-like side vents and a gull wing profile roof, jam-packed with up to 16 LED cab lights, including automotive style signature lights, for true round the clock farming. The ECOBlue™ HI-eSCR 2 Nef engines are fully compliant with the even more stringent Stage V emission standards and develop between 165-225hp whilst maintaining the outstanding fuel economy you've come to expect of the T7 range. The semi-active, ventilated seat makes day-long farming even more comfortable. T7. Farming for the modern era.
The T7 range was developed following intensive consultations with New Holland customers including contractors, arable and cash crop farmers. The aim was to produce a completely restyled tractor with improved functionality, while adhering to the even stricter Stage V emissions regulations. These improvements have made the T7 a true icon of tractor design, brimming with state-of-the-art technology, innovation, power and efficiency.
Features
HORIZON™ CAB. MORE SPACE, BETTER VISIBILITY
Want all round visibility? Then New Holland's industry leading Horizon™ cab is the solution. In the yard, in the field or on the road, you have an uninterrupted view. Always. The single piece front screen offers a perfect view no matter what the weather or your field throws at you. The sun-visor protects you from the harshest rays. Working with front loaders? Select the high visibility, fully openable transparent roof hatch, which affords a perfect view at maximum extension from the comfort of your seat. Never lose a grain or suffer a crick in your neck ever again. Whisper quiet comfort is courtesy of a mere 69dB(A) cab noise level.
PUSH BUTTON SIMPLICITY. YEARS OF PROVEN TECHNOLOGY.
Renowned for its legendary robustness and indisputable reliability, the Power Command™ full powershift transmission matches proven mechanical efficiency to New Holland ease of control: even novice operators can effectively use it from day one. Really easy to set up and operate, thanks to clutchless push-button up and downshifting, the Power Command transmission simply delivers a speed to perfectly match every application. In short, it's the most efficient full powershift available today.
INNOVATIVE AUTO COMMAND™ TRANSMISSION OFFERS ADVANCED NEW HOLLAND FEATURES
Designed and built by New Holland over 25,000 multi award-winning Auto Command™ continuously variable transmissions (CVT) have been built. The Auto Command™ transmission benefits from multiple direct drive points with 100% mechanical efficiency. These points have been precision engineered to ensure that they perfectly match the most frequently used speeds during heavy draft work, secondary cultivation activities, high speed in-field work, such as baling or mowing, and high speed transport activities. Advanced double clutch control further enhances efficiency. Quite simply, it is the smoothest and most productive CVT around.
FEATURES TO BOOST YOUR PRODUCTIVITY
Double your productivity with front linkage and PTO. Consume less fuel in less demanding operations with Eco PTO speed. Save time and effort at the headlands with the Headland Turn Sequencing II system: it can record and replay at the simple touch of a button up to 28 repetitive headland turn operations. And all you have to do is push the button, turn the wheel and drive.
POWERED BY FPT INDUSTRIAL
New Holland is not going it alone when it comes to Stage V technology. They can draw on the experience of their in-house engine development group: FPT Industrial.
Pioneers: Fiat invented Common Rail technology in the 1980s and brought it to the masses in 1997 on the Alfa Romeo 156. They were the very first to introduce it on agricultural machines on the TS-A tractor. Pioneering. Always.
Cleaner: For the eleventh consecutive year, CNH Industrial has topped the Dow Jones Sustainability World and Europe indexes for the Industrial Engineering sector. Cleaner. Everywhere.
Proven: FPT Industrial has pioneered SCR technology since 1995 and has already produced more than 2.5 million SCR systems during the last fifteen years for the agricultural, construction and trucking industry. The award-winning HI-eSCR solution has been extensively tested and has been fitted in the T7 range since 2015. Reliability. Confirmed.
Specifications
New Holland T7.165 S
| | |
| --- | --- |
| Max. horsepower – ISO TR14396 – ECE R120 [kW/hp(CV)] | 121/165 |
| Rated horsepower – ISO TR14396 – ECE R120 [kW/hp(CV)] | 110/150 |
| Transmission | Range Command™ transmission |
| Max. lift capacity at ball ends (kg) | 8257 |
New Holland T7.175
| | |
| --- | --- |
| Max. horsepower – ISO TR14396 – ECE R120 [kW/hp(CV)] | 114/155 |
| Rated horsepower – ISO TR14396 – ECE R120 [kW/hp(CV)] | 103/140 |
| Transmission | Range Command™ / Power Command™ / Auto Command™ Continuously Variable Transmission |
| Max. lift capacity at ball ends (kg) | 8257 |
New Holland T7.190
| | |
| --- | --- |
| Max. horsepower – ISO TR14396 – ECE R120 [kW/hp(CV)] | 121/165 |
| Rated horsepower – ISO TR14396 – ECE R120 [kW/hp(CV)] | 110/150 |
| Transmission | Range Command™ / Power Command™ / Auto Command™ Continuously Variable Transmission |
| Max. lift capacity at ball ends (kg) | 8257 |
New Holland T7.210
| | |
| --- | --- |
| Max. horsepower – ISO TR14396 – ECE R120 [kW/hp(CV)] | 132/180 |
| Rated horsepower – ISO TR14396 – ECE R120 [kW/hp(CV)] | 121/165 |
| Transmission | Range Command™ / Power Command™ / Auto Command™ Continuously Variable Transmission |
| Max. lift capacity at ball ends (kg) | 8257 |
New Holland T7.225
| | |
| --- | --- |
| Max. horsepower – ISO TR14396 – ECE R120 [kW/hp(CV)] | 147/200 |
| Rated horsepower – ISO TR14396 – ECE R120 [kW/hp(CV)] | 132/180 |
| Transmission | Auto Command™ Continuously Variable Transmission |
| Max. lift capacity at ball ends (kg) | 8257 |