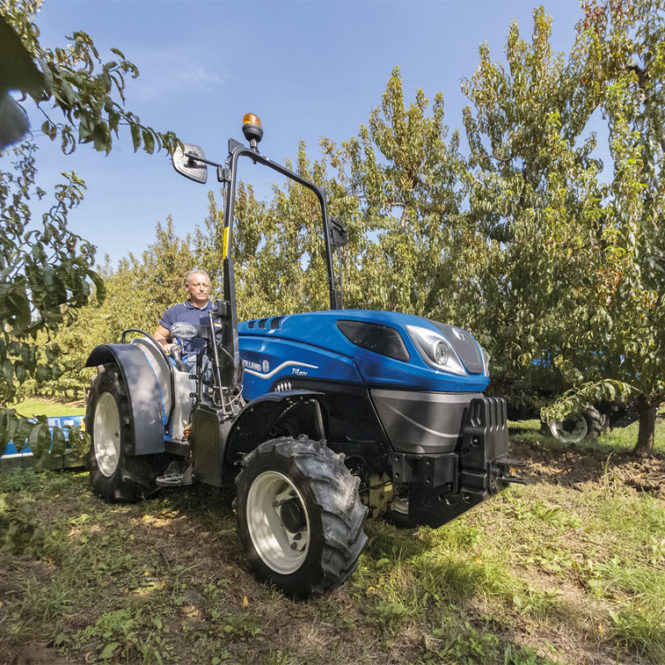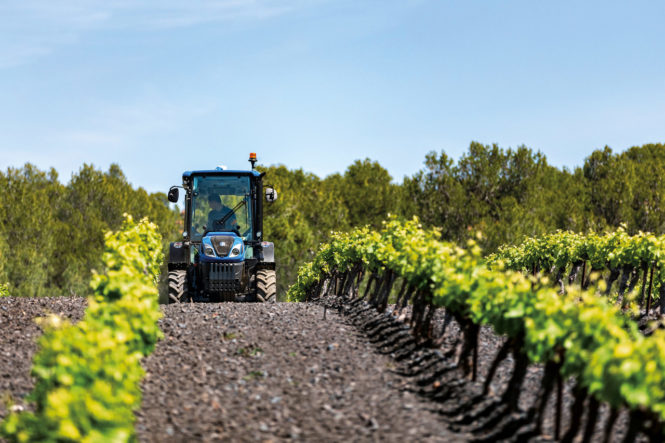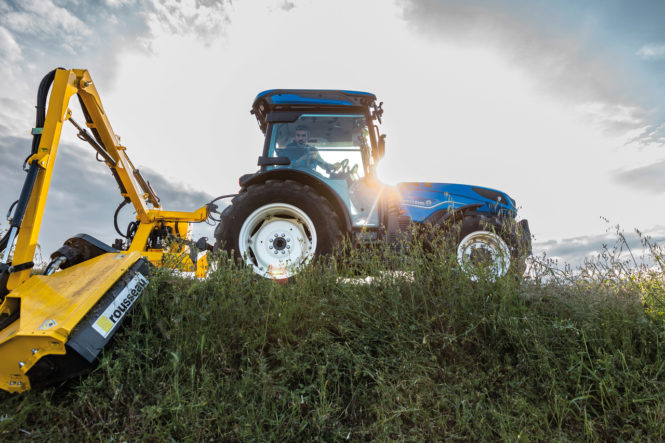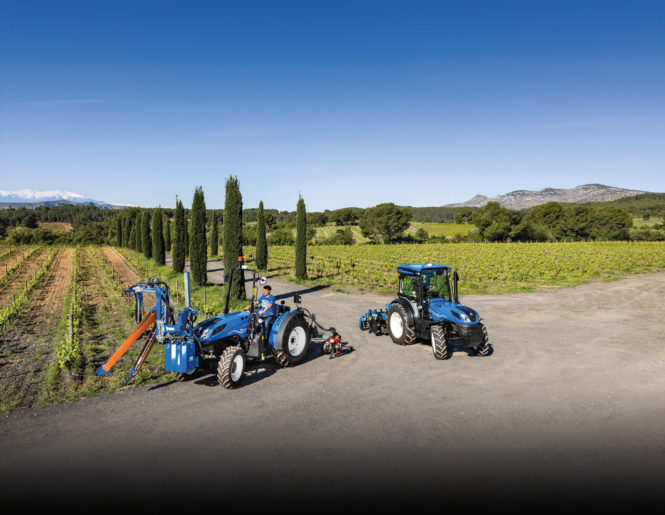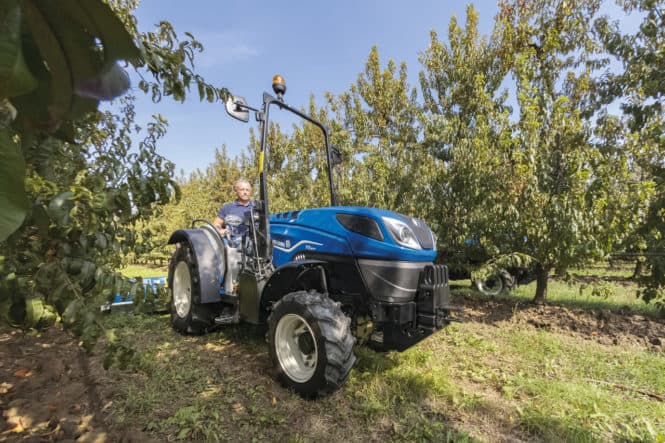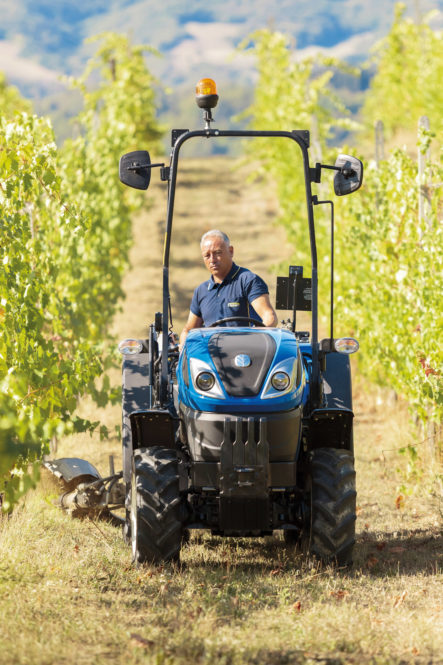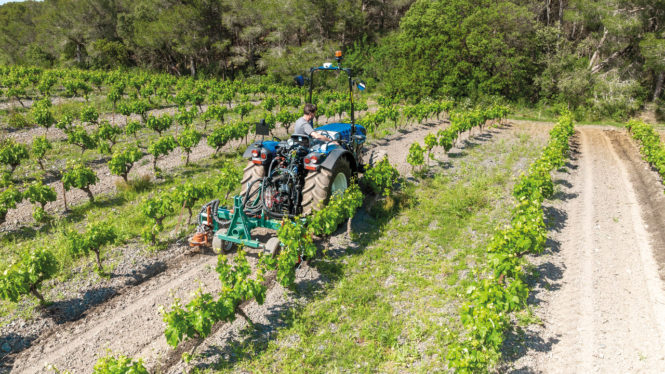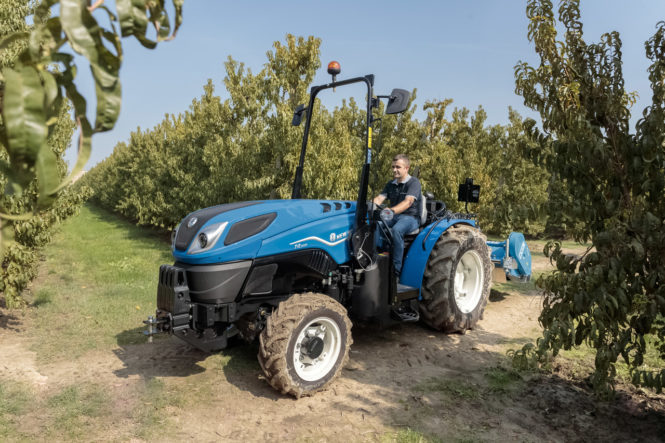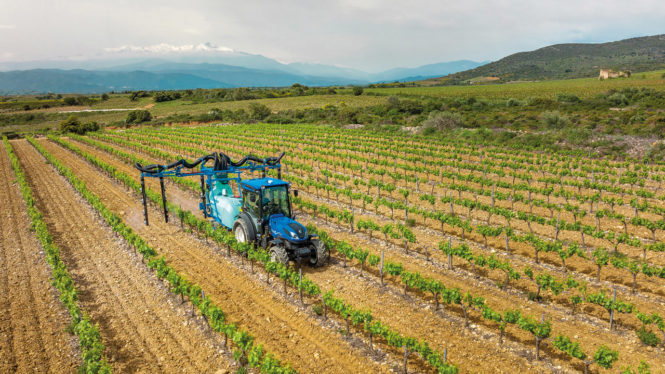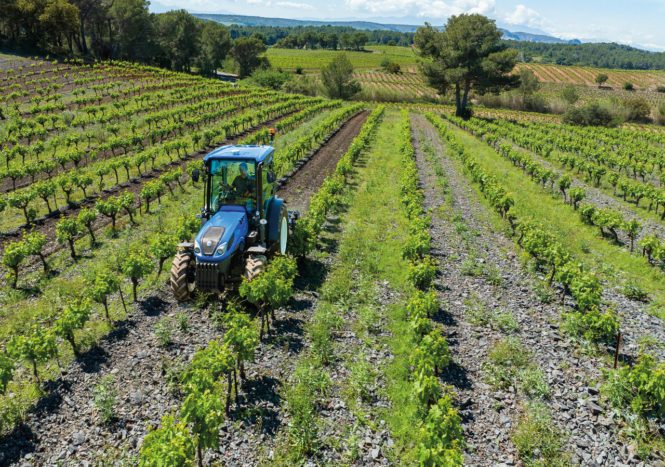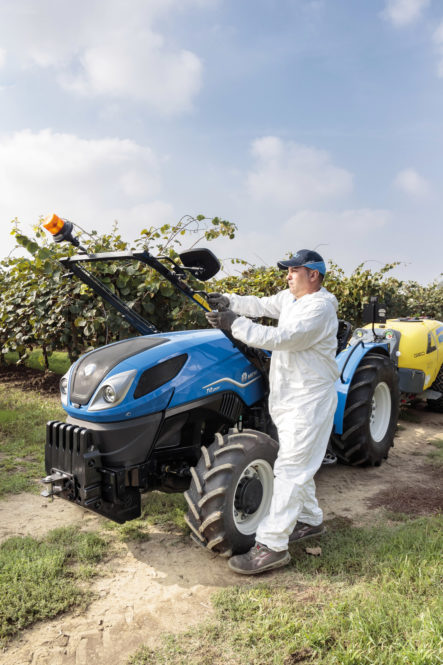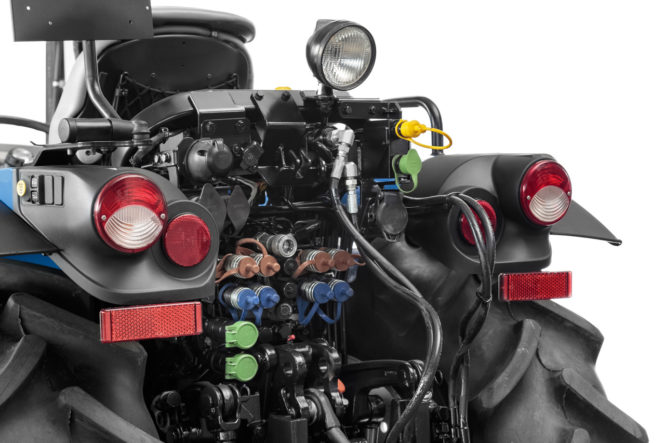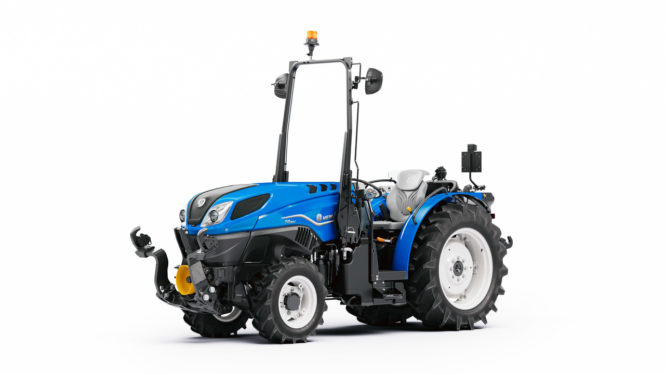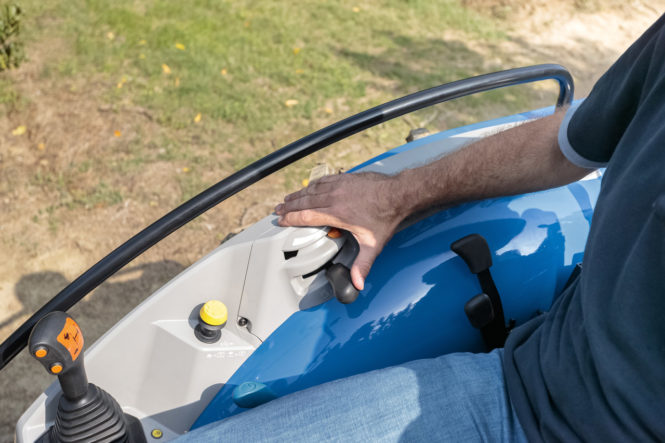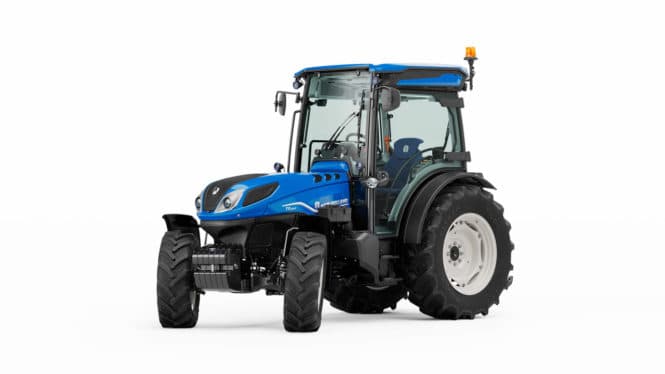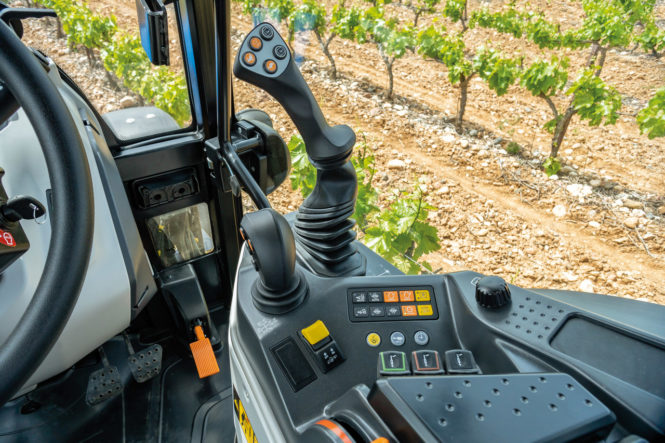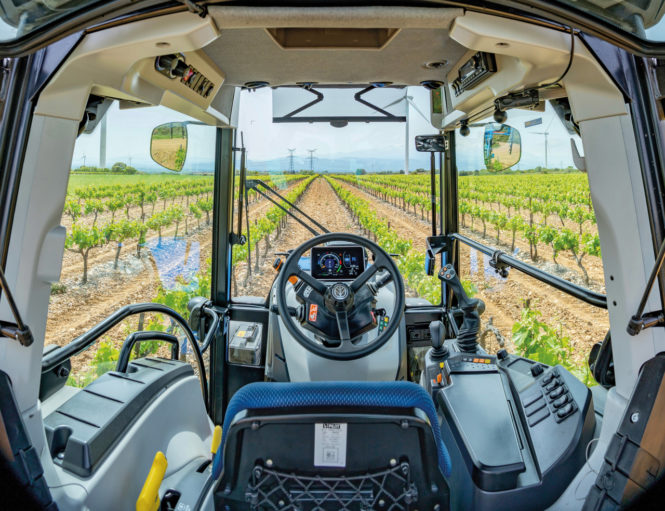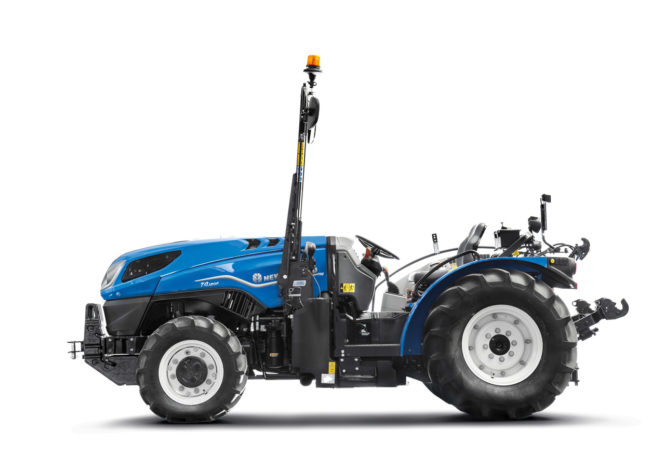 New Holland T4 FNV Speciality Tractors
EXPERIENCE A REVOLUTION IN TRACTOR OPERATION
An ergonomic, spacious and practical operator environment is a must for day-long productivity. That is what New Holland's all new VisionView™ cab delivers. Want all round visibility? Whether you're in the yard, in the vineyard or on the road, you'll have an uninterrupted productivity enhancing view. Always. The flat deck floor and 360° LED light packages further enhance day long comfort.
ECOBLUE™ COMPACT HI-ESCR 2 EXPLAINED
The entire T4 F N V range complies with Stage V emissions standards, on the T4.90 models and above this is achieved thanks to the new Compact HI-eSCR 2 technology developed by FPT Industrial. This innovative after treatment system is a maintenance free and all after treatment components are concealed neatly under the hood to maintain the best visibility to the front and sides. In addition it makes mounting mid mounted implements easier thanks to the space created.
A WIDE CHOICE OF EFFICIENT TRANSMISSIONS
Thanks to the modular design of the new T4 F N V tractors, the transmissions can be easily matched to the end user's needs. Advanced features include a new ergonomic gear leveller position, new creeper engagement by just pushing a button and the ability to adjust the Powershuttle aggressiveness. New options includes a new Parking lock feature now available on Powershuttle transmissions as well as on Dual Command™ versions. Shuttle reverse and PTO are now have fully configurable engagement settings in order to have the right adjustment for the application.
ALL NEW FRONT AND REAR LINKAGE
Compatible with all T4 F N V tractor models, the new front linkage option has a lift capacity of up to 1500kg. Compatible with a SuperSteer™ front axle, the front linkage is available with or without front PTO. The rear linkage has been completely redesigned with 2 external lift cylinders providing a lift capacity of up to 2519kg. Mechanical Draft Control with proven Lift-O-Matic™ system is standard on all models and Electronic Draft Control is optional.
HYDRAULIC PERFORMANCE
Have you ever thought about just how much hydraulic flow you actually need? All T4 F N V tractors are fitted with the traditional open centre hydraulic system as standard. Delivering 64 litres/minute and is more than sufficient for the majority of applications. An optional 80Lpm option is available, which will power the most demanding implements. If that wasn't enough, New Holland has engineered a rear Load Sensing HPL. The benefit? System pressure now works at 20 bar lower pressure. The result? Less heat is generated and reduced fuel consumption.
LIFT-O-MATIC™ PLUS SYSTEM: SPEED AND PRECISION
This award winning mechanical hydraulic control system allows you to raise or lower the rear linkage when making a headland turn, while maintaining position and draft settings. When pushing/pulling the lever, if released, the implement immediately stops at the height corresponding to the actual implement position. A gentle push or pull of this convenient lever allows for minor adjustments.
Features
THE WIDEST OFFERING TO SATISFY ALL TYPE OF CUSTOMER NEEDS
T4 F N V tractors have 3 different axles, Standard, SuperSteer™ and Terraglide™ front axles. The legendary SuperSteer™ front axle offering an effective steering angle of 76°, which means a tractor can turn in a radius as low as 3.5m for truly outstanding agility. The Terraglide™ front axle suspension smooths out the bumps and lumps on the road and field. Not only does it provide superior comfort for operator, but also it is proven to protect the tractor and mounted implements. In the field the advanced suspension system maintains contact between the tyre and the ground to improve traction and safety
TRELLEBORG PNEUTRAC TYRE
PneuTrac is a hybrid solution that combines the advantages of a radial agricultural tyre in terms of efficiency, comfort and handling, with the wide footprint and traction benefits of a track. It delivers unbeatable performance on both steep slopes and muddy terrain. On road applications, the hybrid nature of the PneuTrac assures safety, handling, and comfort along with fuel economy.
FOLDING ROPS
ROPS models have a forward folding frame to clear over-hanging crops or access low buildings. The new folding beacon design allows a quick and easy transition when necessary.
Specifications
T4.80F CAB
| | |
| --- | --- |
| New Holland Engine* | F34 |
| No. of cylinders / Capacity (cm³) / Valves / Emissions Level | 4 / 3400 / 2 / Stage V |
| Standard pump flow + Service pump (Lpm) | 64 + 36 |
| Max. permissible weight (kg) | 4800 |
T4.90F CAB
| | |
| --- | --- |
| New Holland Engine* | F36 |
| No. of cylinders / Capacity (cm³) / Valves / Emissions Level | 4 / 3600 / 4 / Stage V |
| Standard pump flow + Service pump (Lpm) | 64 + 36 |
| Max. permissible weight (kg) | 4800 |
T4.100F CAB
| | |
| --- | --- |
| New Holland Engine* | F36 |
| No. of cylinders / Capacity (cm³) / Valves / Emissions Level | 4 / 3600 / 4 / Stage V |
| Standard pump flow + Service pump (Lpm) | 64 + 36 |
| Max. permissible weight (kg) | 4800 |
T4.110F CAB
| | |
| --- | --- |
| New Holland Engine* | F36 |
| No. of cylinders / Capacity (cm³) / Valves / Emissions Level | 4 / 3600 / 4 / Stage V |
| Standard pump flow + Service pump (Lpm) | 64 + 36 |
| Max. permissible weight (kg) | 4800 |
T4.120F CAB
| | |
| --- | --- |
| New Holland Engine* | F36 |
| No. of cylinders / Capacity (cm³) / Valves / Emissions Level | 4 / 3600 / 4 / Stage V |
| Standard pump flow + Service pump (Lpm) | 64 + 36 |
| Max. permissible weight (kg) | 4800 |
T4.80F ROPS
| | |
| --- | --- |
| New Holland Engine* | F34 |
| No. of cylinders / Capacity (cm³) / Valves / Emissions Level | 4 / 3400 / 2 / Stage V |
| Standard pump flow + Service pump (Lpm) | 64 + 36 |
| Max. permissible weight (kg) | 4800 |
T4.90F ROPS
| | |
| --- | --- |
| New Holland Engine* | F36 |
| No. of cylinders / Capacity (cm³) / Valves / Emissions Level | 4 / 3600 / 4 / Stage V |
| Standard pump flow + Service pump (Lpm) | 64 + 36 |
| Max. permissible weight (kg) | 4800 |
T4.100F ROPS
| | |
| --- | --- |
| New Holland Engine* | F36 |
| No. of cylinders / Capacity (cm³) / Valves / Emissions Level | 4 / 3600 / 4 / Stage V |
| Standard pump flow + Service pump (Lpm) | 64 + 36 |
| Max. permissible weight (kg) | 4800 |
T4.110F ROPS
| | |
| --- | --- |
| New Holland Engine* | F36 |
| No. of cylinders / Capacity (cm³) / Valves / Emissions Level | 4 / 3600 / 4 / Stage V |
| Standard pump flow + Service pump (Lpm) | 64 + 36 |
| Max. permissible weight (kg) | 4800 |
T4.120F ROPS
| | |
| --- | --- |
| New Holland Engine* | F36 |
| No. of cylinders / Capacity (cm³) / Valves / Emissions Level | 4 / 3600 / 4 / Stage V |
| Standard pump flow + Service pump (Lpm) | 64 + 36 |
| Max. permissible weight (kg) | 4800 |
T4.80N ROPS
| | |
| --- | --- |
| New Holland Engine* | F34 |
| No. of cylinders / Capacity (cm³) / Valves / Emissions Level | 4 / 3400 / 2 / Stage V |
| Standard pump flow + Service pump (Lpm) | 64 + 36 |
| Max. permissible weight (kg) | 4500 |
T4.90N ROPS
| | |
| --- | --- |
| New Holland Engine* | F36 |
| No. of cylinders / Capacity (cm³) / Valves / Emissions Level | 4 / 3600 / 4 / Stage V |
| Standard pump flow + Service pump (Lpm) | 64 + 36 |
| Max. permissible weight (kg) | 4500 |
T4.100N ROPS
| | |
| --- | --- |
| New Holland Engine* | F36 |
| No. of cylinders / Capacity (cm³) / Valves / Emissions Level | 4 / 3600 / 4 / Stage V |
| Standard pump flow + Service pump (Lpm) | 64 + 36 |
| Max. permissible weight (kg) | 4500 |
T4.110N ROPS
| | |
| --- | --- |
| New Holland Engine* | F36 |
| No. of cylinders / Capacity (cm³) / Valves / Emissions Level | 4 / 3600 / 4 / Stage V |
| Standard pump flow + Service pump (Lpm) | 64 + 36 |
| Max. permissible weight (kg) | 4500 |
T4.120N ROPS
| | |
| --- | --- |
| New Holland Engine* | F36 |
| No. of cylinders / Capacity (cm³) / Valves / Emissions Level | 4 / 3600 / 4 / Stage V |
| Standard pump flow + Service pump (Lpm) | 64 + 36 |
| Max. permissible weight (kg) | 4500 |
T4.80V ROPS
| | |
| --- | --- |
| New Holland Engine* | F34 |
| No. of cylinders / Capacity (cm³) / Valves / Emissions Level | 4 / 3400 / 2 / Stage V |
| Standard pump flow + Service pump (Lpm) | 64 + 36 |
| Max. permissible weight (kg) | 4500 |
T4.90V ROPS
| | |
| --- | --- |
| New Holland Engine* | F36 |
| No. of cylinders / Capacity (cm³) / Valves / Emissions Level | 4 / 3600 / 4 / Stage V |
| Standard pump flow + Service pump (Lpm) | 64 + 36 |
| Max. permissible weight (kg) | 4500 |
T4.100V ROPS
| | |
| --- | --- |
| New Holland Engine* | F36 |
| No. of cylinders / Capacity (cm³) / Valves / Emissions Level | 4 / 3600 / 4 / Stage V |
| Standard pump flow + Service pump (Lpm) | 64 + 36 |
| Max. permissible weight (kg) | 4500 |
T4.110V ROPS
| | |
| --- | --- |
| New Holland Engine* | F36 |
| No. of cylinders / Capacity (cm³) / Valves / Emissions Level | 4 / 3600 / 4 / Stage V |
| Standard pump flow + Service pump (Lpm) | 64 + 36 |
| Max. permissible weight (kg) | 4500 |
T4.120V ROPS
| | |
| --- | --- |
| New Holland Engine* | F36 |
| No. of cylinders / Capacity (cm³) / Valves / Emissions Level | 4 / 3600 / 4 / Stage V |
| Standard pump flow + Service pump (Lpm) | 64 + 36 |
| Max. permissible weight (kg) | 4500 |