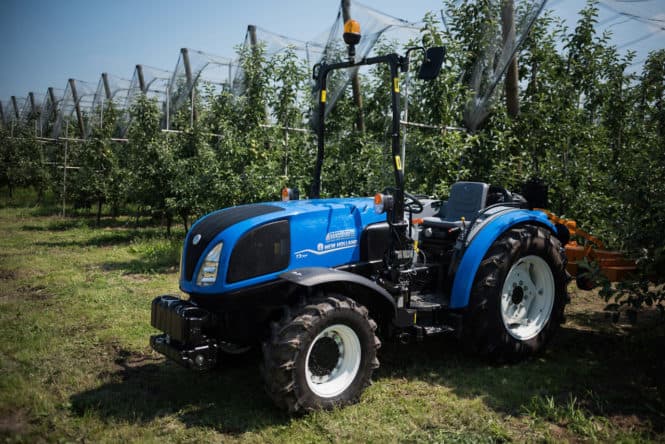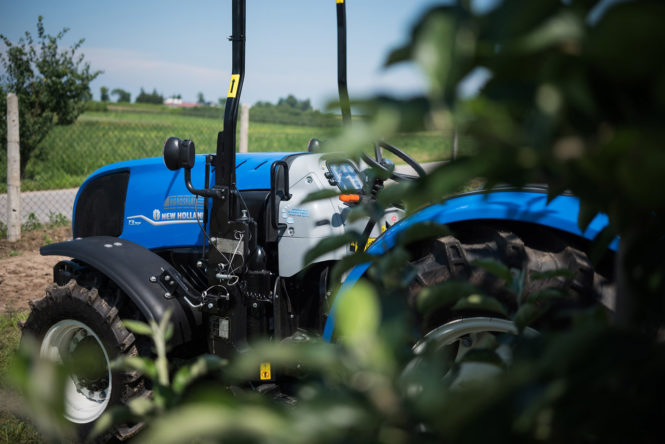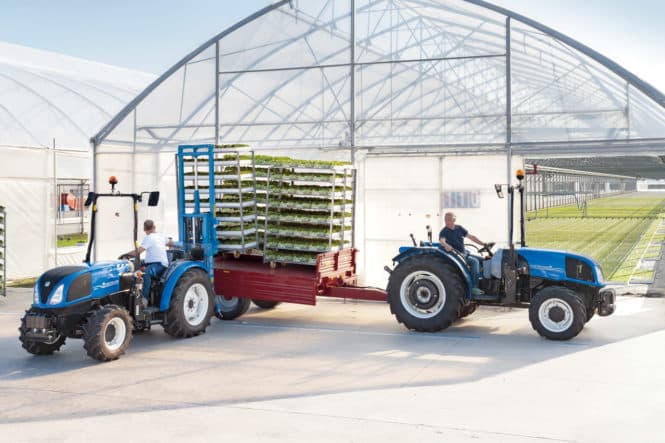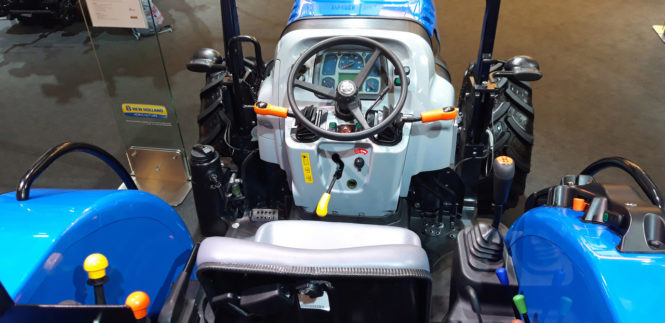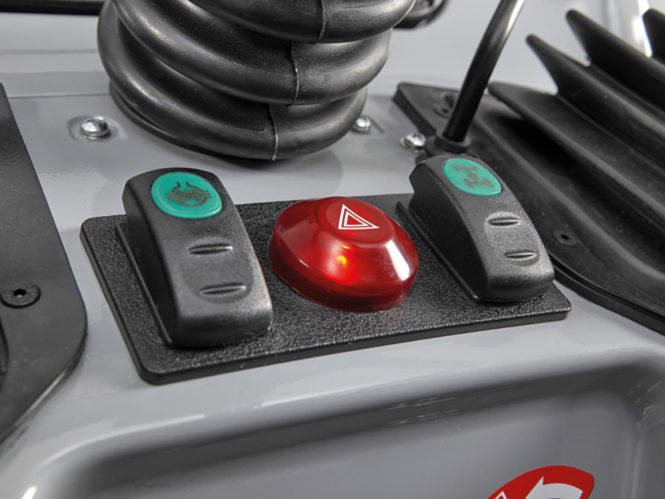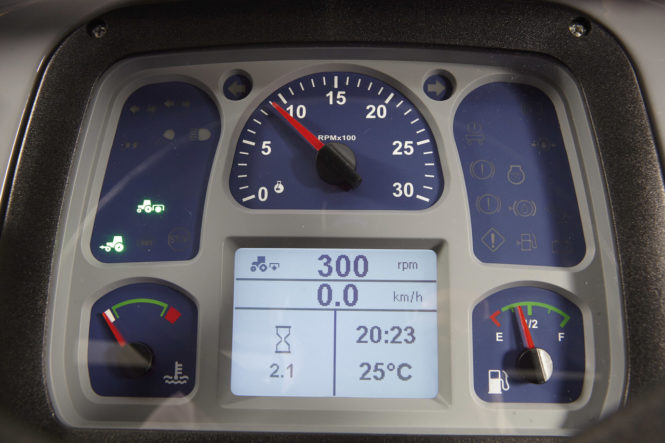 New Holland T3F
New Holland has a long tradition of excellence in the production of specialised orchard tractors.
THE UPDATED COMPACT AND NARROW ORCHARD TRACTOR FOR PROFESSIONAL FRUIT GROWERS
New Holland has a long tradition of excellence in the production of specialised orchard tractors. Designed and built to meet the demands and needs of professional fruit growers who seek a compact machine offering exceptional performance in the power range from 55 to 75hp, the new T3F can move with ease between rows, offering excellent performance for field work and road transport. In addition, these machines continue the New Holland tradition of ergonomic excellence, by providing the operator with a comfortable working environment with simple and intuitive controls. In the field of compact orchard tractors, there's only space for New Holland between your rows.
POWERFUL AND COMPACT
Powered by a lively turbocharged and inter-cooled three-cylinder engine, the flagship T3.80F model produces 75hp, the T3F offers unrivalled performance in a compact package.
PRODUCTIVE UPGRADED COMFORT
Class leading ergonomics define this tractor. Ensuring operator comfort during long working days was a top priority for our design engineers, and is apparent from the thoughtfully laid out controls.
Features
CLEAN PERFORMANCE
Again, New Holland has provided environment friendly engines packed with the latest technology and innovations. As the leader of orchard farming tractors, the new T3F series has three models powered by FPT Industrial's S8000 engine. This 2.9 litre, 3 cylinder engine is equipped with the latest Common Rail fuel injection technology, which is turbocharged and intercooled to deliver the power and performance expected of a New Holland tractor. Fully complaint to Stage V emission regulations, thanks to an optimised combustion profile with EGR (Exhaust Gas Recirculation) and DOC (Diesel Oxidation Catalyst) technology. While it does not require AdBlue, this system is naturally compact in design allowing the after treatment system to be located between the engine and the ROPS frame protecting it from branches. Clean and efficient combustion allows the class leading 600 hour oil change interval on these engines.
RESPONSIVE PRODUCTIVITY
At the heart of the T3F, fuel economy and efficiency lies. The engine's maximum power of up to 75hp is delivered at 1900rpm, and this peak power is maintained until it reaches 2300rpm. This flat engine power profile is of particular benefit for PTO and transport applications due to the flexibility where peak power is delivered. Additionally, when the tractor experiences additional load, the 49% of torque rise from the 75hp engine ensures that the tractor will continue to work in tougher conditions. All of these characteristics provide overall fuel and maintenance fee savings and reduce cost of ownership.
TOP TORQUE ACHIEVED
New Stage V engines on T3.80F delivers maximum torque of 341 Nm at 1400rpm engine speed and delivers a massive 49% of torque rise to tackle all extreme conditions with ease.
A WIDE CHOICE OF EFFICIENT TRANSMISSIONS
The T3F offers various transmission options to suit a range of applications. The 12×12 synchro shuttle transmission is offered as a simple and durable mechanical transmission and is a well-known feature of other New Holland tractor lines which have a maximum speed of 40kph. The T3F tractors also come equipped with 4WD as standard and an optional creeper speed which can reduce forward speed to 100 metres per hour, a benefit for intensive PTO applications.
SMOOTH DIRECTION CHANGE
The Synchro Shuttle™ system makes direction changes fast and easy without using the gear lever. The operator just uses the dedicated shuttle lever and clutch to change direction. The result? Seamless direction changes, better comfort and more productivity.
ROBUST FRONT AXLE
4WD is fitted as standard on all T3F models, which delivers increased axle capacity and more traction in the field.
OPTIMISING TRACTION
All T3F models have electro-hydraulic engagement of both the four-wheel drive and locking of the rear differential. The front axle benefits from a limited slip differential, while the rear axles final planetary gears are housed internally within the bell housing, a modern design concept for increased strength and durability.
Specifications
New Holland T3.60F
| | |
| --- | --- |
| Max. engine power (UNECE Regulation N. 120) [kW/hp(CV)] | 41/56 |
| Max. torque – ISO TR14396 (Nm) | 258 @ 1400rpm |
| Turning radius 4WD front axle (m) | 3.55 |
| Max. lift capacity at ball ends with arms horizontal (kg) | 2277 |
New Holland T3.70F
| | |
| --- | --- |
| Max. engine power (UNECE Regulation N. 120) [kW/hp(CV)] | 48/65 |
| Max. torque – ISO TR14396 (Nm) | 291 @ 1400rpm |
| Turning radius 4WD front axle (m) | 3.55 |
| Max. lift capacity at ball ends with arms horizontal (kg) | 2277 |
New Holland T3.80F
| | |
| --- | --- |
| Max. engine power (UNECE Regulation N. 120) [kW/hp(CV)] | 55/75 |
| Max. torque – ISO TR14396 (Nm) | 341 @ 1400rpm |
| Turning radius 4WD front axle (m) | 3.55 |
| Max. lift capacity at ball ends with arms horizontal (kg) | 2277 |
Download Brochure
New Holland T3F Brochure

PDF, 2.3 mb

Download