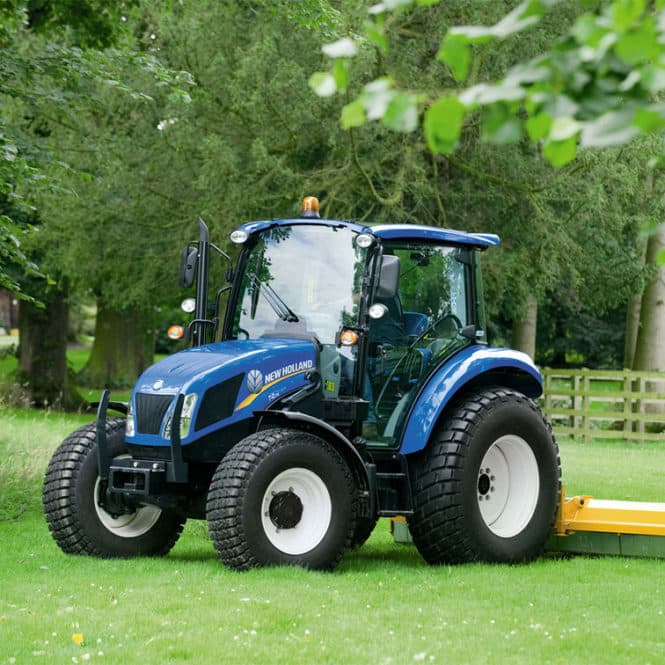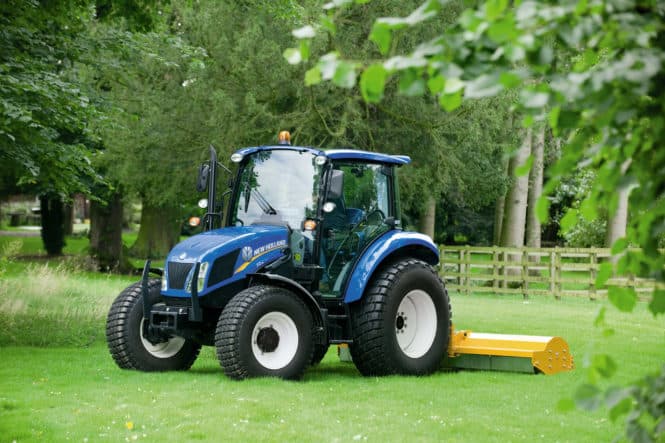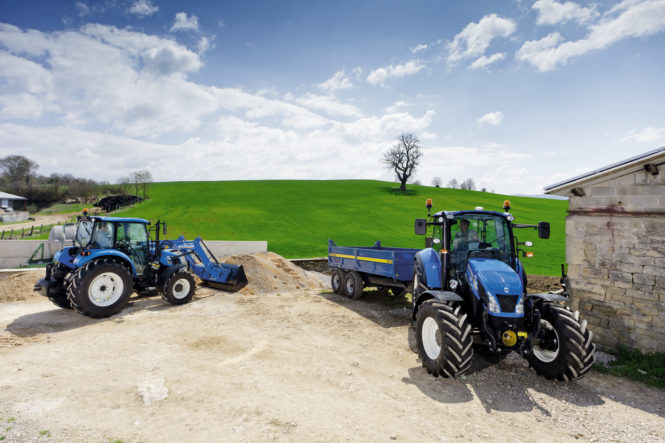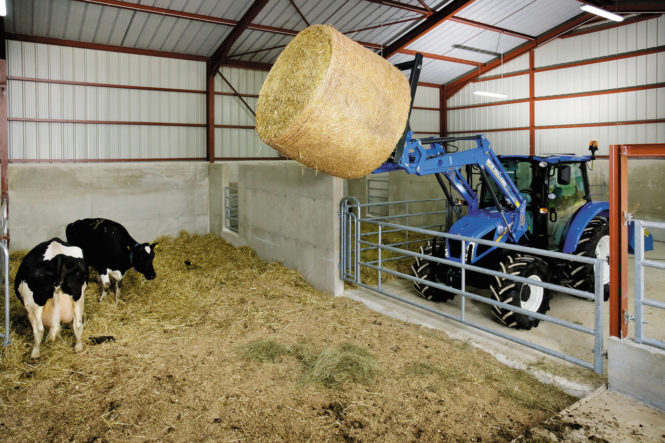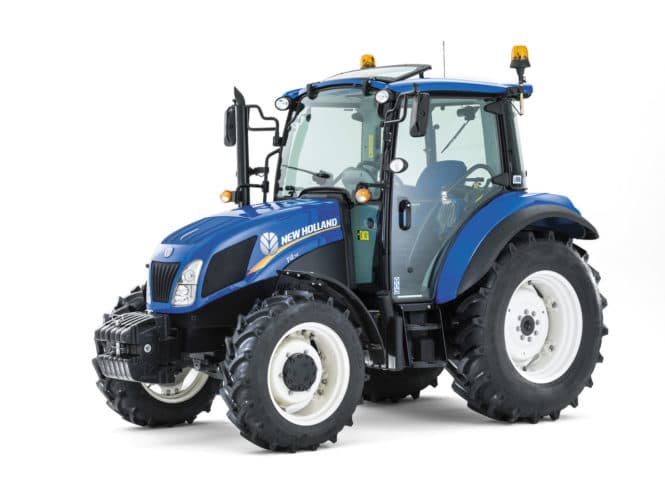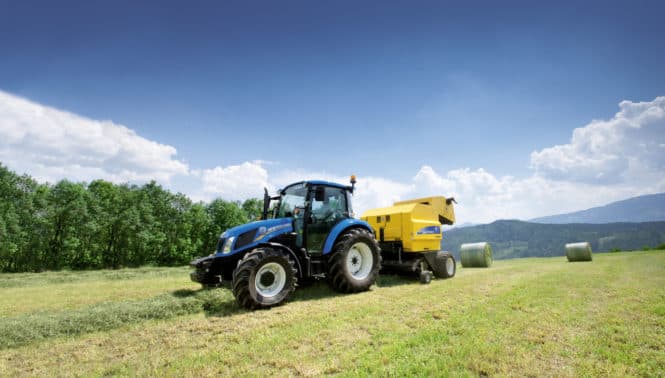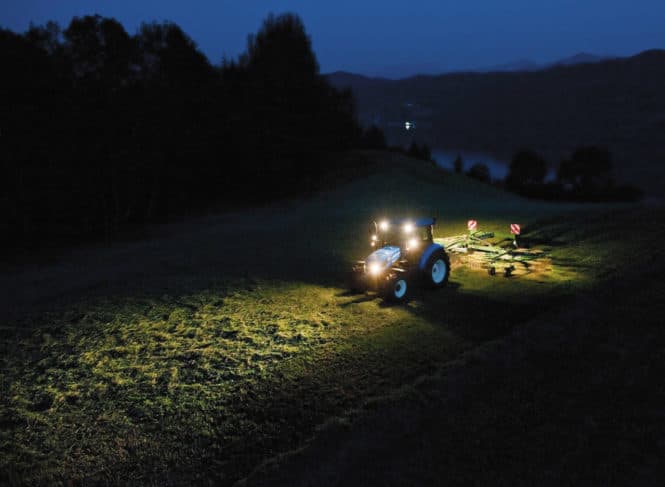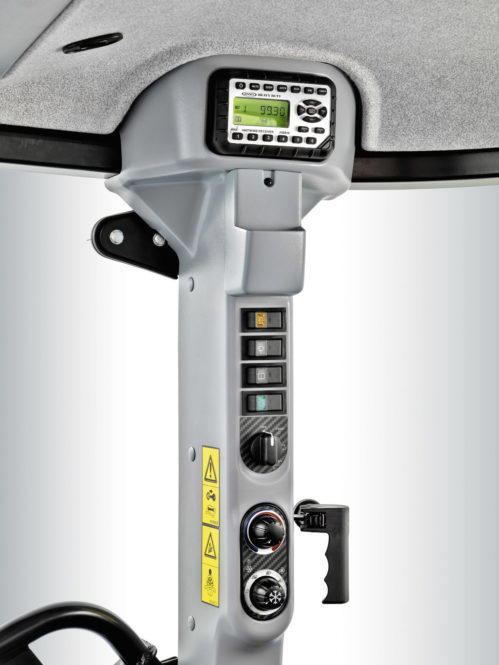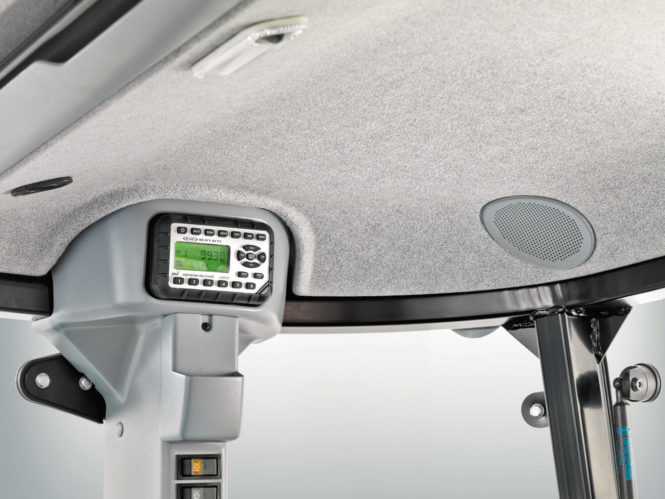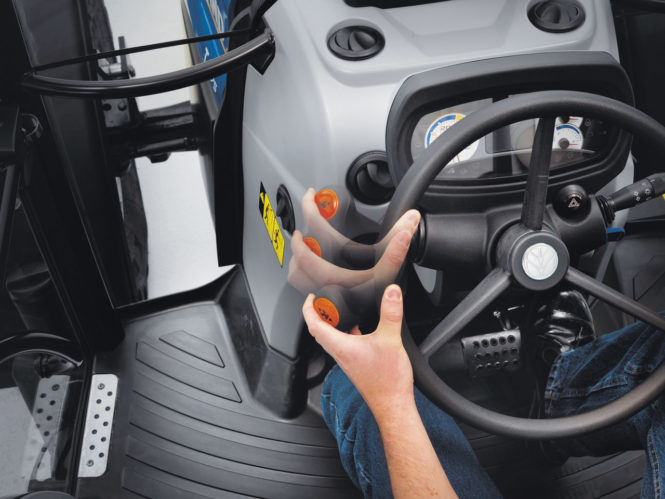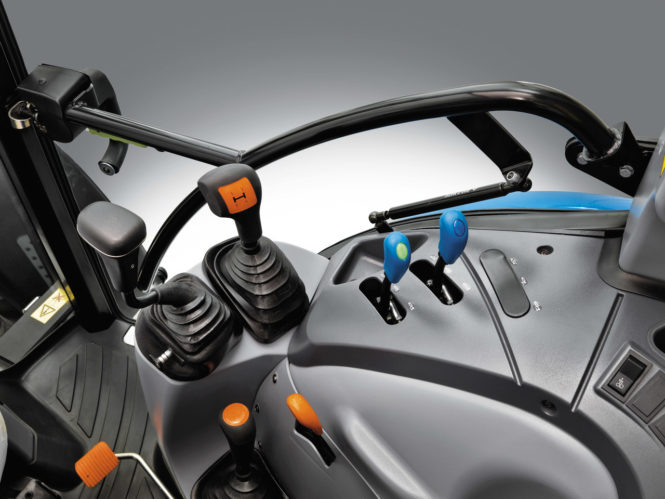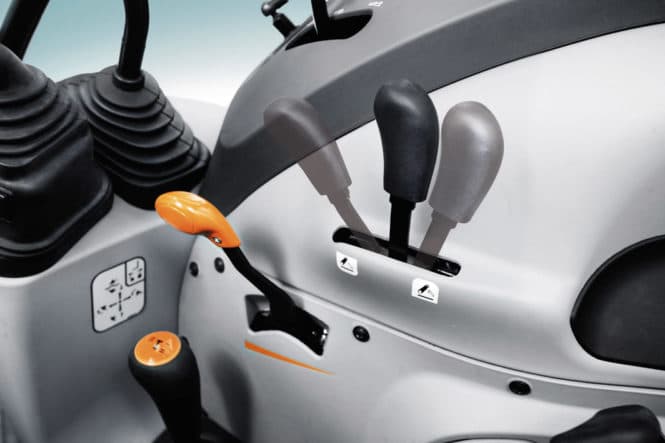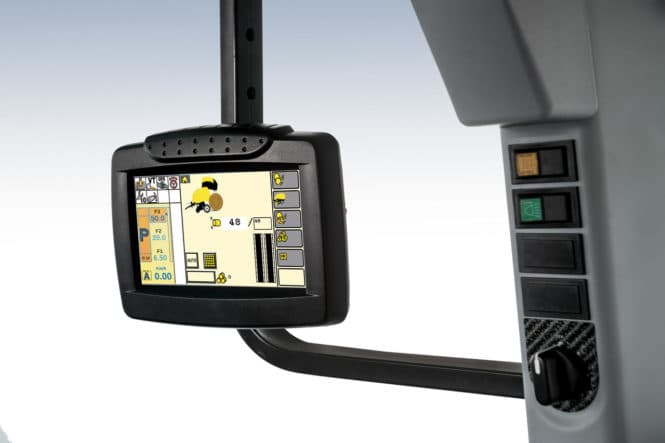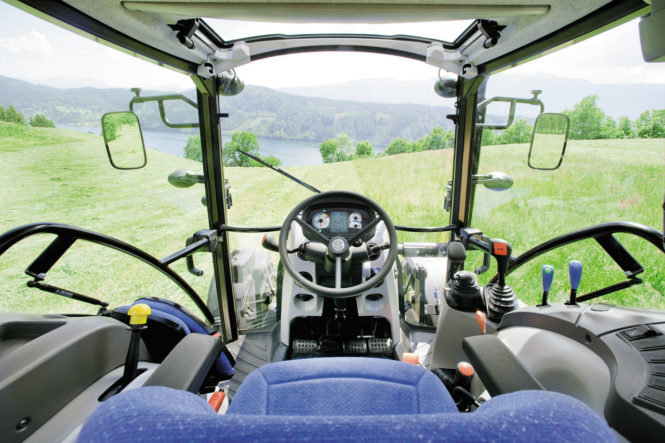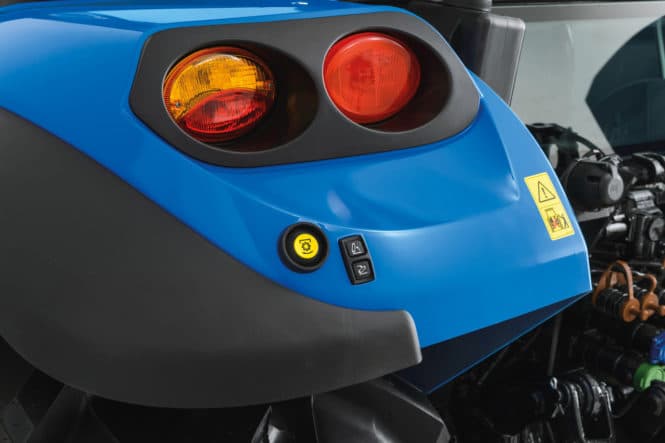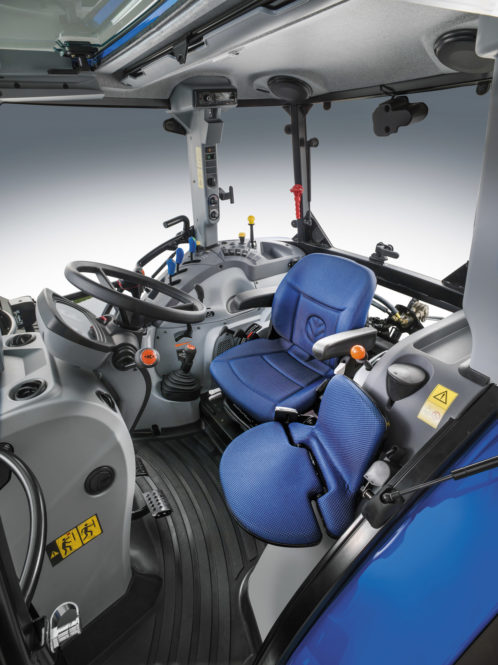 New Holland T4
THE MOST COMFORTABLE PLACE TO BE
The upgraded three model T4 range has been designed to take farming comfort to a whole new level. With 55 to 75hp(CV) on tap, even the most demanding users will be able to sit back and relax in this, a truly New Holland tractor. Fully compliant with the even more stringent Stage V emissions regulations, you can save fuel and improve performance with efficient Common Rail engines. From distinctive styling to responsive performance, the T4 is a key member of your farming family.
ABSOLUTE DRIVING PLEASURE
Long days will fly by in the deluxe VisionView™ cab that has been designed around you to maximise your productivity. How? Conceived in virtual reality following extensive consultation with many customers, it offers ergonomic comfort to all operators, and has set a new industry benchmark in this segment. The advanced air conditioning and a full sized instructor seat mean the T4 takes operator comfort to a whole new level. Pleasure. Guaranteed.
POWER AND PRODUCTIVITY
Are you looking for a tractor that offers you outstanding productivity in a compact package? Then the T4 is the natural choice. Advanced Common Rail engines deliver precise fuelling for unbeatable responsive performance and improved fuel efficiency. The range's power curve is flat between 1900 and 2100rpm for sustained power during demanding operations. An outstanding power-toweight ratio of a mere 30.4kg/hp(CV), further enhances fuel economy. The fully integrated front loader with quick cycle times makes loader applications even more efficient, especially when combined with the hydraulic Powershuttle. Performance. Guaranteed.
LOWER OPERATING COSTS
New Holland is committed to boosting your profitability by lowering your operating costs. The new Common Rail engines reduce your fuel consumption by up to 13% when compared to previous models. The Diesel Oxidation Catalyst (DOC) & Diesel Particulate Filter (DPF) technology for Stage V compliance is maintenance-free and enhances efficiency. Even longer 600 hour service intervals, together with simple daily checks, courtesy of the single piece hood and ground-level service points, make keeping your tractor in tip top condition as easy as 1-2-3.
MAXIMUM VERSATILITY
No two farms are alike, so the new T4 has been engineered by design to offer users ultimate versatility. Perfectly at home in an agricultural environment, it can effortlessly turn its hand to specialist loader or PTO tasks, and is equally capable in transport or field situations. This adaptable all-rounder is also the perfect solution for municipalities and golf courses. Versatility. Guaranteed.
EXACTLY WHAT IT SAYS ON THE BONNET
The T4's performance is immediately obvious to all users. How? Quite simply it's on the bonnet. The first two digits 'T4' refer to the tractor's category and the following two, for example '75', refer to the maximum engine power. What does that mean to you? You can buy your T4 safe in the knowledge that its performance will perfectly match your requirements.
Features
AXLES TO SUIT YOUR NEEDS
The entire T4 range can be specified with either two or four wheel drive options to ensure that your tractor meets your individual needs. For those who work in demanding conditions, or require enhanced braking performance, four wheel drive is the natural choice which automatically engages to assist braking on 40kph models. Four wheel drive engagement is courtesy of a dedicated fingertip switch situated on the Command Arc.
SELECT THE TRANSMISSION THAT SUITS YOU
New Holland knows that every farmer has different requirements, and that intelligent innovation also means offering tried and tested solutions to improve efficiency. Therefore, a choice of transmissions means that you will always be able to find the perfect solution for your operation.
SYNCHRO SHUTTLE TRANSMISSION
Available throughout the entire range, the 12×12 Synchro Shuttle™ offers four gears in the working range, perfect for fine tuning forward speed to a variety of implements. It features a robust mechanical shuttle for positive direction changes.
HYDRAULIC POWERSHUTTLE TRANSMISSION
The 12×12 transmission is available in Hydraulic Powershuttle configuration. The shuttle is ergonomically positioned on the steering column to enable fingertip shuttling: you can operate the shuttle whilst holding the steering wheel. Perfect for productivity boosting precision loader work in absolute safety.
CLEAN, POWERFUL ENGINES
The entire T4 range boasts 3.4 litre Common Rail F5C engines developed by FPT Industrial that comply with the stringent Stage V emissions regulations. Advanced Common Rail technology delivers precise fuelling for optimal response and has also reduced fuel consumption by up to 13%. This super-quiet engine develops up to 75hp(CV) and up to 310Nm of torque for guaranteed productivity and operator comfort. The flat power curve between 1900-2100rpm maintains maximum performance for longer. Throw in a power-to-weight ratio of just 30.4kg/hp(CV) and the T4 is your perfect farming partner. The entire range uses Diesel Oxidation Catalyst (DOC)& Diesel Particulate Filter (DPF) technology for Stage V compliance, which is maintenance-free and further enhances efficiency to reduce total cost of ownership.
Specifications
New Holland T4.55
| | |
| --- | --- |
| Max. horsepower – ISO TR14396- ECE R120 [kW/hp(CV)] | 43/58 |
| Rated horsepower – ISO TR14396- ECE R120 [kW/hp(CV)] | 43/58 |
| Transmission | Synchro Shuttle™ |
| Max. lift capacity through the range (610mm behind ball ends) (kg) | 2070 |
New Holland T4.65
| | |
| --- | --- |
| Max. horsepower – ISO TR14396- ECE R120 [kW/hp(CV)] | 48/65 |
| Rated horsepower – ISO TR14396- ECE R120 [kW/hp(CV)] | 48/65 |
| Transmission | Synchro Shuttle™ |
| Max. lift capacity through the range (610mm behind ball ends) (kg) | 2070 |
New Holland T4.75
| | |
| --- | --- |
| Max. horsepower – ISO TR14396- ECE R120 [kW/hp(CV)] | 55/75 |
| Rated horsepower – ISO TR14396- ECE R120 [kW/hp(CV)] | 55/75 |
| Transmission | Synchro Shuttle™ |
| Max. lift capacity through the range (610mm behind ball ends) (kg) | 2070 |