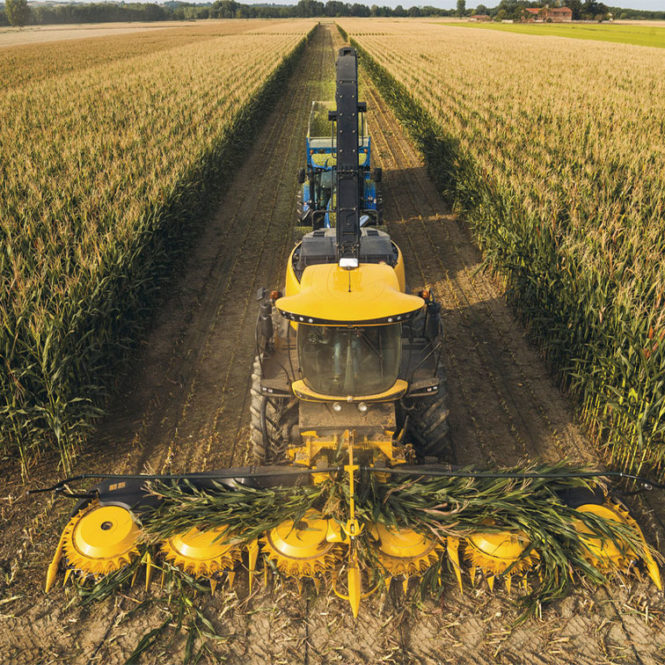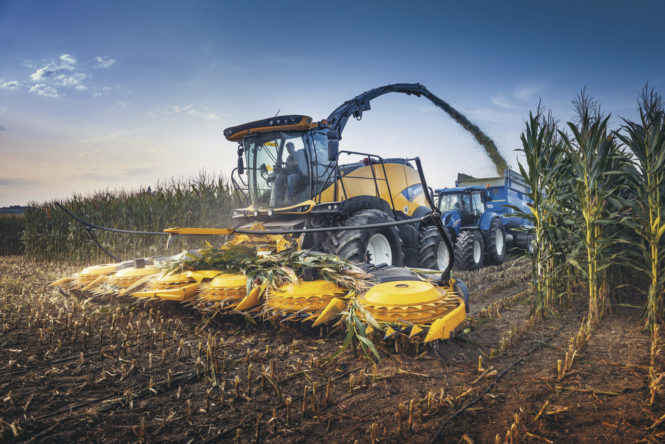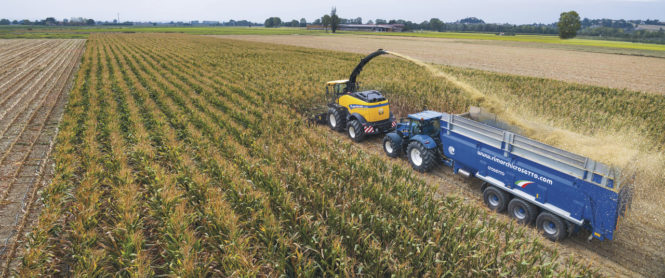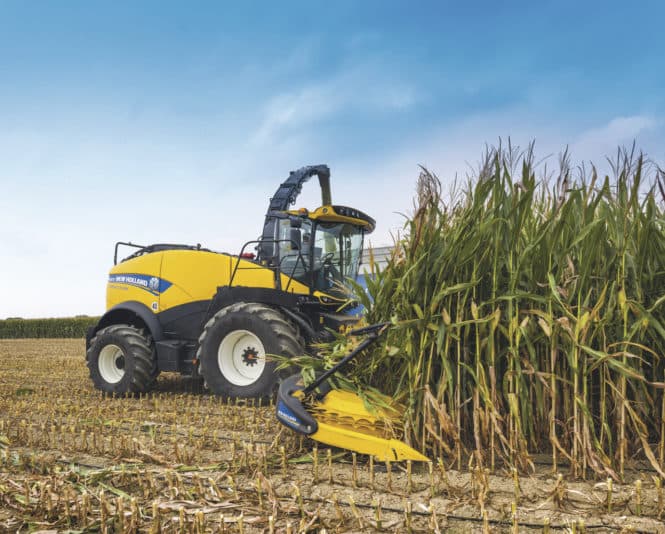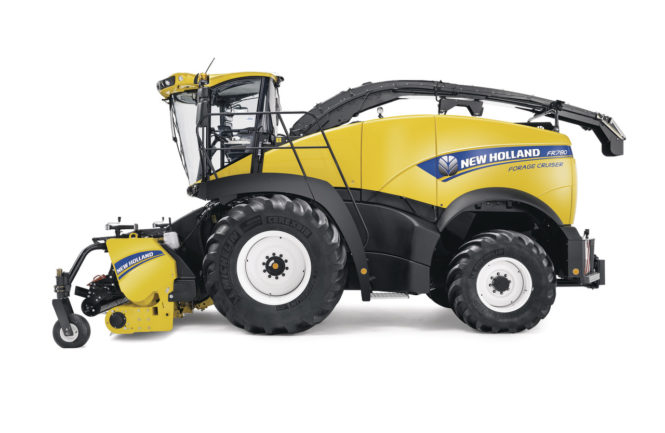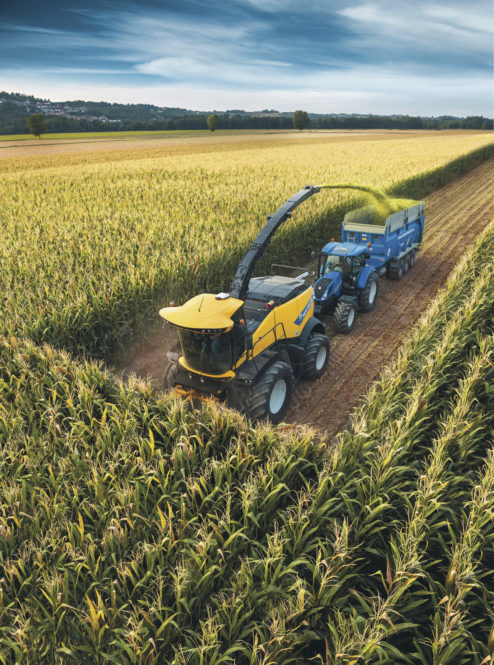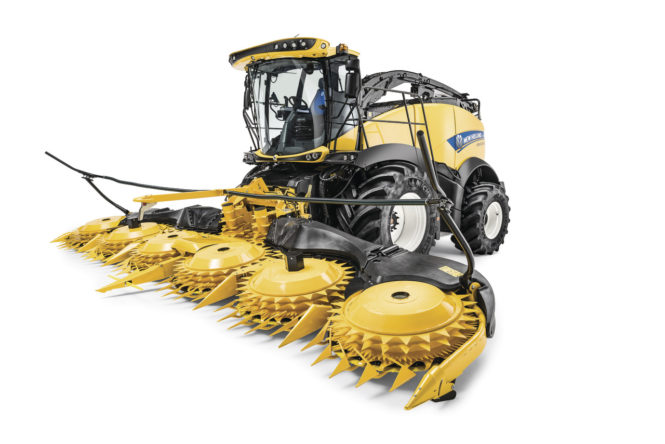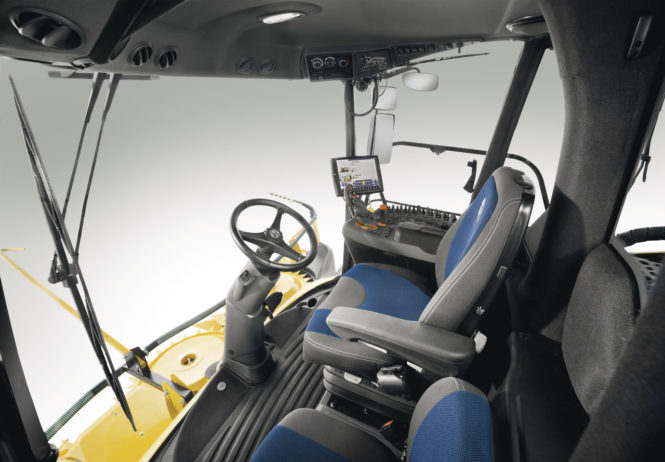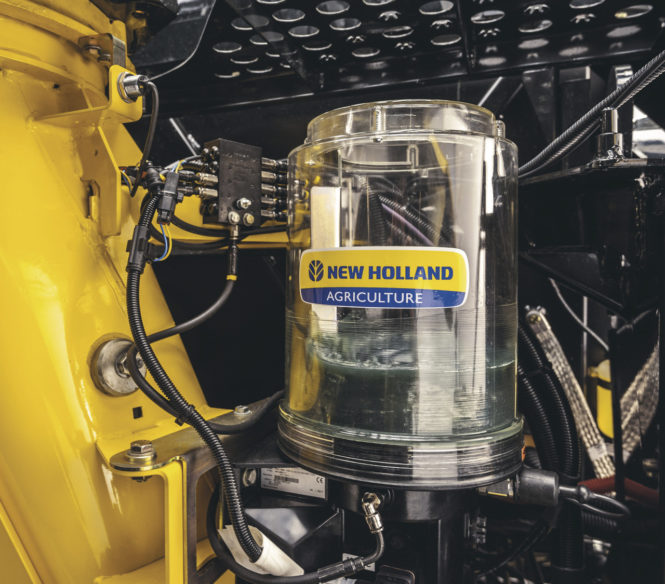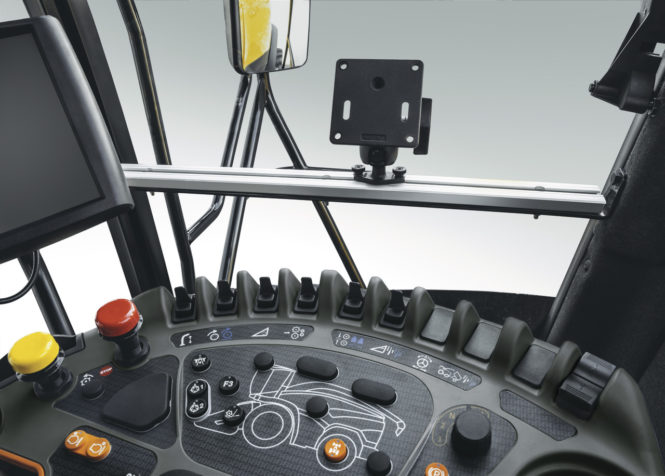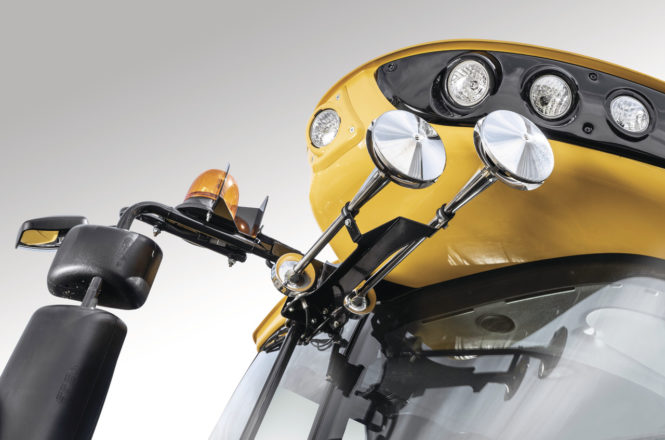 New Holland FR Forage Cruiser
FORAGE HARVESTING ON THE LARGEST SCALE
New Holland has been at the forefront of the forage harvesting sector for over half a century with a whole host of pioneering industry firsts that have revolutionised the way you forage today. The powerful FR920, takes New Holland foraging to the next level. Industry leading chopping performance has been matched with outstanding operator comfort. Significantly improved capacity and productivity result from optimised feeding performance, all wrapped up in a sleek and tapered design which has New Holland written all over it.
ULTIMATE CAPACITY
New Holland knows that throughput is king where forage harvesters are concerned and that owners dream in tonnes per hour. The FR920 is powered by the V20 8 cylinder V layout engine. Developed by FPT Industrial, this mighty beast will have you steaming up and down fields. ECO engine management mode works to ensure the engine is always fully loaded in relation to a preset engine speed to deliver optimal operating efficiency and performance. Renowned Power Cruise™ features ensure your FR's voracious appetite is satisfied in fields of varying crop density and state of the art headers eat grass, maize and whole crop.
SUPERIOR HARVEST QUALITY
Patented HydroLoc™ technology guarantees constant chop length independent of throughput and crop type. The ActiveLOC™ system automatically adapts chop length to actual moisture content for unsurpassed quality. Automatic adjustment maintains best-in-class chop quality, and when combined with uniform kernel cracking from the DuraCracker™ heavy duty crop processor, premium forage and biomass quality is guaranteed.
LOWER OPERATING COSTS
Lower operating costs mean higher profits. The entire FR range is fitted with ECOBlue™ HI-eSCR 2 technology to comply with the most stringent Stage V emissions regulations to date and maintains the outstanding performance you've come to expect of the FR Forage Cruiser range. Increasing productivity and reducing costs. Advanced MetaLoc™ technology protects your FR from potentially fatal metal ingress. The patented Variflow™ system crop processor can be changed from maize to grass position in under 2 minutes without the need for tools. Saving time, earning you more money.
* Refers to official DLG certified test data.
ABSOLUTE DRIVING PLEASURE
Skilled forage harvester operators are as valuable as the crop you are harvesting and when you've found one, you'll want to hang onto them. The FR offers a firstclass foraging environment. They'll have an uninterrupted view whichever way they look for accurate pick-up and crop discharge. The cab has been completely redesigned to put the operator at the heart of the machine. The armrest is an example of ergonomic excellence with all controls falling naturally to hand. What's more it boasts the ultra-wide screen IntelliView™ IV colour touch screen monitor and armrest to keep all key operating parameters under control. The IntelliFill™ feature fills the trailer for you so you can concentrate on the serious business of pick-up.
BEST-IN-CLASS FUEL EFFICIENCY
The FR650 Forage Cruiser was put through its paces on the rigorous DLG Fokus testing. The results will offer you impressive efficiency savings. The FR650 consumed a mere 0.47 litres of diesel per tonne of maize foraged when chopping to 12mm. While as DLG certified, Best-in-Class fuel consumption in grass silage (alfalfa) was just 0,45 litres of diesel per tonne when chopping at 20mm.
Features
QUALITY AND THROUGHPUT WITHOUT ANY COMPROMISE
The above is a bold statement, but the FR can more than live up to this title. Industry-leading HydroLoc™ technology ensures constant chop length regardless of crop type and variations in load. But quality is nothing without throughput. The FR's voracious appetite is never satisfied, and as fast as you can get the crop in it has been processed. The result? The best quality silage that facilitates digestion: both in traditional livestock stomachs and in modern biomass plants.
VERSATILE OFFERING TO COVER ANY CUSTOMER NEEDS
Customers demand ultimate chop quality. The FR Forage Cruiser delivers it thanks to unparalleled processing performance. Contractors and cooperatives want to change between crops in the blink of an eye to minimise downtime. The FR delivers courtesy of industry-leading Variflow™ technology.
CONTINUOUS CROP FLOW
Foraging is not a solo task, constant communication is required between the operator and the harvesting crew to ensure the entire crop is picked up and transferred to the pit. With over 210° of spout movement, unfettered, 'goldfish bowl' cab visibility and fully automatic trailer filling, as the crop flows out, the cash will flow in.
POWERFUL. RESPECT. FOR YOU. FOR YOUR BUSINESS. FOR THE FUTURE.
The FR Forage Cruiser range benefits from the productivity enhancing features of FPT Industrial Cursor 13, 16 and V20 engines equipped and Stage V compliant ECOBlue™ HI-eSCR 2 technology. This system maintains the outstanding performance and fuel economy you've come to expect of the FR range. Through the Clean Energy Leader strategy, New Holland is committed to making agriculture more efficient while respecting the environment. The proven ECOBlue™ technology uses AdBlue to transform the harmful nitrogen oxides contained in the exhaust gas into harmless water and nitrogen. This after-treatment system is separate from the engine which means the engine only breathes clean, fresh air. What does this mean? Clean running power units that offer improved performance and enhanced fuel economy.
SPACIOUS AND QUIET. YOUR FIELD OFFICE.
The FR Forage Cruiser range of forage harvesters offer you a home away from home during long foraging days. The spacious cab offers unrivalled 360° visibility and you can enjoy all of that space in the peace and quiet of the near silent 76dB(A) cab. The automotive inspired interior, features an ultramodern dark grey colour scheme, which has been extended to the seat, headliner and armrest. The luxurious leather steering wheel and two tone leather trimmed seats add to the exclusive, premium feel of your field office.
EFFORTLESSLY MAXIMISING PERFORMANCE.
Intelligent and intuitive automation saves time and enhances foraging performance. The CommandGrip™ multifunction lever is the primary interface that controls your FR. All key machine operating parameters can be managed including header controls, spout engagement and Power Cruise activation. The right hand console contains less frequently used functions, which are laid out in an ergonomic and logical manner. Machine functions can be analysed at a glance courtesy of the colour IntelliView™ IV monitor.
NEW HOLLAND PLM® SOLUTIONS TO MATCH YOUR NEEDS
All FR forage harvesters can be specified with IntelliSteer®, New Holland's fully integrated auto guidance package. Fully compatible with the most accurate RTK correction signals, IntelliSteer can guarantee pass-to-pass and year-on-year accuracy as low as 1-2cm. A variety of guidance paths, from straight A-B runs to the most complex adaptive curves can be programmed, as well as the advanced functionality which enables operators to transfer the guidance path from the tractor to the forage harvester for precision in-field operation. The result? Fields which are cleanly harvested, so every grain, blade of grass or kernel gets safely stored away.
Specifications
New Holland FR480
| | |
| --- | --- |
| Maximum engine power (1700-1900rpm) – ISO TR14396 – ECE R120 [kW/hp(CV)] | 350/476 |
| Maximum Torque (1500rpm) ISO 14396 – ECE R120 (Nm) | 2003 |
| Cutterhead diameter (max / min) (mm) | 710 / 690 |
| Variflow™ system | Shift between crops in under two minutes |
New Holland FR550
| | |
| --- | --- |
| Maximum engine power (1700-1900rpm) – ISO TR14396 – ECE R120 [kW/hp(CV)] | 400/544 |
| Maximum Torque (1500rpm) ISO 14396 – ECE R120 (Nm) | 2316 |
| Cutterhead diameter (max / min) (mm) | 710 / 690 |
| Variflow™ system | Shift between crops in under two minutes |
New Holland FR650
| | |
| --- | --- |
| Maximum engine power (1700-1900rpm) – ISO TR14396 – ECE R120 [kW/hp(CV)] | 480/653 |
| Maximum Torque (1500rpm) ISO 14396 – ECE R120 (Nm) | 2751 |
| Cutterhead diameter (max / min) (mm) | 710 / 690 |
| Variflow™ system | Shift between crops in under two minutes |
New Holland FR780
| | |
| --- | --- |
| Maximum engine power (1700-1900rpm) – ISO TR14396 – ECE R120 [kW/hp(CV)] | 570/775 |
| Maximum Torque (1500rpm) ISO 14396 – ECE R120 (Nm) | 3323 |
| Cutterhead diameter (max / min) (mm) | 710 / 690 |
| Variflow™ system | Shift between crops in under two minutes |
New Holland FR920
| | |
| --- | --- |
| Maximum engine power (1700-1900rpm) – ISO TR14396 – ECE R120 [kW/hp(CV)] | 670/911** |
| Maximum Torque (1500rpm) ISO 14396 – ECE R120 (Nm) | 4095 |
| Cutterhead diameter (max / min) (mm) | 710 / 690 |
| Variflow™ system | Shift between crops in under two minutes |
Download Brochure
FR Forage Cruiser Range

PDF, 7.2 mb

Download