Very few people have worked for Ernest Doe for 50 years, so when it happens it is a very special occasion. Ernie Green is one name that springs to mind and, more recently, Malcolm Sargent. It was also achieved by two early employees when you could leave school at a younger age – Jack Wybrew and Lou Atkins. Of course, three generations of the Doe family reached their 50 year service – our founder Ernest Doe, his son Ernest Charles and his grandson, Alan Ernest Doe (late father of our present Chairman Colin E Doe).
So, it is evident that a 50th Anniversary at Ernest Doe & Sons Limited is a rare achievement and Gordon Law now joins this hallowed (Golden) Hall of Fame!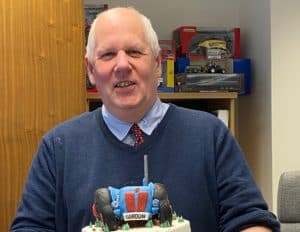 Gordon's career began at the tender age of 16 following the sad passing of his father. Mr Law Senior had worked for William Batty, latterly Sir William, the Managing Director (and subsequently Chairman) of Ford in Britain, who took it upon himself to help Gordon find a job. However, he was forced to look outside the business following Gordon's unsuccessful attempt to get into the demonstration team at Ford and 'not liking the look of the factory'. With strong links between Ford and Ernest Doe & Sons, Sir William, known to the Doe family as Bill, had a good relationship with Alan Doe and sent Gordon to meet him at Ulting. Shortly after, on 21st September 1970, Gordon joined the company as a Parts apprentice at Fyfield Branch.
Gordon became a senior Partsman at Fyfield under Dick Legg. Dick became Branch Manager at Braintree and Gordon joined him at the branch as Parts Manager.
When the business of Colchester Tractors was purchased by Ernest Doe, the company needed a knowledgeable person who knew the Doe systems to be Parts Manager, hence Gordon took this position. Gordon made his final move in 1996 when he moved to the purchase office to become the company's Parts Stock Controller.
When asked about a highlight of his career at Ernest Doe, Gordon mentioned his time at Colchester Branch as the Parts Manager. He remarked that he 'had a cracking good team' and it is no coincidence that during Gordon's tenure at Colchester, this was the only time any branch Parts Department has ever beaten the Ulting Parts Department sales figures.
Earlier in the week he was presented with a beautiful cake that was commissioned by his fellow purchase office team members and topped off with a sugar craft version of his favourite tractor. Despite the Covid-19 restrictions, Gordon has managed a Covid-compliant full week of celebrations at work, seeing friends and colleagues from across the business in small, socially distanced numbers.
The week was topped off on Friday when the Directors and General Managers raised a glass with Gordon in the board room and presented him with a limited edition Triple-D print and a garden bench.
Congratulations Gordon and thank you for your loyal service.