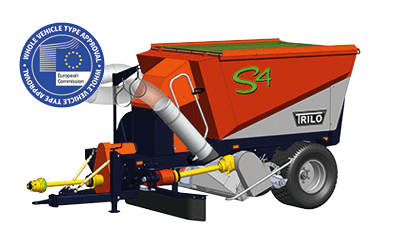 Trilo S4
The Trilo S4 – Medium-sized sweeper with wander hose with a loading volume of 4 m³. Vacuum sweeper equipped with a wander hose are ideally suited for mobile removal of material from hard-to-reach places.
For example, grass clippings, hedge trimmings, leaf litter or debris you can vacuum and collect without a problem. The compact vacuum sweepers are equipped with a 6 metres long flexible suction hose with a diameter of 250 mm. The end piece is equipped with a comfortable hand grip, a roller wheel and a rubber end piece that allows large amounts of material to be collected quickly and effectively. The fan is driven by a PTO drive shaft attached to the tractor and requires an output of 45 – 70 HP (33 – 51 kW).
NEW The S4 now with type approval for the whole of Europe.
You can get started right away wherever you want because the TRILO S4 now has a type approval for transport on public roads.
Specifications
• Vacuums both litter and grass clippings.
• Compact and manoeuverable.
• Large radial tyres for low ground pressure.
• Driven by PTO drive shaft.
• 2.1 m high-tipping bin.