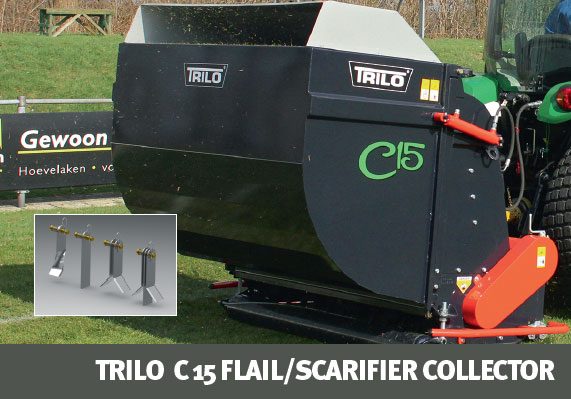 Trilo C15 Flail/Scarifier
The TRILO C 15 is a fully mounted, PTO driven flail / scarifier collector with a working width of 1.5m, built to the very high standard associated with the TRILO range of machines. Specifically designed for tractors of 28 DIN HP and above, requiring a single acting hydraulic system to operate the hopper emptying mechanism. A multipurpose machine, this robust and compact unit will cut and collect grass from rough or fine areas, scarify and collect leaves, moss, horse droppings and other debris.
The 18 wind paddles fitted to the heavy duty finely balanced rotor ensure a thorough uptake of material. Fitted with 3mm scarifying blades, the TRILO C 15 will, in one pass, leave an aerated and well groomed finish – regenerating previously matted and stale ground. The heavy duty twisted flail or back to back flail blades can be easily fitted using the unique blade locking system designed specifically to make life easier for the end user. The material is discharged by operating the cab-mounted single acting hydraulic lever which raises the rear of the hopper, allowing compact tidy heaps to be deposited at disposal sites.
Specifications
working width 1.50m
lxwxh 1.85 x 1.90 x 1.50m
hp requirement 28 hp
weight 495kg
number of blades 48
number of wind paddles 18
blade spacing 26mm
hopper 1.1m³
three point cat i – ii
hydraulics 1 single acting valve