Ernest Doe & Sons Long Service Awards 2023
Founded in 1898, Ernest Doe & Sons has been faithfully serving our customers for 125 years. It is particularly poignant that, in our anniversary year, we take great joy in reflecting on the dedication and loyal service of our people; the cornerstone and beating heart of our business.
October 2023 stands out as a landmark moment in our history, as we celebrated an incredible 400 years of collective service. This momentous occasion was marked with the presentation of fourteen 25-year gold watches and a special 50-year award, embodying the sense of family and community that defines our company. Among the recipients was Steven Houlding, an agricultural service technician based at our Colchester branch, achieving an impressive 50 years of dedicated service since joining our business in 1973.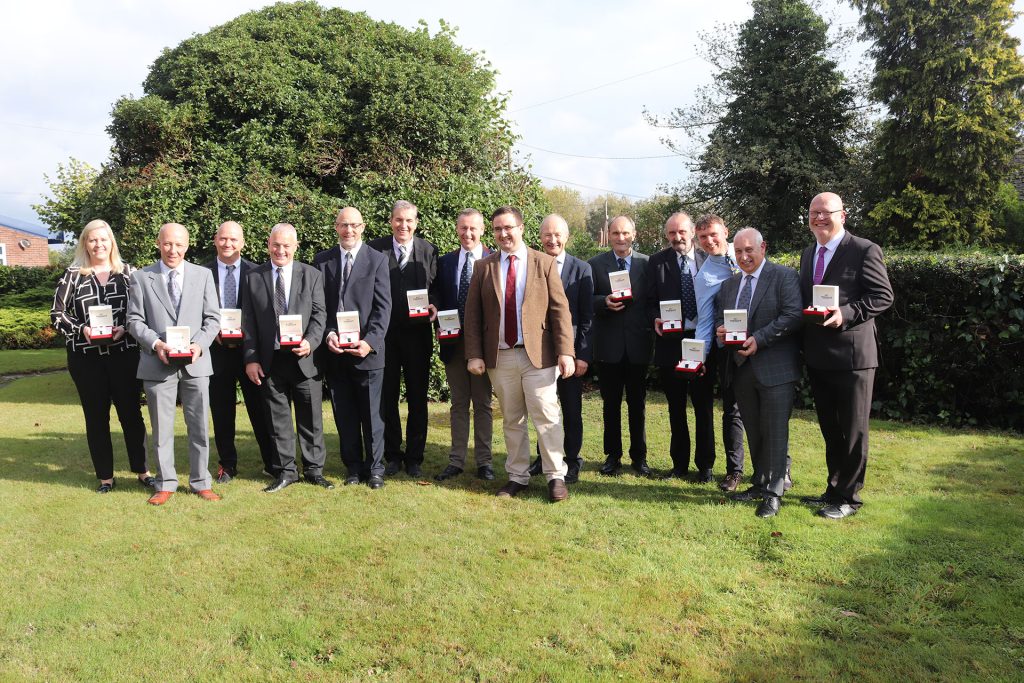 The tradition of recognising long service at Ernest Doe & Sons began in 1958 with the presentation of the first gold watches. This distinguished honour marked the extraordinary 50-year commitment of two team members, Lou Atkins and Jack Whybrow. Jack Whybrow, in turn, surprised Ernie Doe, son of our founder, with a gold watch, commemorating Ernie's own outstanding 40 years of service that same year.
In 1972, a decision was made to extend this tradition to 29 members of staff, who had reached their 25-year anniversary with the business. Fast forward to today, and we are proud to have presented a total of 307 watches, in recognition of our gratitude for the loyalty and dedication shown to our company.
We take great pride in acknowledging and congratulating all our deserving recipients, whose names now join an impressive list of Ernest Doe & Sons long-service awardees:
Steven Houlding – Colchester Agricultural Service Technician
Jim Pamment – North Walsham Area Sales Manager
Kelly Hollingsworth – Ulting Purchase Ledger
Kevin Hemp – North Walsham Service Manager
Kevin Gotterson – Fakenham Service Manager
David Beales – Fakenham Parts Manager
Brian Thurston – North Walsham Parts Manager
Christopher Norton – Fakenham Service Technician
Darren Watts – Braintree Parts/Horticulture Supervisor
Stephen Oxborough – Fakenham Service Technician
Kevin Blyth – Wymondham Parts Sales
Nick Ferrari – Fakenham Horticultural Sales
Ted Payne – North Walsham Service Technician
Scott Hull – Ulting Construction Sales
Steven Hurren – Fakenham Area Sales Manager
Our company ethos is built on commitment, integrity and a shared passion for growth. Our heartfelt gratitude is extended to all the above team members and huge congratulations to everyone for reaching such an impressive milestone in their careers.

Angus E Doe, Managing Director