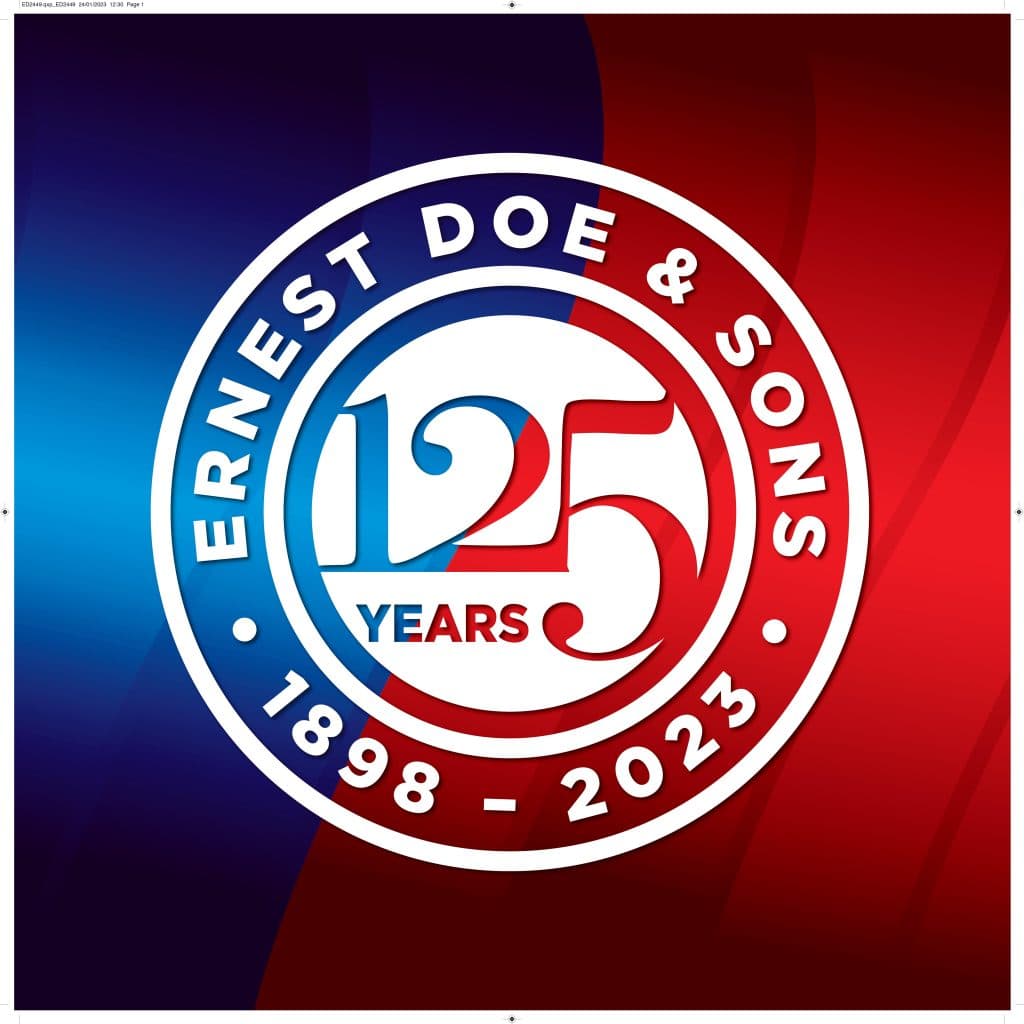 Quasquicentennial [ kwos-kwi-sen-ten-ee-uhl ]
Pertaining to or marking a period of 125 years. Noun: a 125th anniversary. a celebration marking such an anniversary.
Quasquicentennial! It's not a word you use every day but on Saturday, 24th June Ernest Doe & Sons Ltd celebrates this significant milestone in the company's history. This family-owned business has been at the forefront of agricultural equipment since its humble beginnings in 1898 shoeing horses and repairing implements. Over the past 125 years, Ernest Doe & Sons has grown and flourished, thanks to the unwavering support of generations of customers and the dedication of the Doe family.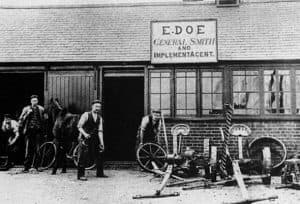 It has established itself as the UK's largest family-owned full-service agricultural, construction and groundcare machinery dealership, supplying and supporting equipment to a broad customer base, together with 19 country stores and two online e-commerce sites. Its ability to adapt to changing times and understand customer needs and expectations has been crucial to its success. The one constant throughout has been a steadfast commitment to quality.
As we reflect on this remarkable journey, the rich heritage and enduring impact of Ernest Doe & Sons, within the industries it serves, provides a fascinating read.
A Legacy of Vision and Determination:
At the age of 17, at the insistence of his father, Ernest Doe took up an apprenticeship with Mr George Wood, Blacksmith of Ulting. He was reluctant as it meant he had to live away from home but he was told by his father "boy you have got to be somewhere" and the argument was concluded! He was later to comment that it was the best thing that ever happened to him.
Mr Wood retired five years later, leasing the Blacksmith Shop to 22-year-old Ernest Doe on 24th June 1898. The signed agreement, sales ledgers and account books from that period still exist today providing an intriguing insight into the early business dealings, with some multi-generation accounts still operating to the present day.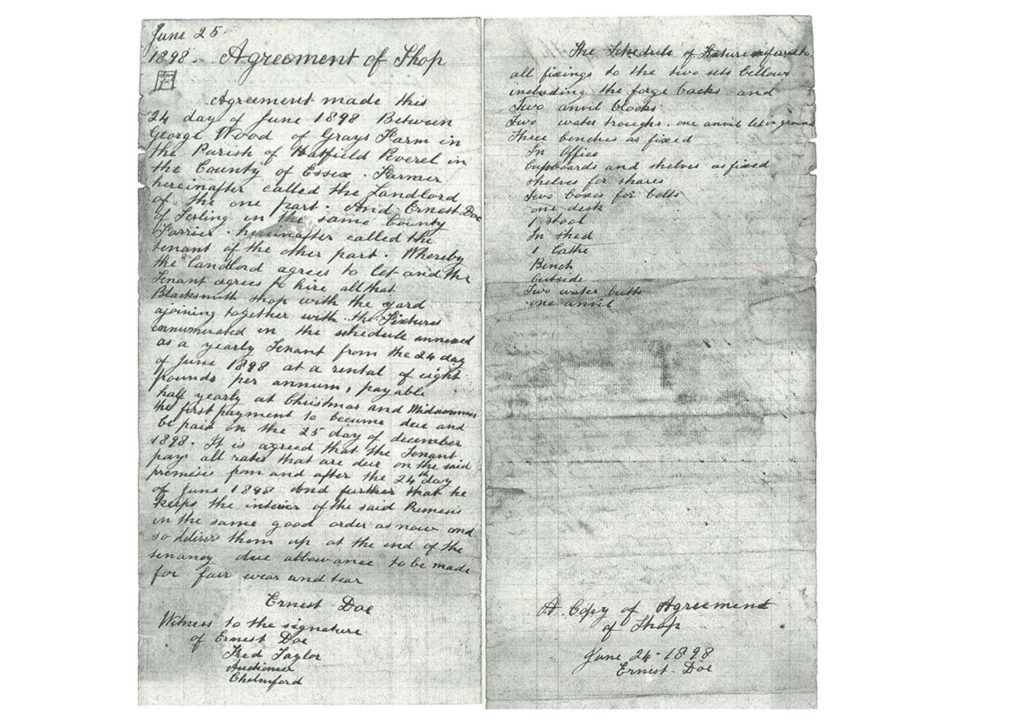 Having married Alice Havis at Ulting Church in 1901, his first son Ernest Charles (Ernie) was born in 1904 followed by two more sons, Hugh and Herbert (Bert), over the next six years. In 1910, Ernest Snr bought the Freehold of the Blacksmiths, together with the neighbouring farm, and the business prospered.
After the war in 1920, Ernie persuaded his father to buy some of the second-hand tractors that were being sold off by the Ministry of Munitions. Predominantly Model F Fordson tractors, these had been sent from the United States to help with the war effort, and this marked the beginning of the tractor business at Ernest Doe & Sons.
From its early days as a modest blacksmith's shop, the company rapidly expanded its offerings, embracing innovative agricultural machinery and serving the needs of farmers in the local community.
Ernie married Blanche Partridge in 1927 and two years later, they welcomed their son Alan Ernest, shortly followed by their daughter Daphne.
In 1930, the Case Company launched their model L and C tractors and Ernest Doe was the agent for Essex. The same year the company became Fordson Tractor Dealers, buying tractors direct from Dagenham, and over the next decade the business continued to flourish with many Case and Fordson tractors sold. In 1936, Ernie and Bert took over the running of the business due to Ernest Snr's ill health and a partnership was formed between Ernest Snr, Ernie and Bert. By 1939, industrial contracting had become a key part of the business so Bert focused solely on this, leaving Ernie to concentrate on the agricultural side.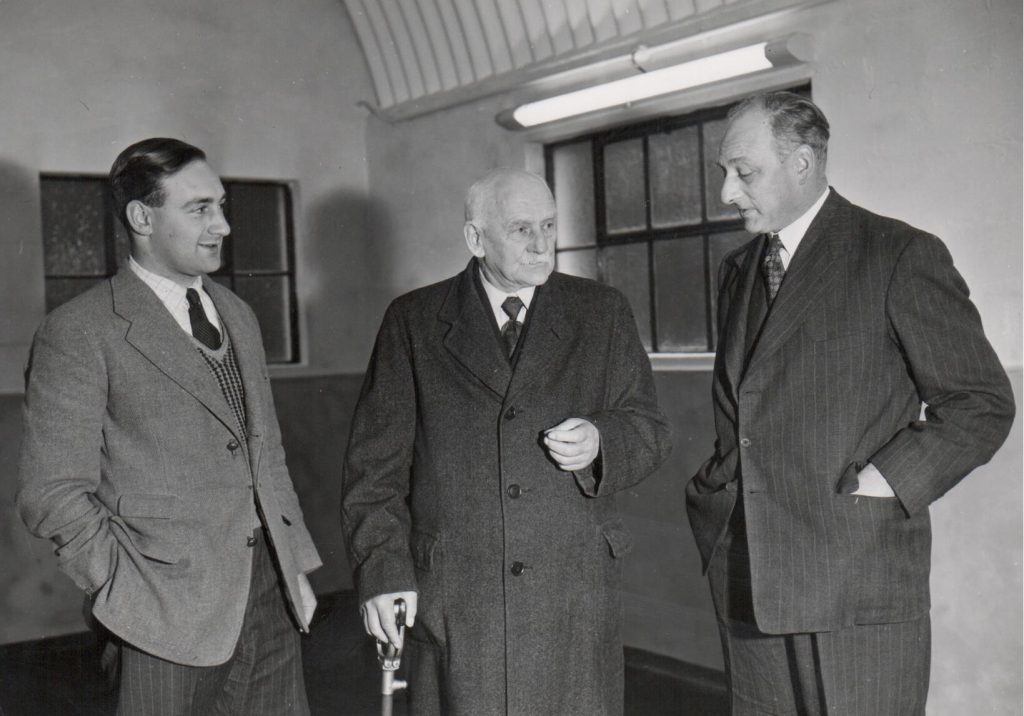 When war broke out in 1939, the Ministry of Agriculture formed a 'War Agricultural Committee' in each county, to support UK food production. The Essex membership comprising well known successful farmers was tasked with ensuring that every possible acre was put under the plough. 25 Fordson tractors and Ransome ploughs were made available to support this initiative. Ernie Doe was tasked with organising the use of the tractors, making space available at the Ulting site. After a time, with the business continuing to grow, Ernie handed over the Ministry tractors operation to Writtle Agricultural College, under the stewardship of the Principle, Mr J C Leslie, but the company takes great pride in the part Ernest Doe & Sons played, in helping to get the operation up and running to support the war effort.
Branch Expansion:
In 1943 the first branch was opened at Fyfield, closely followed by a branch at Colchester. The contracting business also grew significantly during this time but with high taxes levied post-war, the decision was made to form a limited company to make the company more tax efficient. E Doe & Sons (Contracts) Ltd was established as a separate entity headed up by Bert whilst Ernest Doe & Sons Ltd was incorporated to take over the agricultural business with Ernie and his son Alan, in March 1947/ By now there were five branches at Fyfield, Gosfield, Rochford, Stansted and Braintree, in addition to the Ulting head office; the Sudbury branch followed four years later in 1951 marking a rapid expansion over an eight-year period.
The Triple D: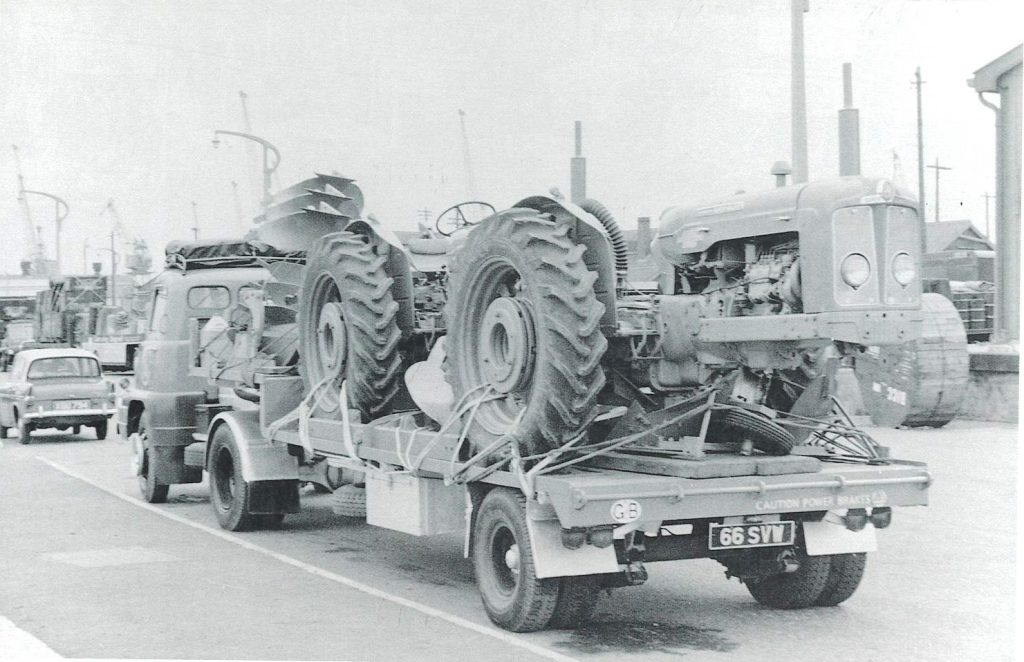 In the 1950's there was a demand for higher power on the land. The only high horse power tractors were American Crawlers, mainly designed for construction work. A customer, George Pryor, spoke to Ernie about his experiment joining two tractors together to make a 'whopping' 100hp but he needed more development work. Ernie took on the project, tasking his service manager Charles Bennett and his team with developing the concept and the Doe Dual Drive tractor, also known as the Triple-D, was launched in 1957.
The Dual Drive tractor featured a distinctive design with two engines and four-wheel drive capabilities. This configuration allowed for improved traction and pulling power, making it suitable for heavy duty tasks such as ploughing and land preparation. The tractor became particularly renowned for its ability to handle challenging terrain and work in adverse conditions.
In total, 289 Triple D's were sold between 1958 and 1964, initially priced at £1,950, including exports to Germany, Ireland, Nigeria, Russia, Sweden, Uruguay and the USA. It played a significant role in agricultural mechanisation and remains a notable piece of farming history.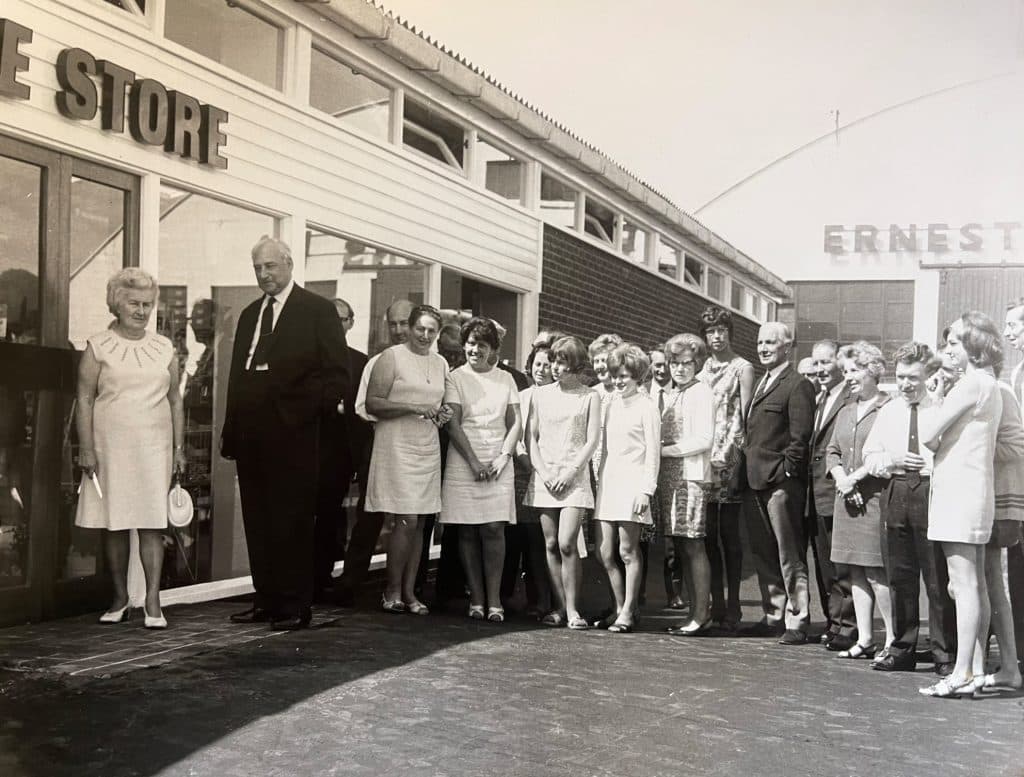 Serving the Agriculture, Construction and Groundcare Industries: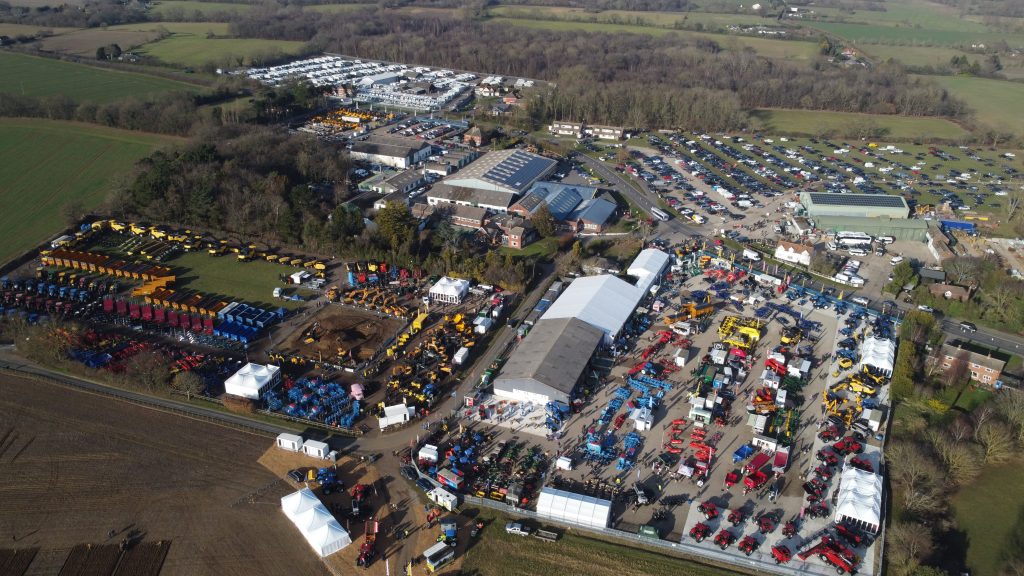 Ernest Doe & Sons' commitment to excellence has underpinned its growth and position as a leading supplier in the agricultural, construction and groundcare sectors.
The company's broad product range incorporates cutting-edge machinery and equipment, including tractors, combines, excavators, turf care, highway mowers and more. With a relentless focus on quality, durability, and technological advancements, the business has consistently met and exceeded customer expectations, not just in the sales and supply of the machinery, but with a skilled network of after-sales back up and parts support. In more recent times, the introduction of 'country stores' and online shops has attracted retail customers beyond the original farming and construction communities, expanding the customer base still further. The company now operates 19 branches, including the Ulting HQ, covering eight counties across the South East and Anglian regions.
Embracing Innovation:
Throughout its long history, Ernest Doe & Sons has demonstrated the ability to embrace innovation and adapt to changing times. By leveraging emerging technologies, the company has stayed ahead of the curve, offering its customers state-of-the-art solutions to aid productivity and efficiency. Whether it be precision farming techniques, autonomous machinery, or sustainable equipment, Ernest Doe & Sons remains at the forefront of progress, empowering its customers with the best machinery available on the market in an ever-evolving landscape. The most recent additions to the machinery portfolio are Horizon Agriculture and FarmDroid, together with a whole range of specialist fruit and viticulture machinery to support the burgeoning wine industry in the UK.
Implementing no-till practices with the Horizon Agriculture drill has a positive environmental impact, reducing soil erosion, conserving water and minimising chemical runoff, helping to protect natural resources. The FarmDroid is a fully autonomous seeding and weeding robot, solar powered with rechargeable batteries, thus offering a clean and sustainable power source. Its lightweight design helps minimise soil compaction, allowing for healthier soil structure and improved water retention. Both these products promote sustainable land management and resource efficiency, reducing the environmental impact and contributing to the long-term sustainability of food production in the UK.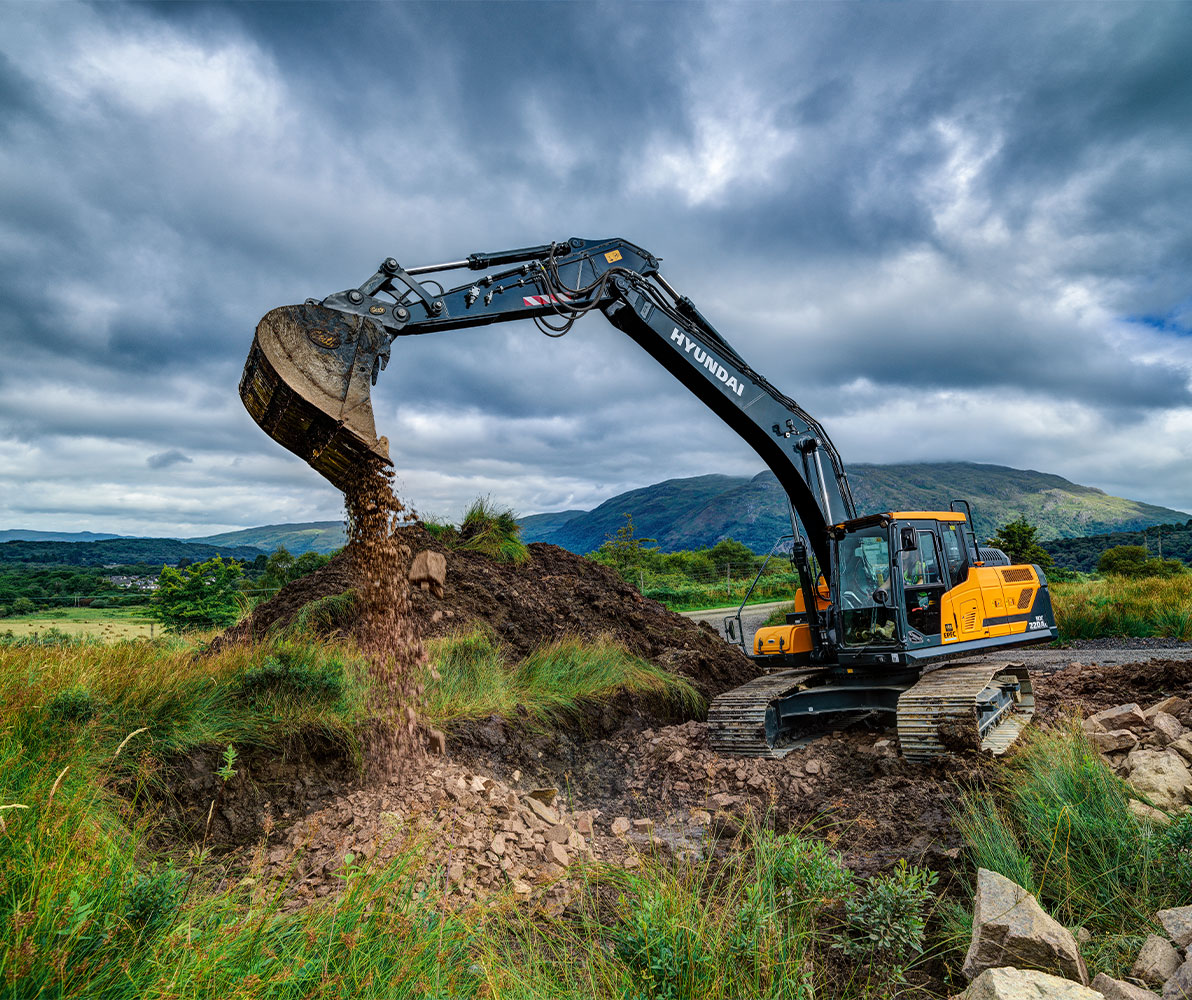 Lithium-ion technology also features heavily in Ernest Doe & Sons present day machinery offering, particularly in the groundcare sector. They are ideal for portable machinery and devices, storing large amounts of energy in a relatively small and lightweight battery. They provide a cleaner and more sustainable option, compared to traditional fuel powered machinery, conserving energy, minimising noise pollution and maintenance costs. With the advancements in performance and cost-effectiveness, they are being increasingly offered to domestic and professional customers alike ranging from hedge cutters to greens mowers.
Community Engagement and Corporate Responsibility:
Employing over 540 people, the company is committed to being a good corporate citizen and managing its business in a way that has a positive impact beyond its business operations. It actively participates in local initiatives, supporting charities, educational programs, local communities and environmental conservation efforts. A great deal of work is done with the Young Farmers Clubs across the trading region, as well as supporting local schools and nurseries, harvest festivals, country shows, public events and numerous amateur sports clubs and associations, particularly those involving staff members.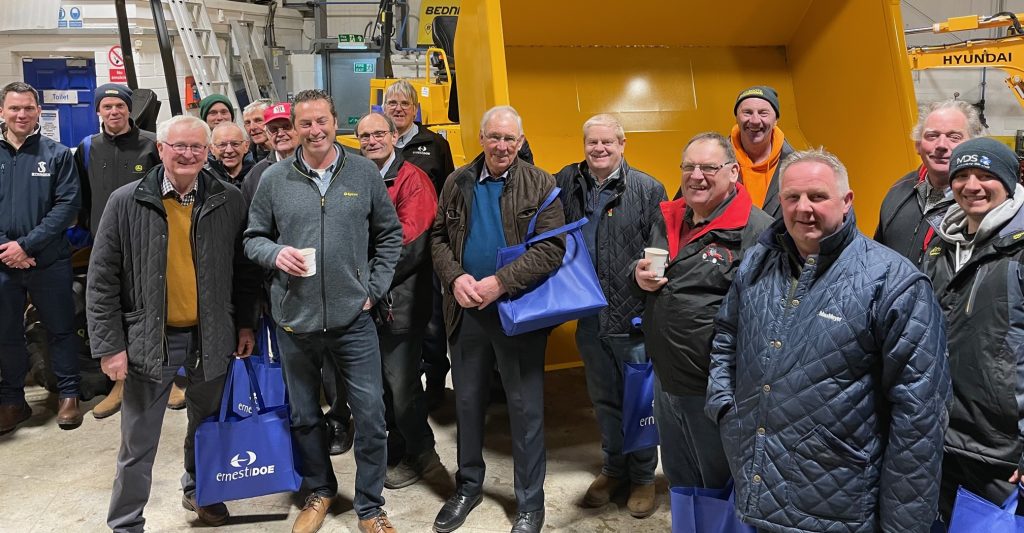 Building Strong Relationships:
Beyond its product offering and services, Ernest Doe & Sons has built lasting relationships with its customers. The company's commitment to providing personalised support and expert advice has gained trust and loyalty from its customers which has served as a driving force behind the company's success. Ernest Doe & Sons is deeply grateful to all those who have supported the business over the last 125 years.
The Doe Family: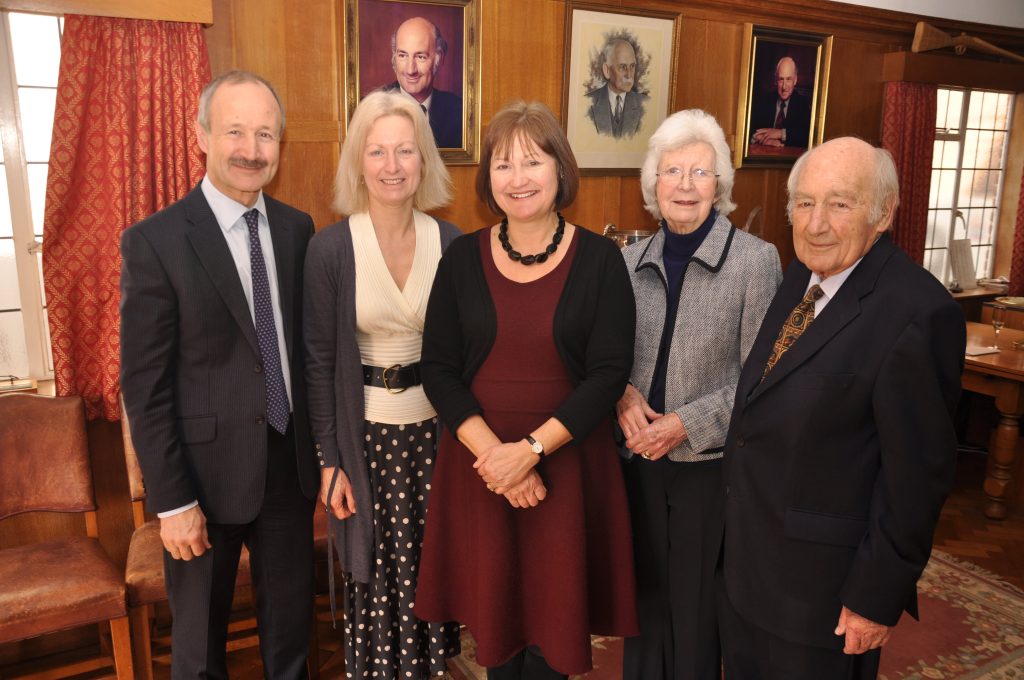 Having served as Managing Director since 1989, Alan's son Colin became Chairman in 2020.
During his 30 year tenure as MD, Colin led a number of acquisitions and doubled the company's turnover. He opened seven further branches in Fakenham, North Walsham, Framlingham, Benington, Ringmer, Albourne and Esher and redeveloped the site at Braintree. He also travelled to South Korea and signed an agreement with Hyundai in the 1980's to sell their construction machinery across the Ernest Doe Group.
Still very much a family firm, all three of Alan's children worked in the business. Colin's older sister Diana Marriott served as Company Secretary from 1979 until 2018 whilst his younger sister, Marian Harpur, held the post of Clothing Marketing Manager until her retirement at the beginning of 2023, after 35 years' service.
Colin's son Angus Ernest was appointed Managing Director in January 2020.
(L to R: Colin Doe, Diana Marriott, Marian Harpur, Jill Doe, Alan Doe)
The Present Day: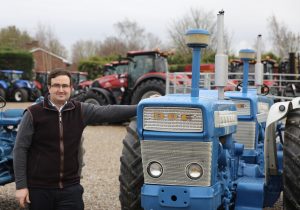 Under the stewardship of the founder's great-great grandson, Angus, supported by his father Colin, the company continues to grow and flourish. With a solid foundation built on trust and integrity and a relentless pursuit of excellence, the company looks to the future with optimism and excitement. It is important to stay current in a rapidly evolving world and, in recent years, the company has incorporated new technologies and expanded the range still further to ensure that it continues to serve the needs of its customers.
(Angus Doe with a Doe 130 in 2020)
Looking to the Future:
As Ernest Doe & Sons reaches the remarkable milestone of 125 years, it stands as a testament to the enduring power of vision, determination, and a commitment to excellence. From its humble beginnings to its position as the UK's largest family-owned agricultural, construction and groundcare machinery dealership, the company has embraced innovation, built lasting relationships, and played an active role in the community. Thank you to everyone who has been part of this incredible journey.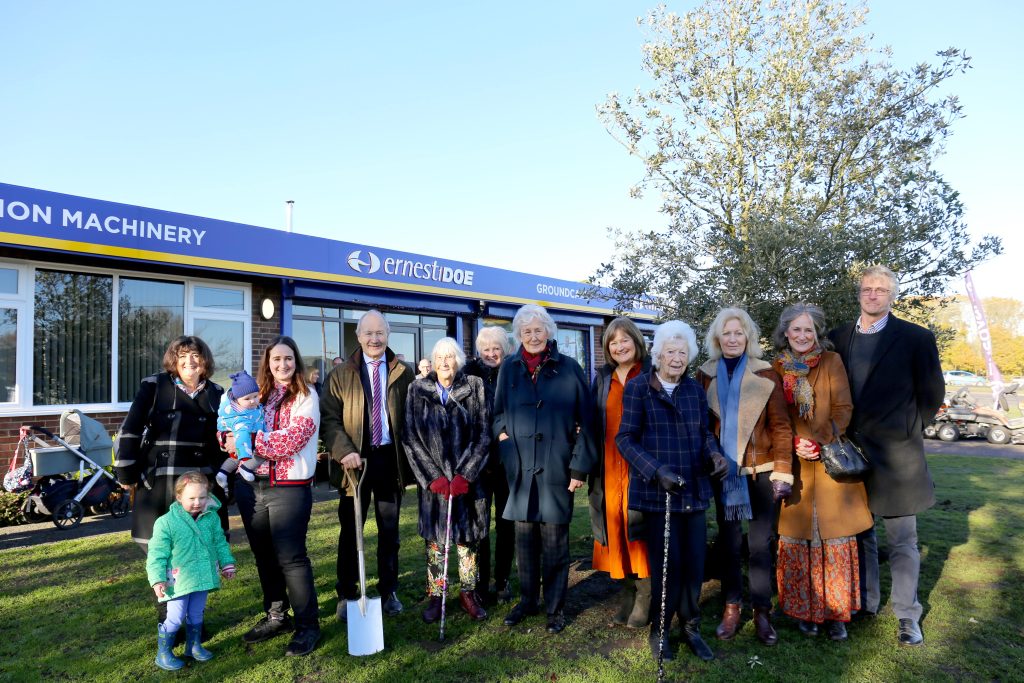 Here's to the next quasquicentennial!