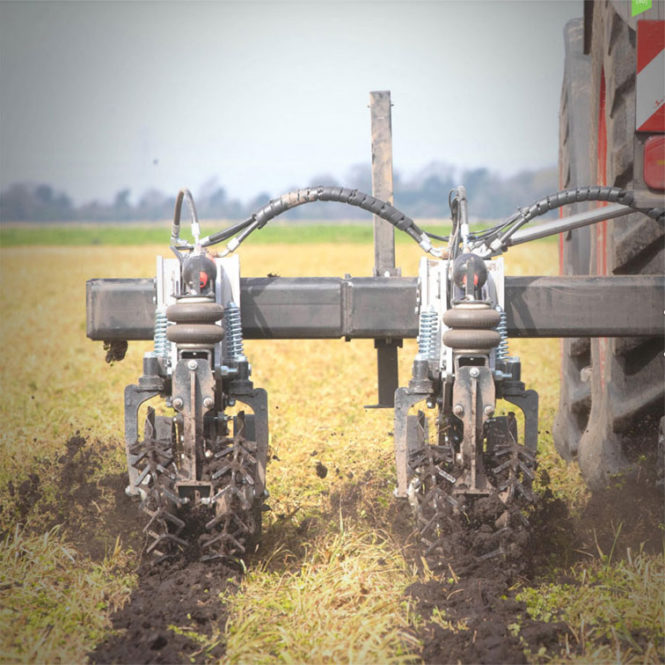 Horizon SPX STRIP-TILL CULTIVATOR
The Horizon SPX strip-till system combines the process of conventional tillage with the soil-protecting advantages of no-till by disturbing only the portion of the soil that is to contain the seed row.
Horizon possess over 15 years' experience of successfully applying strip tillage practices to all over the world. With this wealth of knowledge, the Horizon SPX was carefully designed with the ability to easily adapt to different applications and conditions

The mounted toolbar is directly attached to the tractor 3-point linkage, so that the SPX perfectly follows the GPS, which is essential for the following planter operation

Pneumatically controlled row cleaners with CleanSweep technology can be adjusted in-cab for can quick and accurate adjustment

The positioning, widths and angles of the deflector discs can be easily adjusted offering multiple of berm building options

The pneumatic consolidation system with in-cab adjustment offers different wheel options for different soil types
WHAT IS STRIP TILL?
Strip-till combines the benefits of conventional tillage with the conservation-friendly advantages of no-till farming.  The low-disturbances, targeted tillage approach, consists of only cultivating a narrow band of soil in which the crop is to be planted, leaving lanes of uncultivated soil and residue either side of the furrow.
WHAT ARE THE BENEFITS?
Only disturbing the soil in the seeding zone dramatically improves soil health and allows harvest machinery to travel without causing damage to the soil
In-row fertiliser placement (liquid or granular), reduces the need for fertiliser applications whilst also reducing the weed burden between the crop rows
Conditioning the soil in and below the seeding zone creates the perfect growing environment for the plant, which will ultimately ensure the optimal level of yield
Passes with the SPX during Winter and Spring allows air into the soil, to aid the drying and warming processes, which are essential for row crops on heavier soil types
Fewer passes equates to reduced cultivation time and cost