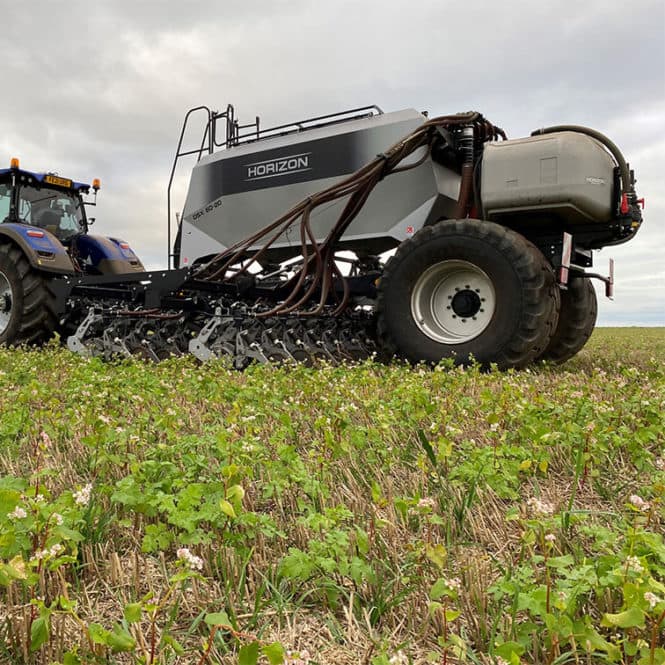 Horizon DSX Direct Seed Drill
Horizon believe that it is vitally important for the future of our industry, that as farmers, we properly preserve, maintain and replenish our soil. This philosophy is at the heart of everything that Horizon do.
The Horizon DSX is the ultimate direct seed drill. Designed and developed using lessons learned from generations of hands-on experience and featuring
cutting-edge technology, resulting in a machine that effectively delivers accurate, consistent seed placement and with minimal soil disturbance on
every pass.
Horizon are committed to manufacturing innovative products that promote soil regeneration, whilst also helping our customers to improve productivity, yield
and profitability.
Benefits
Designed, developed and manufactured in Great Britain
Unique modular and upgradeable design
Adapts and grows with your business
Reliable and durable
Minimal soil disturbance
Split seeding options
Optional Precision Planting technology
Features
RDS ISOCAN – Standard
Hydraulic brakes – Standard
Front / rear hopper separation – Standard
710 / 50 wheels – Standard
"V" press wheel – Standard
Variable seed rate  – Optional
Internal disc scraper – Optional
Variable rate unlock – Optional
Tramline valves 2 or 4 – Optional
Hopper / reversing cameras – Optional
Blockage sensors – Optional
Front trash wheels with CleanSweep control – Optional
Rear trash wheels with CleanSweep control – Optional
"W" press wheel – Optional
850 wheels and tyre upgrade – Optional
Air brakes – Optional
Seed firmers – Optional
ISOBUS cable (power from ISOBUS socket) – Optional
Liquid fertiliser kit (1500L tank and 30 l/min) pump and controller – Optional
Download Brochure
DSX Direct Drill Brochure

PDF, 181.5 kb

Download