Our annual Doe Show is just around the corner and it's bigger and better than ever!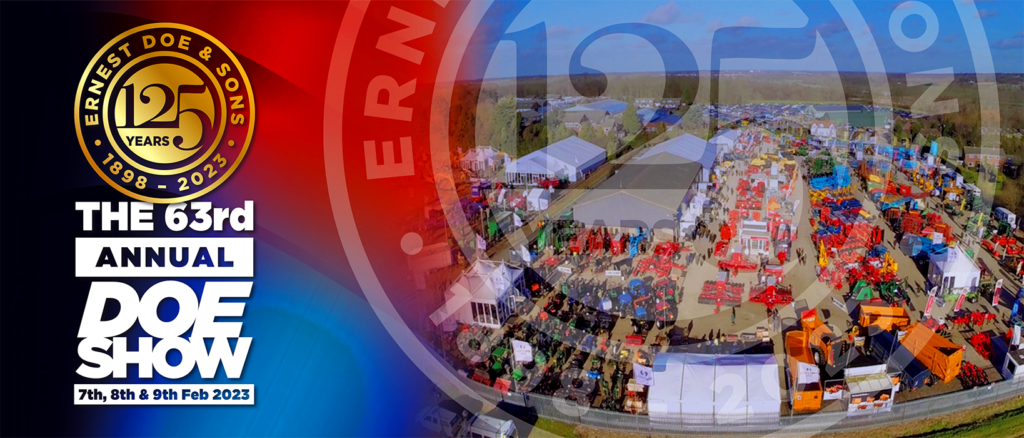 For our 63rd Doe Show, in our anniversary year, we have some brand new features as well as all the usual favourites!
The Doe Show has been a firm fixture in the agricultural, construction and groundcare industries calendar since 1960. Held during the full first week of February every year, the Doe Show attracts huge crowds to our head office at Ulting, Essex and is by far the largest agricultural, construction and groundcare machinery dealer show in the UK, possibly Europe!
Year on year, the show continues to grow in size and popularity and this year we are introducing a completely new layout, as well as a dedicated area for fruit and viticulture machinery, in addition to all the regular features. We will have heated marquees, free hot soup and refreshments and there is plenty of free parking directly opposite the show.
As always, we will have large display areas devoted to Case IH and New Holland products, as well as those of all our major implement manufacturers such as Dalbo, KRM, Lemken and Shelbourne Reynolds. We will also be showcasing our newest franchise, Horizon Agriculture Drills, on their own dedicated stand as well as demonstrating the new FarmDroid in our Tech Zone.
We have increased the size of our construction zone and will be featuring all our manufacturers including Hyundai, Thwaites, Bomag, Atlas Copco and Epiroc, along with the popular demonstration plot this is always a great crowd pleaser, along with the vintage tractor demonstrations including the beloved Doe Triple D.
After a successful launch in 2022, our new groundcare zone makes a welcome return, featuring even more manufacturers, with an emphasis on lithium-ion and battery powered technology. Top brands including Ransoms, Jacobsen, E-Z-Go, Iseki, Trilo, Stihl, Wiedenmann, GKB, Mean Green Mowers, Ferris and Wessex International, will all be represented, along with Husqvarna and their recently launched autonomous commercial mowing solution CEORA. Other highlights include the Stihl Tour bus, the brand new Ransom HR380 and Milwaukee power tools, making their first appearance at the show.
We are delighted to confirm the return of the popular clothing clearance area within the main marquee where we will be offering some huge clearance deals starting from just £5! The marquee will also feature numerous manufacturers' stands from many of the suppliers that we stock in our country stores.
ONE OF THE BIG ATTRACTIONS AT THE DOE SHOW IS OUR USED MACHINERY
At this time of year we need to move our old stock to make way for new items arriving in the Spring. All used, ex-demo and clearance machinery will be priced and ready to sell at this year's Doe Show. This means customers can buy up brand new warranted machines at clearance prices, representing fantastic value for money and some genuine bargains.