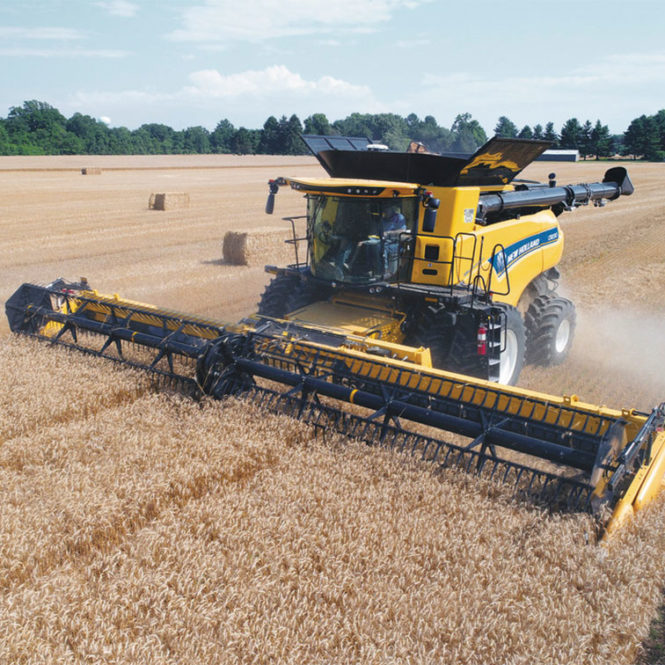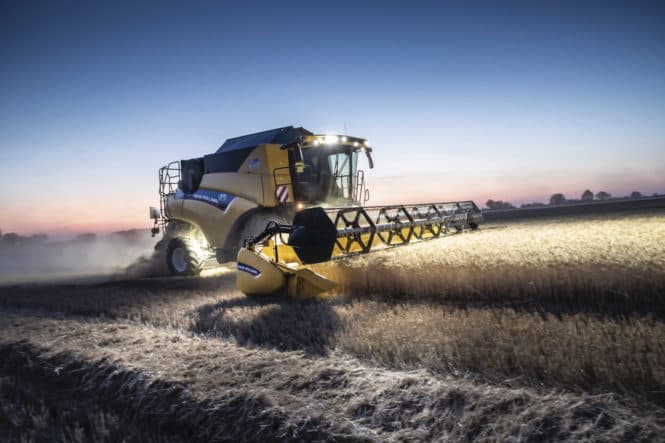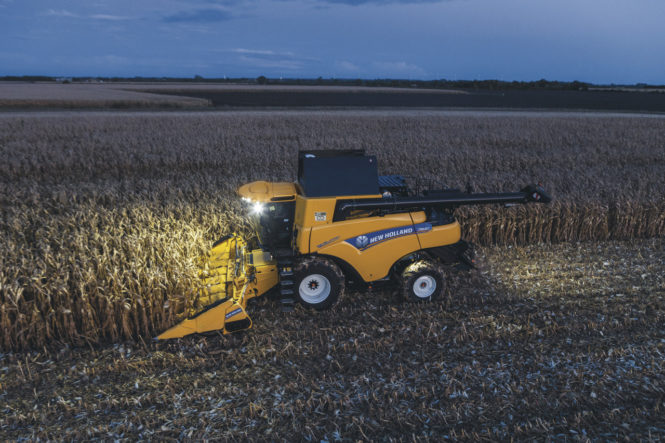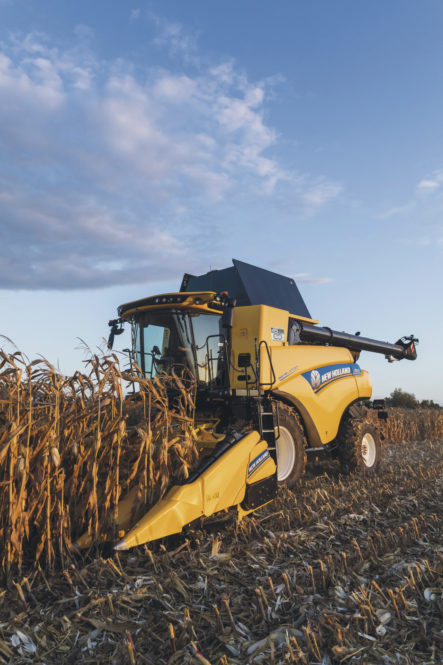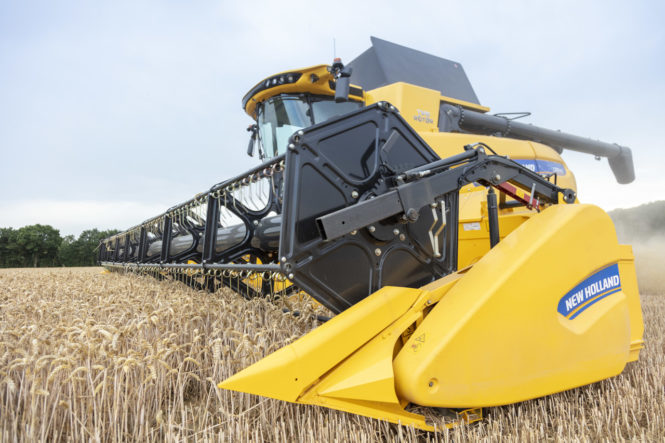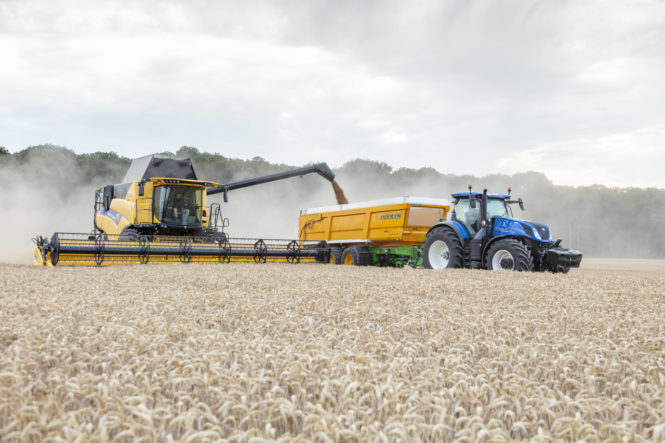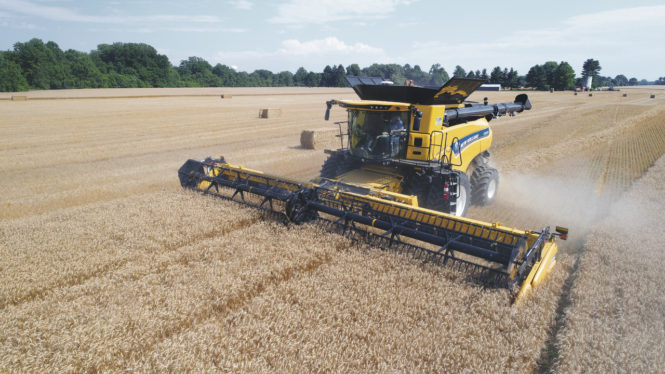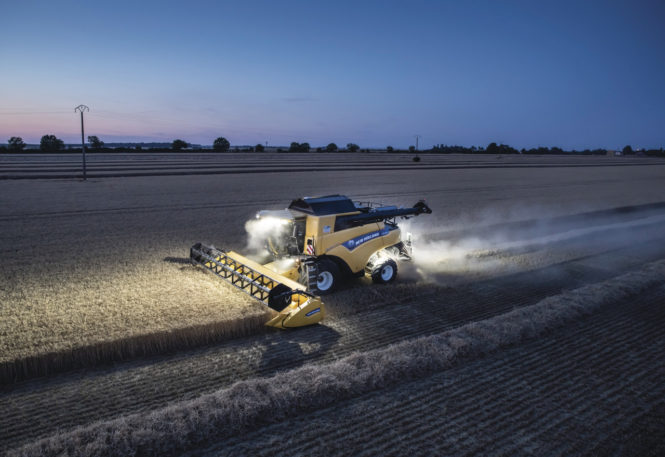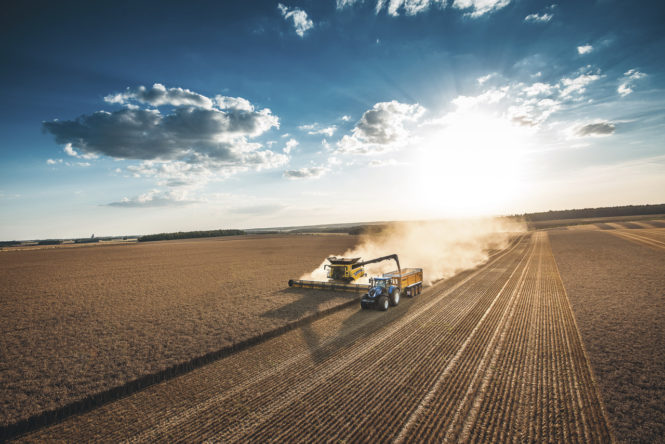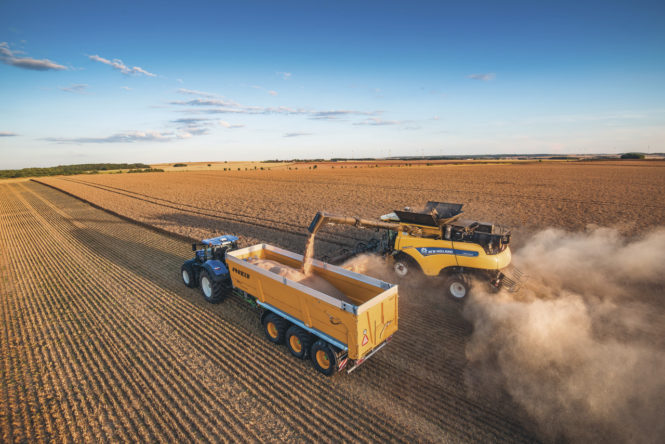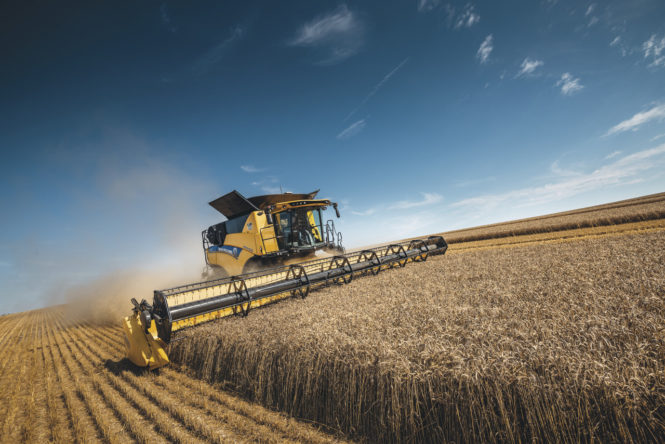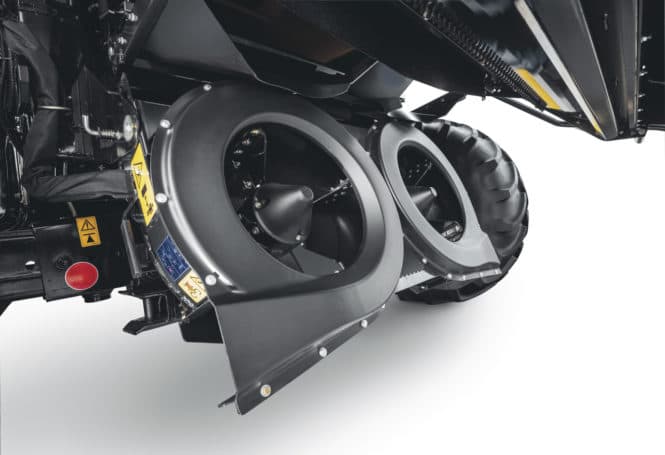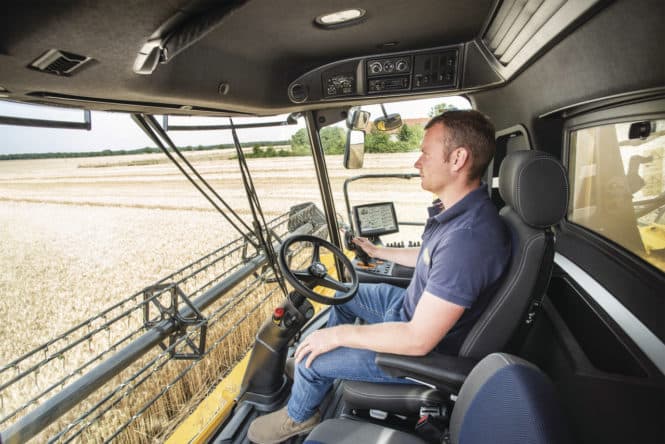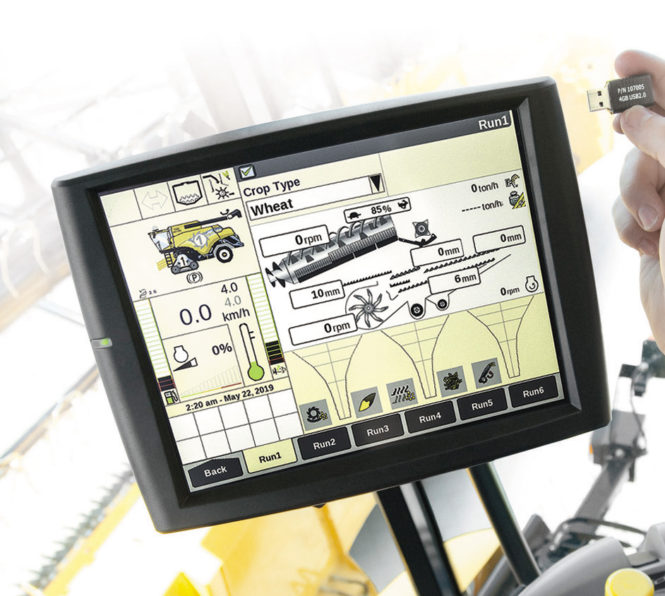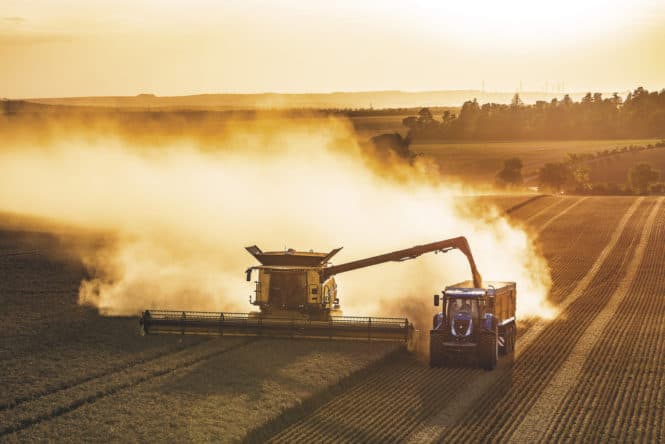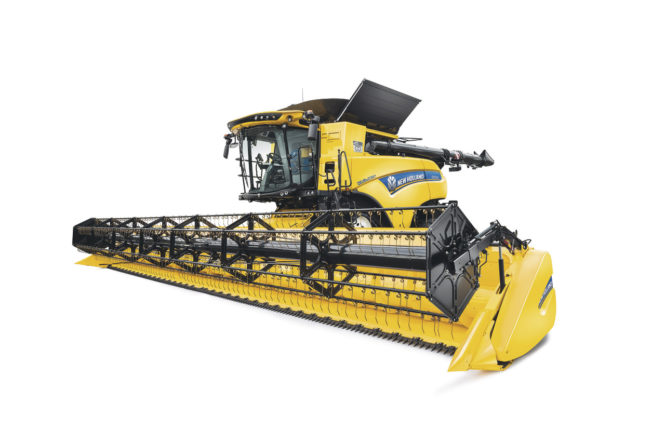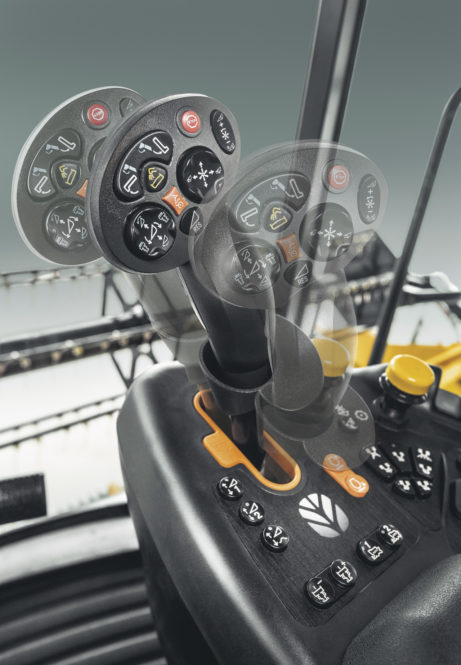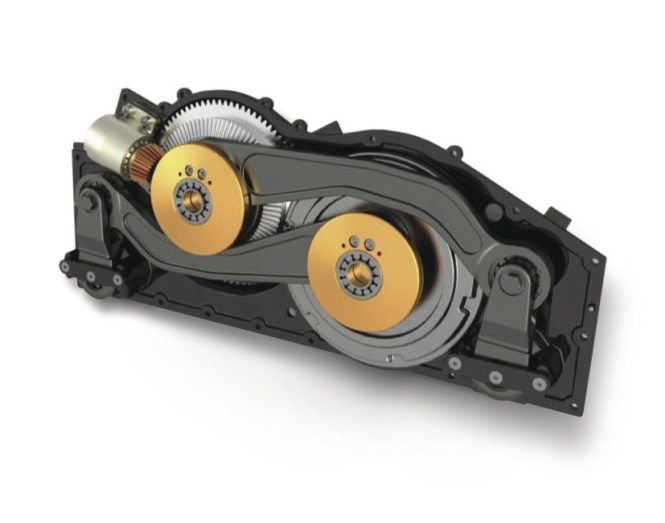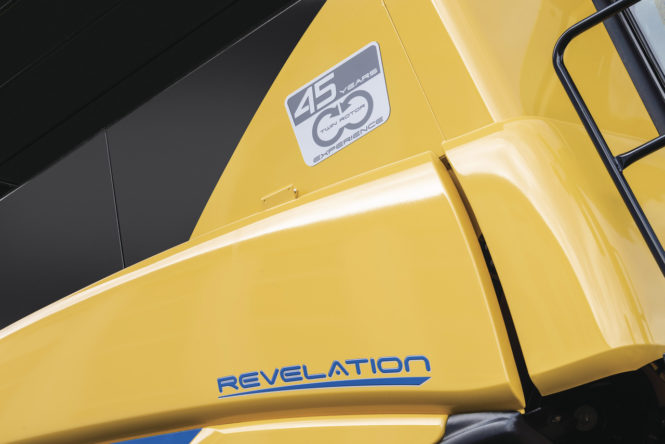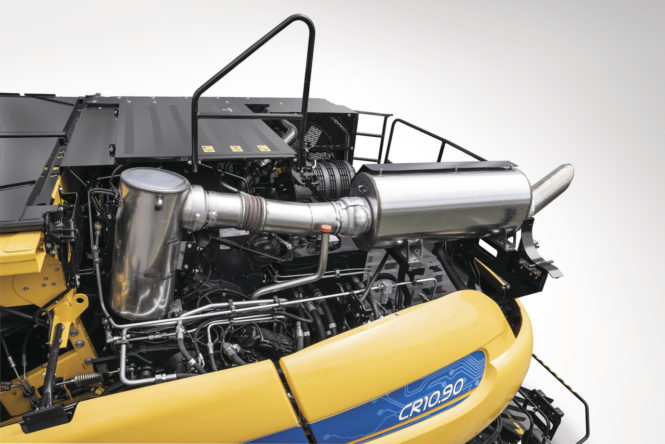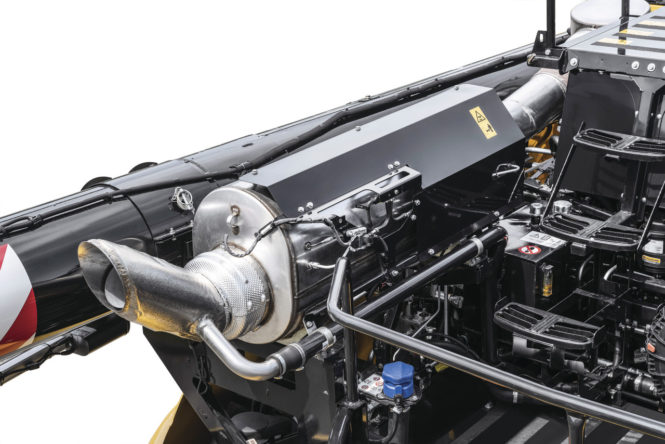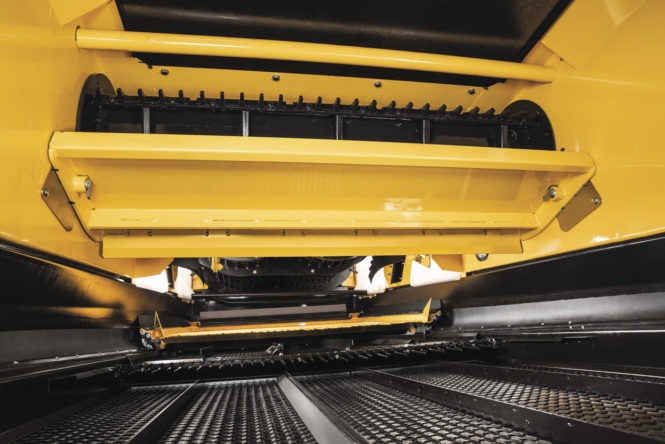 New Holland CR Revelation
THE WORLD'S HIGHEST CAPACITY COMBINE. FACT.*
New Holland revolutionized the way farmers harvested over 45 years ago with the introduction of groundbreaking Twin Rotor™ technology for combines. Today's latest generation of CR Revelation combines continues the pure rotary bloodline and offers the world's farmers world-beating grain and straw quality thanks to the gentle multi-pass action. The range topping CR10.90 is the most powerful and productive CR Revelation to date, and now has up to 700hp on tap. Innovative features such as the new award-winning IntelliSense™ combine automation system, Dynamic Flow Control™ remotely adjustable rotor vanes, concave reset, the deep cut Dynamic Feed Roll™ technology and the all-new patented Opti-Spread™ Plus super wide spreading residue management system, continue to ensure that the CR Revelation range is among the most advanced and productive harvesters in the world.
OUTSTANDING CAPACITY
The range topping 700hp(CV) FPT Industrial Cursor 16, powering the CR10.90, delivers efficient power and when combined with advanced harvesting technology, including IntelliSteer® auto guidance, you can harvest around the clock. The remotely adjustable Dynamic Flow Control™ rotor vanes mean their position can be changed on the go in response to changing crop conditions, which can result in up to 20% higher productivity. The most advanced New Holland combine ever, now features new award-winning IntelliSense™ combine automation system. The CR Relevation, keeps going as long as you do.
SUPERIOR HARVEST QUALITY
Unsurpassed grain and straw quality is guaranteed courtesy of gentle, yet highly efficient Twin Rotor™ technology. Grain cracking is a thing of the past with an industry leading figure as low as 0.2%. Dynamic Feed Roll™ technology provides the most efficient on-the-go stone collection and the new serrated blades are even gentler on straw. The new Opti-Spread™ Plus technology together with the new chaff spreading system ensure even more uniform residue spreading across the full cutting width.
LOWER OPERATING COSTS
The entire CR Revelation range benefits from industry leading ECOBlue™ HI-eSCR 2 technology to comply with the more stringent Stage V emission regulations and it maintains the efficiency you've come to expect of a CR Revelation combine. When combined with long, 600 hour service intervals, and the SmartTrax™ system for reduced soil compaction, more money stays in your pocket.
ABSOLUTE DRIVING PLEASURE
The Harvest Suite™ Ultra cab has been designed to deliver ultimate harvesting comfort and ergonomics. The 3.7m³ cab with 6.3m² of glass means more space and more glass add up to more comfortable and more precise harvesting. At 73dB(A) it is still the quietest cab on the market. The 26.4cm ultra-wide IntelliView™ IV colour touchscreen monitor can be positioned on the ideal viewing arc for every operator. If you're a night time harvester, the new LED lighting package enables true, 24 hour productivity. This is all combined with a new, automotive inspired interior.
Features
ENHANCED PROTECTION FOR IMPROVED EFFICIENCY
The CR Revelation's feeding system has been significantly upgraded to enhance its operation. The feeder now features four chains with connecting slats on the CR8.90, CR9.90 and CR10.90 models for improved crop flow and even smoother feeding into the Twin Rotors. The CR Revelation range can be fitted with a new and enhanced header lift capacity. You can now choose between the Advanced Stone Protection system or the optional, Deep Cut Dynamic Feed Roll™ system, now equipped with a new cab-activated reversing function, which ensures smooth crop flow into the threshing mechanism, together with full stone protection.
TAILORED CRUISING MODES
Operators can select from three different driving strategies for the new IntelliCruise™ II feature:
1 – Maximum capacity. When working against tight weather windows, or when optimising contracting performance, the maximum capacity setting can be selected. This ensures that the combine's ground speed is set to make full use of the engine potential, causing it to run at maximum load.
2 – Fixed throughput. To maintain uniform combine performance, the fixed throughput setting has been developed. This mode varies the groundspeed to maintain a set flow rate.
3 – Limited loss. Every grain counts. For operations which prize minimal losses, a specific setting has been engineered, so as to control groundspeed to ensure losses do not exceed a pre-determined limit.
WORLD-CLASS GRAIN QUALITY
New Holland invented the Twin Rotor™ concept over 45 years ago, and has been refining and evolving this technology for four decades to offer farmers ever increasing capacity and improved grain and straw quality. New Holland also knows that no two farms are alike, so two different types and sizes of rotor have been developed to suit farmers' individual needs. The 17" standard rotors now feature 20mm higher crop covers for improved threshing efficiency, and are fitted to the CR7.80 – CR8.80 models, and the heavy duty, high capacity 22" design are fitted to the CR8.90, CR9.90 and CR10.90 models. A bespoke machine for top drawer quality and performance.
THE CLEANEST GRAIN SAMPLE
Best-in-class grain quality. The Industry's cleanest grain sample. It must be the CR Revelation. In comparative tests carried out to evaluate the grain sample of different harvesting concepts, Twin Rotor™ technology beat the competition hands down. The result: a minuscule 0.2% broken grain, thanks to the unique Twin Rotor™ concept which ensures in-line crop flow for the gentlest grain handling. Grain quality is further enhanced by award winning features including the Opti-Clean™ and Opti-Fan™ systems.
NEW EVEREST SIDEHILL COMPENSATION SYSTEM
The optional Everest system can compensate lateral slopes of up to 16% on CR7.80, CR7.90 and CR8.80 models and up to 15% on the CR8.90 and CR9.90 models to always maintain perfect horizontality when combining. The straw elevator entry section has been adapted to maintain optimal feeding even on the steepest side slopes, and together with level grain tank filling means performance is the same as on level ground. The Everest System can also work in combination with a self-leveling cleaning shoe to deliver 100% efficiency on slopes of up to 30%.
HARVESTING AUTOMATION
Automation has a growing role to play in productive modern harvesting. New Holland's IntelliSense™ system equips the CR Revelation range of combines with an industry-leading proactive system that enables the combine to react every 20 seconds selecting the best action out of 280 million possibilities. In order to achieve this ground-breaking technology has been employed: a first ever cleaning shoe load sensor has been developed, and when coupled with the next generation Grain Cam™ and electrically adjustable rotor vanes, the system can make pre-emptive adjustments before overload or losses are on the horizon.
POWERFUL. RESPECT. FOR YOU. FOR YOUR FARM. FOR THE FUTURE.
Through the Clean Energy Leader® strategy, all models in the CR Revelation series benefit from ECOBlue™ HI-eSCR 2 technology for Stage V compliance. The proven ECOBlue™ technology uses AdBlue to transform the harmful nitrogen oxides contained in the exhaust gas into harmless water and nitrogen. This after-treatment system is separate from the engine which means the engine only breathes clean, fresh air. What does this mean? Clean running power units that offer improved performance and enhanced fuel economy.
SMARTTRAX. REDUCED COMPACTION. SUPERIOR COMFORT.
The all-new SmartTrax™ system has been engineered by design to offer 57% reduced ground pressure thanks to its triangular structure for improved traction and reduced compaction.
A NEW BENCHMARK FOR HARVESTING COMFORT.
The CR Revelation range of combines offers you a home away from home during long harvesting days. The Harvest Suite™ Ultra cab is completely new from the floor up and is the fruit of extensive customer consultation. The cab volume has increased to 3.7m³ and boasts 6.3m2 of glass, 7% more than previous models. You can enjoy all that space in the peace and quiet of the near silent 73dB(A) cab. The new automotive inspired interior, features an ultramodern dark gray colour scheme, which has been extended to the seat, headliner and armrest.
EFFORTLESSLY MAXIMISING PERFORMANCE.
Intelligent and intuitive automation saves times and enhances harvesting performance. The CommandGrip™ multifunction handle can control all key machine and header parameters, including header height, reel position and unloading engagement. The right hand console contains less frequently used functions, which are laid out in an ergonomic and logical manner. Machine functions can be analysed at a glance courtesy of the colour IntelliView™ IV monitor.
NEW HOLLAND GUIDANCE SYSTEMS TO MATCH YOUR NEEDS
A full range of guidance solutions are available from New Holland and include manual, assisted guidance and fully integrated guidance. You can even specify your CR Revelation with fully integrated IntelliSteer® auto guidance direct from the factory to start saving money from your first run. Fully compatible with the most accurate RTK correction signals, IntelliSteer can guarantee pass-topass and year-to-year accuracy as low as 1 – 2cm. SmartSteer™ crop edge guidance and automatic row guidance for maize headers are just some of the numerous options which are designed to increase your harvesting efficiency and productivity.
TELEMATICS, INTEGRATED YIELD, MOISTURE AND NUTRIENT SENSING
MyPLM®Connect enables you to connect to your CR from the comfort of your office through the utilization of the mobile network. You can stay in touch with your machines at all times, and you can even send and receive real-time information that saves time and enhances productivity. The MyPLM®Connect Professional package offers full machine monitoring and control. In short, MyPLM®Connect will help you to reduce your fuel bills and improve fleet management and security in one simple package.
MYNEWHOLLAND™
The MyNewHolland™ portal and app enable you to register and manage your equipment, access dedicated documents, training and services, and on-hand support, including Uptime Support, in one place. With MyNewHolland™ you can access the MyPLM®Connect Telematics portal for real-time fleet and machine visibility, analyse agronomic data through file sharing, together with productivity boosting services.
Specifications
New Holland CR7.80
| | |
| --- | --- |
| Cutting width (m) | 5.18 – 9.15 |
| Graintank (l) | 10500 |
| Maximum engine power @ 2000rpm – ISO TR14396 – ECE R120 [kW/hp(CV)] | 305/415 |
New Holland CR7.90
| | |
| --- | --- |
| Cutting width (m) | 5.18 – 9.15 |
| Graintank (l) | 11500 |
| Maximum engine power @ 2000rpm – ISO TR14396 – ECE R120 [kW/hp(CV)] | 338/460 |
New Holland CR8.80
| | |
| --- | --- |
| Cutting width (m) | 6.10 – 9.15 |
| Graintank (l) | 12500 |
| Maximum engine power @ 2000rpm – ISO TR14396 – ECE R120 [kW/hp(CV)] | 380/517 |
New Holland CR8.90
| | |
| --- | --- |
| Cutting width (m) | 6.10 – 9.15 |
| Graintank (l) | 12500 |
| Maximum engine power @ 2000rpm – ISO TR14396 – ECE R120 [kW/hp(CV)] | 400/544 |
New Holland CR9.90
| | |
| --- | --- |
| Cutting width (m) | 6.10 – 9.15 |
| Graintank (l) | 12500 / 14500 |
| Maximum engine power @ 2000rpm – ISO TR14396 – ECE R120 [kW/hp(CV)] | 441/600 |
New Holland CR10.90
| | |
| --- | --- |
| Cutting width (m) | 6.10 – 9.15 |
| Graintank (l) | 14500 |
| Maximum engine power @ 2000rpm – ISO TR14396 – ECE R120 [kW/hp(CV)] | 515/700** |
Download Brochure
CR Revelation Range

PDF, 12.1 mb

Download