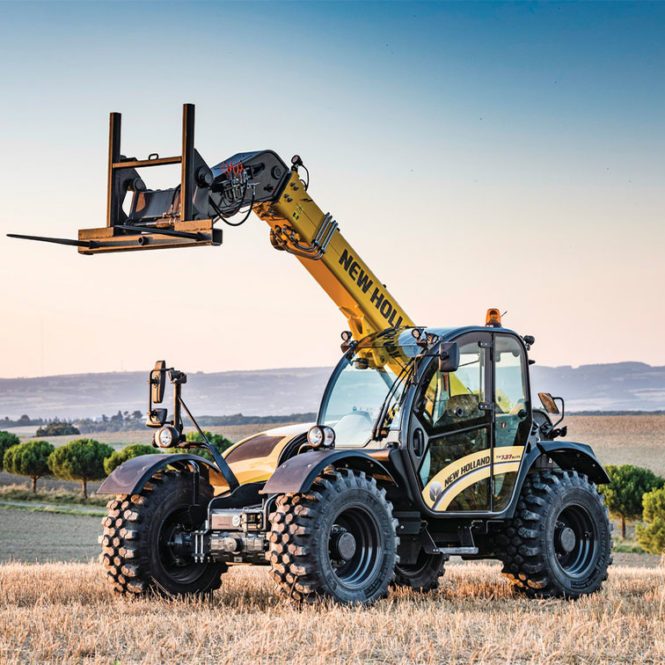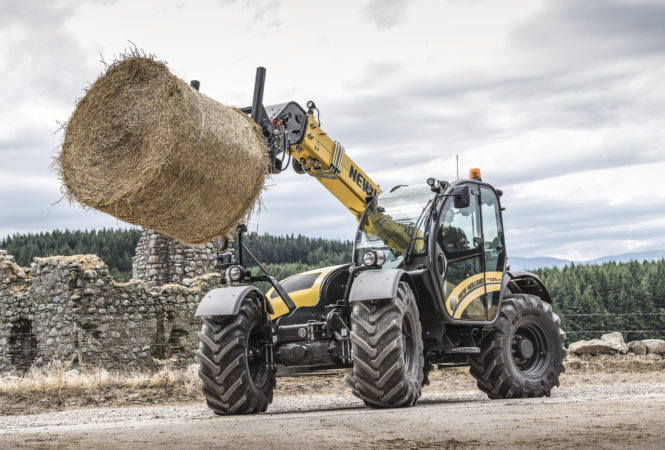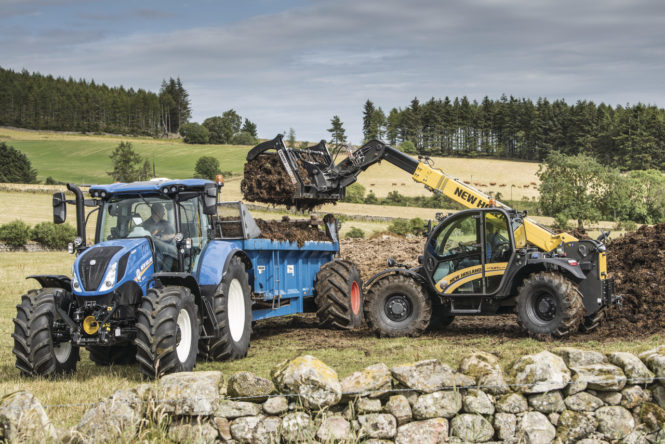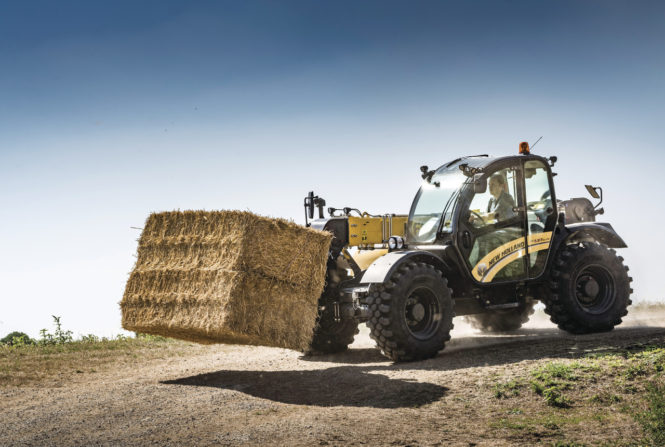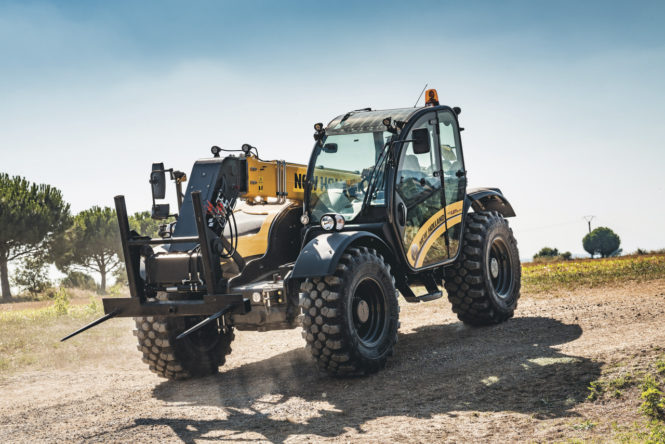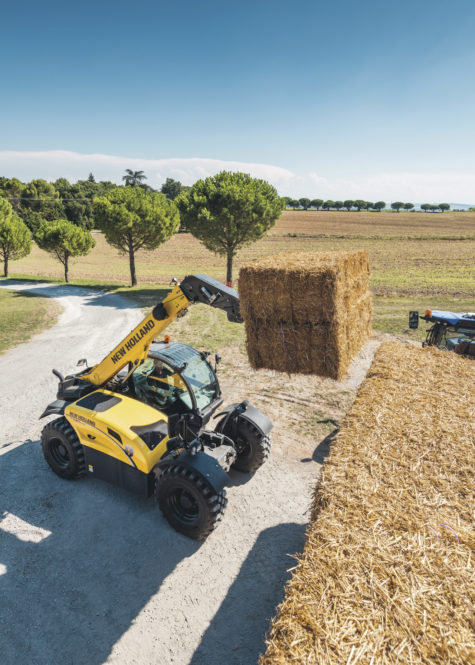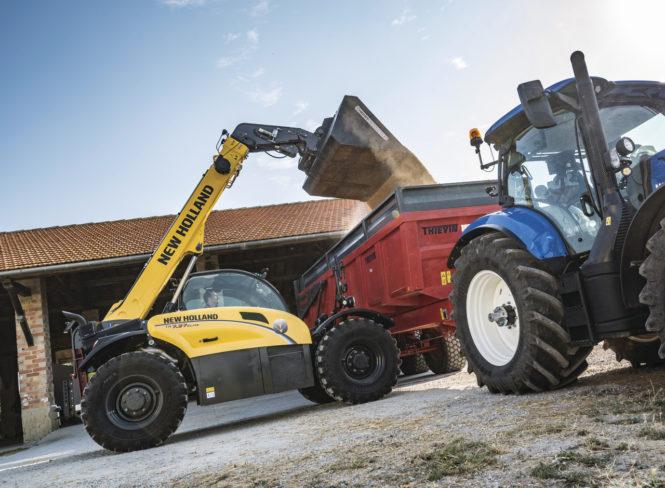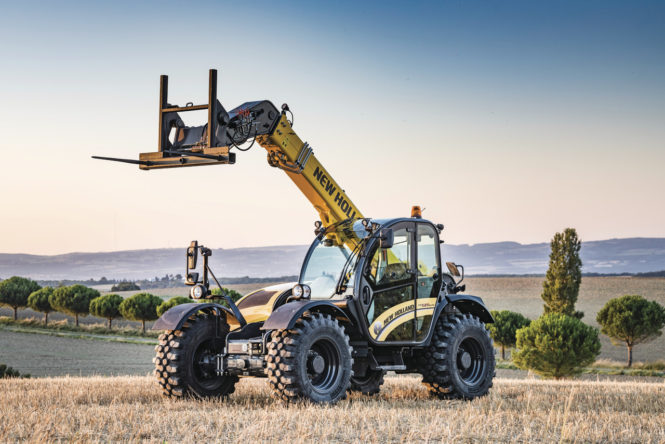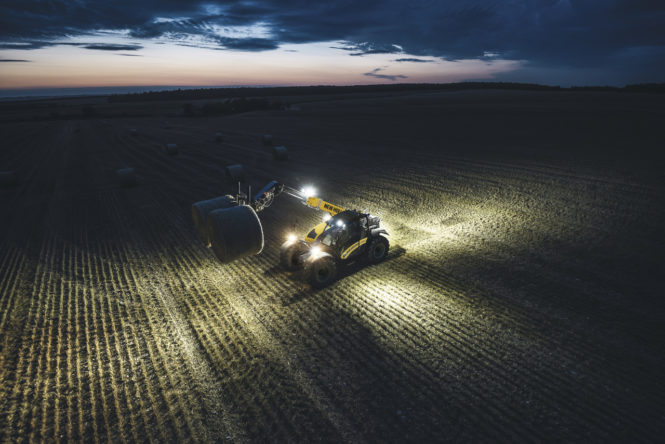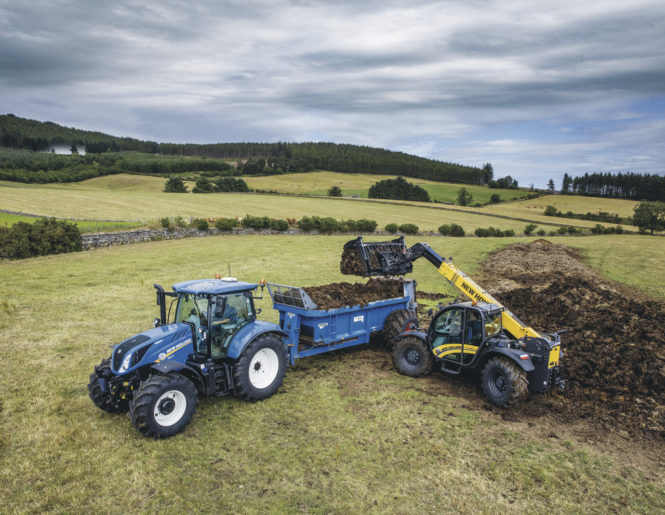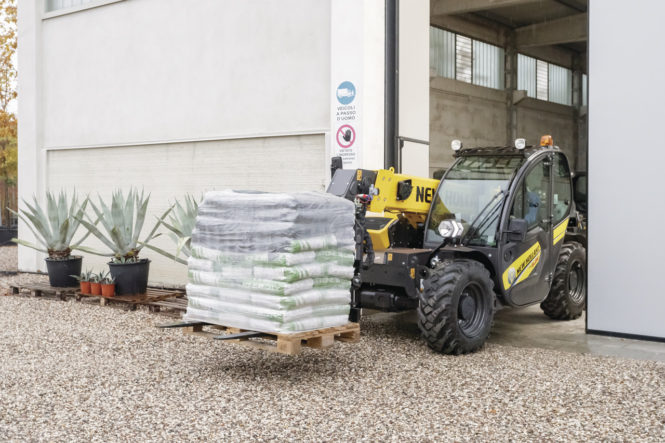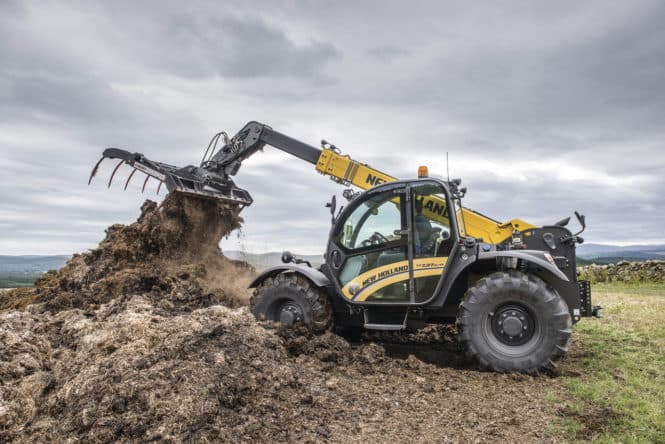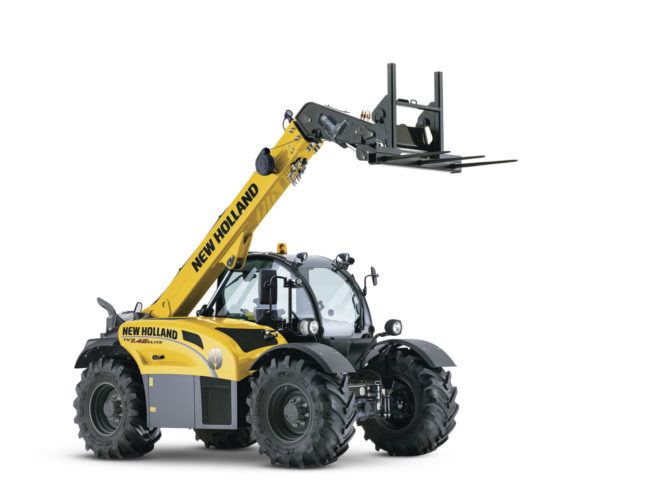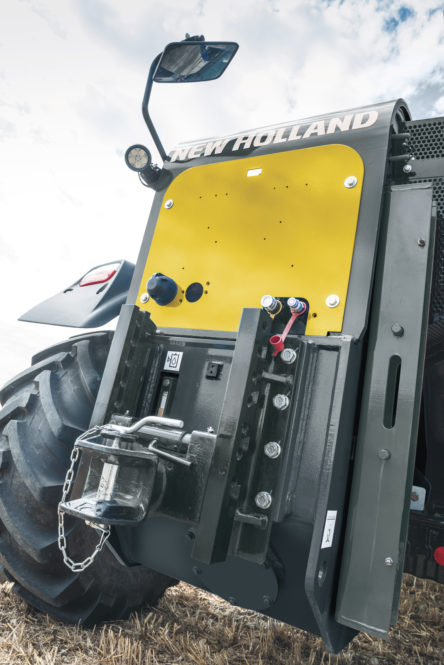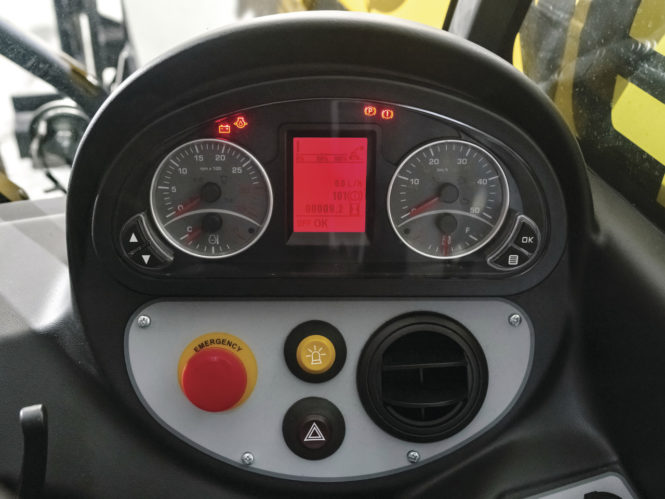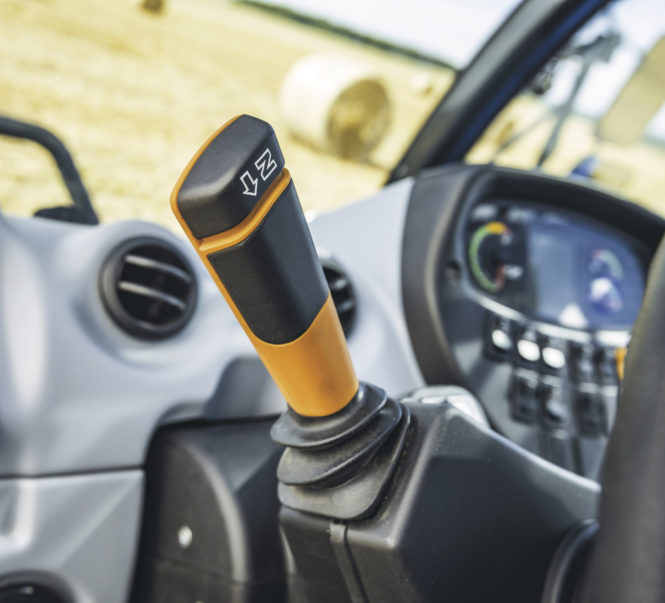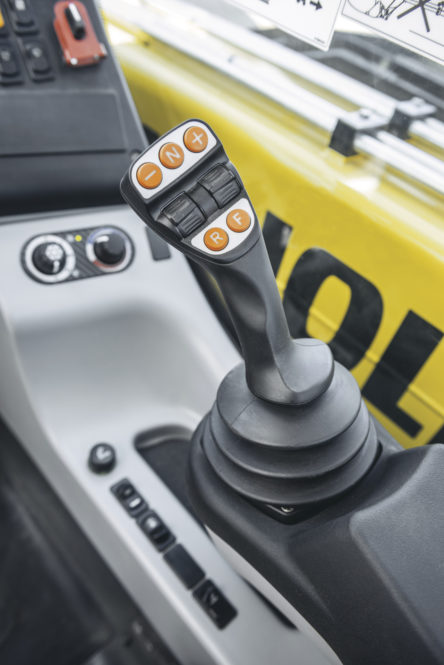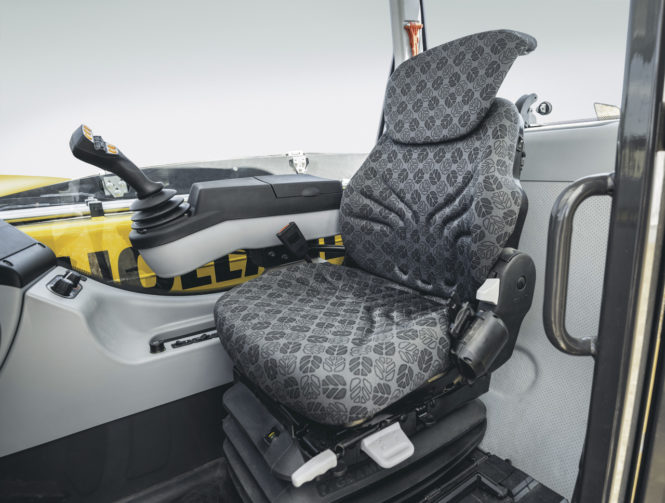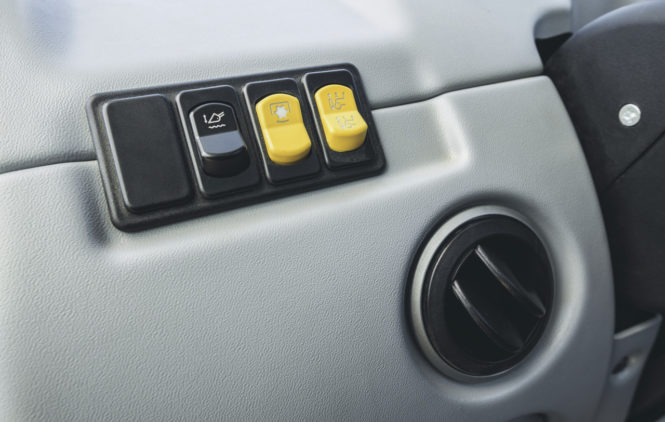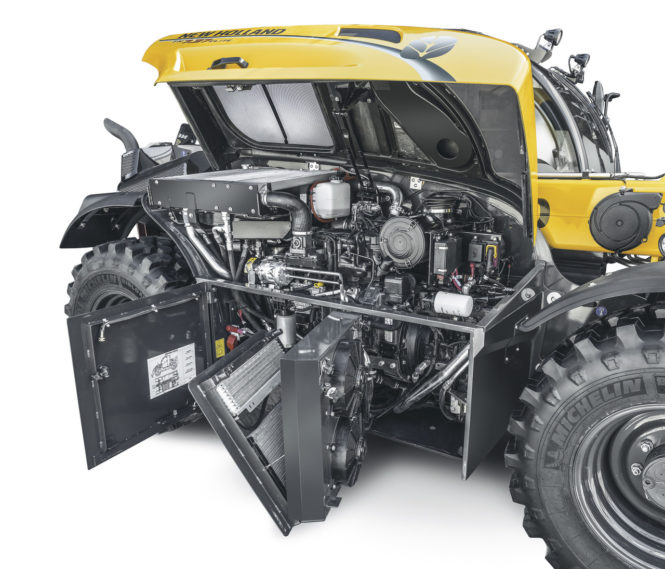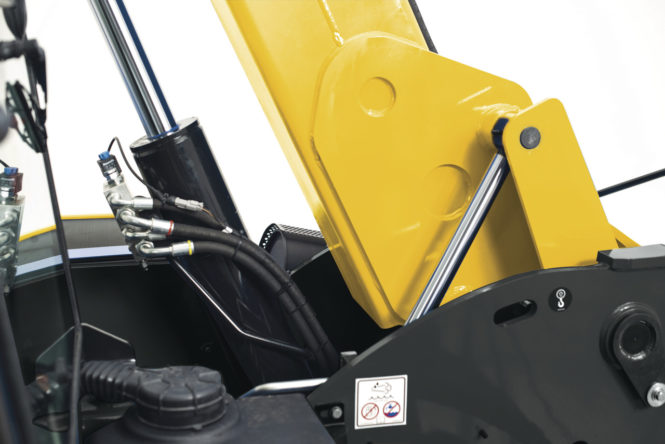 New Holland TH
EIGHT TH MODELS, COUNTLESS APPLICATIONS
At New Holland, we listen to our customers. We appreciate key telehandler demands vary between those seeking a telehandler with the reach to pick up, transport and stack large bales to those who need a maneuverable machine that will see daily use for livestock duties – and everything in between. With the TH series, New Holland has a telehandler to suit specific demands. As a guide, each model number gives a broad indication of its maximum lift height and capacity. As an example, TH6.32 models will lift to 6.10m and offer a 3,200kg capacity, the TH9.35 operating up to 9.10m and offering 3,500kg capacity.
COMPACT BUT VERSATILE
The 74hp TH5.26 and 108hp TH6.28 measure just 1.85 and 2.10m wide respectively. With a turn radius of as low as 3.95 and 4.17m, these compact handlers can operate in tight spaces, a height of just 1.98m and 2.10m enabling either machine to work in low buildings to include pig and poultry units. However, do not think compact dimensions means limited capacity, they will lift up to 2,800kg.
TH5.26 models features include:
• 2600kg load capacity
• 5.7m lift height
• 1.85m width
• 1,98m height
• single speed Hydrostatic transmission
• 80Lpm hydraulic pump
• 74hp Stage V engine
TH6.28 models features include:
• 2800kg load capacity
• 6.3m lift height
• 2.10m width
• 2.10m height
• two speed Hydrostatic transmission
• 100Lpm hydraulic pump
• 108hp Tier 4B engine
Features
CLASSIC SPECIFICATION
New Holland offers more budget focused operators a wide choice of models across the TH range, the Classic models represent value for money without compromising productivity. All Classic models feature Stage V, 4.5 litre NEF engines, with a maximum power output of 133hp. These telehandlers have new 4F-3R PowerShift™ transmissions with gears selectable on the joystick, while direction changes are handled by a column mounted powershuttle lever. Classic models feature a 140Lpm variable displacement pump and manual three-mode steering system in addition to the high levels of equipment offered.
Classic models features include:
• limited slip diff rear axle
• optional reversible cooling fan
• 142° dump angle
• 140Lpm variable pump
• 1,000hr service intervals
• LED light options
PLUS AND ELITE MODELS
Plus and Elite models are aimed at the most demanding operators who require maximum productivity and comfort at all times. These machines produce maximum power outputs of 133hp and 145hp respectively from a Stage V, 4.5 litre NEF engine and both feature new 6F-3R PowerShift™ transmissions. The transmission offering features two modes on Plus models, Manual and Semi-auto, Elite models feature three transmission modes, Manual, Semi-auto and Full-auto. The transmission modes make Plus and especially Elite models well suited to transport work and towing capacity with a braked trailer is a massive 20tons. On Elite models, the forward and reverse powershuttle can be selected via buttons on the main joystick or via an optional steering column mounted lever. The Elite range now includes the TH9.35 Elite model featuring a 9.1m reach aimed squarely at professional straw business.
Plus models features include:
• air suspended seat
• HVAC ventilation system
• hydraulic quick coupler
• rear cab light pack
• telescopic steering column
• 1,000hr service intervals
Elite models features include:
• hydraulic pressure release
• armrest mounted joystick
• rear cab and boom light pack
• heated air suspensed seat
• automatic steering alignment
• rear electrical sockets
• 40kph max speed
• 1,000hr service intervals
Specifications
New Holland TH5.26
| | |
| --- | --- |
| Max power – ISO 14396 – ECE R120 [kW/hp(CV)] | 54.6/74@2600rpm |
| Number of gears (FxR) | 1×1 |
| Max lift capacity (kg) | 2600 |
| Max lift height (mm) | 5680 |
New Holland TH6.28
| | |
| --- | --- |
| Max power – ISO 14396 – ECE R120 [kW/hp(CV)] | 79.5/108@2200rpm |
| Number of gears (FxR) | 2×2 |
| Max lift capacity (kg) | 2800 |
| Max lift height (mm) | 6350 |
New Holland TH6.32
| | |
| --- | --- |
| Max power – ISO 14396 – ECE R120 [kW/hp(CV)] | 98/133 @1800rpm |
| Number of gears (FxR) | 4×3 |
| Max lift capacity (kg) | 3200 |
| Max lift height (mm) | 6050 |
New Holland TH7.32
| | |
| --- | --- |
| Max power – ISO 14396 – ECE R120 [kW/hp(CV)] | 98/133 @1800rpm |
| Number of gears (FxR) | 4×3 |
| Max lift capacity (kg) | 3200 |
| Max lift height (mm) | 7000 |
New Holland TH7.37
| | |
| --- | --- |
| Max power – ISO 14396 – ECE R120 [kW/hp(CV)] | 98/133 @1800rpm |
| Number of gears (FxR) | 4×3 |
| Max lift capacity (kg) | 3700 |
| Max lift height (mm) | 7000 |
New Holland TH9.35
| | |
| --- | --- |
| Max power – ISO 14396 – ECE R120 [kW/hp(CV)] | 98/133 @1800rpm |
| Number of gears (FxR) | 4×3 |
| Max lift capacity (kg) | 3500 |
| Max lift height (mm) | 9150 |
New Holland TH6.36 Plus
| | |
| --- | --- |
| Max power – ISO 14396 – ECE R120 [kW/hp(CV)] | 98 / 133 @1800rpm |
| Number of gears (FxR) | 6×3 |
| Max lift capacity (kg) | 3600 |
| Max lift height (mm) | 6050 |
New Holland TH7.32 Plus
| | |
| --- | --- |
| Max power – ISO 14396 – ECE R120 [kW/hp(CV)] | 98 / 133 @1800rpm |
| Number of gears (FxR) | 6×3 |
| Max lift capacity (kg) | 3200 |
| Max lift height (mm) | 7000 |
New Holland TH7.37 Plus
| | |
| --- | --- |
| Max power – ISO 14396 – ECE R120 [kW/hp(CV)] | 98 / 133 @1800rpm |
| Number of gears (FxR) | 6×3 |
| Max lift capacity (kg) | 3700 |
| Max lift height (mm) | 7000 |
New Holland TH7.42 Plus
| | |
| --- | --- |
| Max power – ISO 14396 – ECE R120 [kW/hp(CV)] | 98 / 133 @1800rpm |
| Number of gears (FxR) | 6×3 |
| Max lift capacity (kg) | 4200 |
| Max lift height (mm) | 7000 |
New Holland TH9.35 Plus
| | |
| --- | --- |
| Max power – ISO 14396 – ECE R120 [kW/hp(CV)] | 98 / 133 @1800rpm |
| Number of gears (FxR) | 6×3 |
| Max lift capacity (kg) | 3500 |
| Max lift height (mm) | 9150 |
New Holland TH6.36 Elite
| | |
| --- | --- |
| Max power – ISO 14396 – ECE R120 [kW/hp(CV)] | 107 / 146 @1800rpm |
| Number of gears (FxR) | 6×3 |
| Max lift capacity (kg) | 3600 |
| Max lift height (mm) | 6050 |
New Holland TH7.37 Elite
| | |
| --- | --- |
| Max power – ISO 14396 – ECE R120 [kW/hp(CV)] | 107 / 146 @1800rpm |
| Number of gears (FxR) | 6×3 |
| Max lift capacity (kg) | 3700 |
| Max lift height (mm) | 7000 |
New Holland TH7.42 Elite
| | |
| --- | --- |
| Max power – ISO 14396 – ECE R120 [kW/hp(CV)] | 107 / 146 @1800rpm |
| Number of gears (FxR) | 6×3 |
| Max lift capacity (kg) | 4200 |
| Max lift height (mm) | 7000 |
New Holland TH9.35 Elite
| | |
| --- | --- |
| Max power – ISO 14396 – ECE R120 [kW/hp(CV)] | 107/145@1800rpm |
| Number of gears (FxR) | 6×3 |
| Max lift capacity (kg) | 3500 |
| Max lift height (mm) | 9150 |