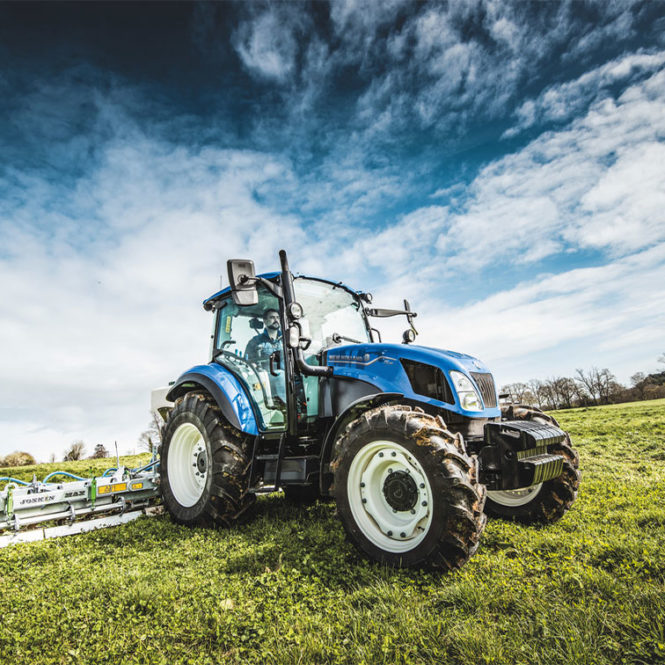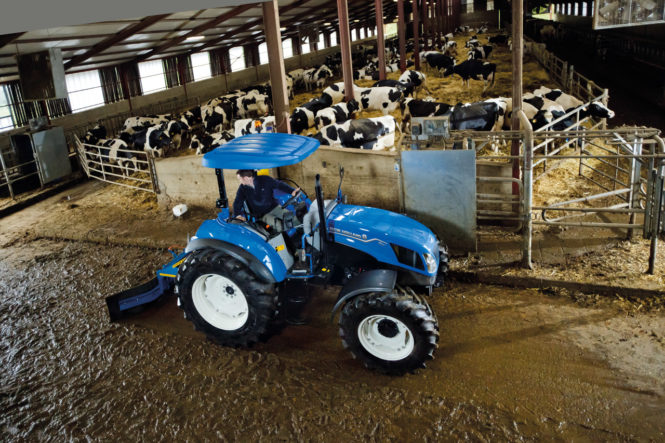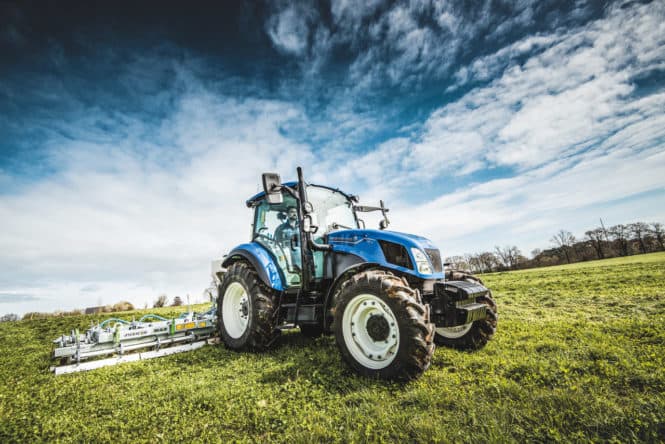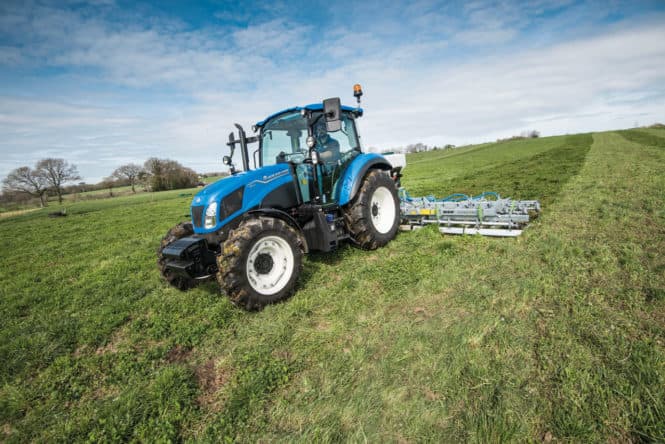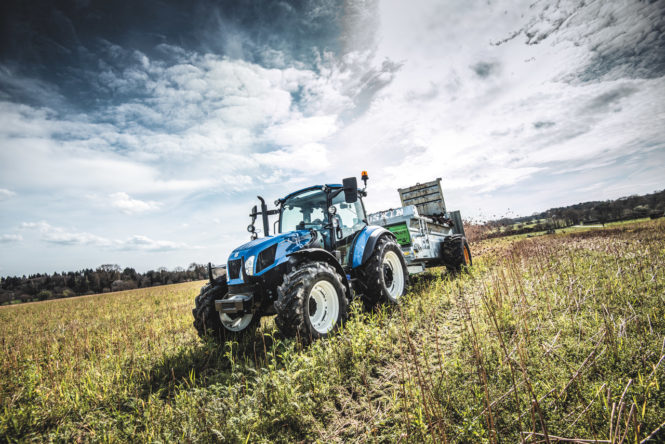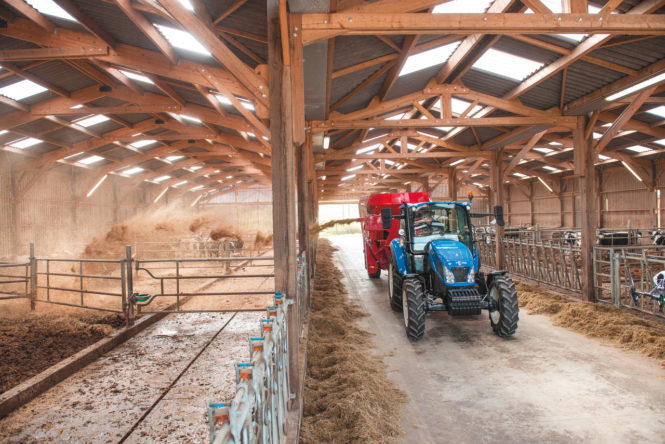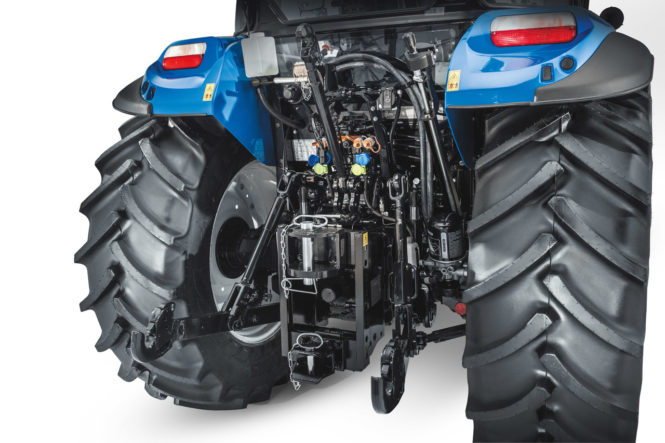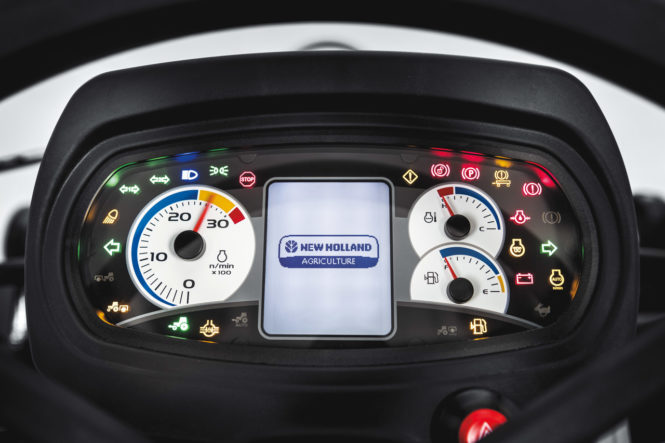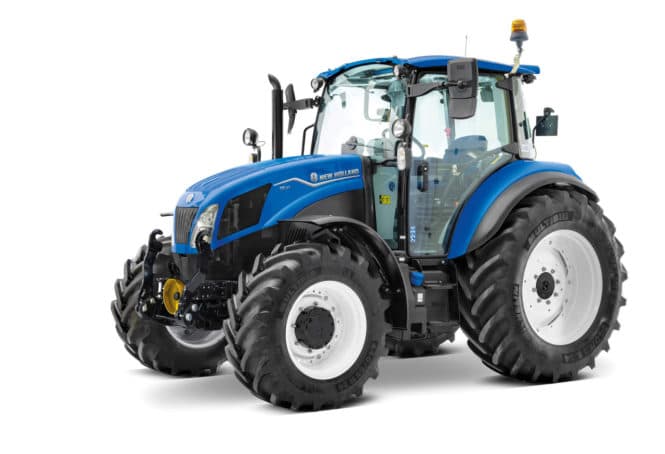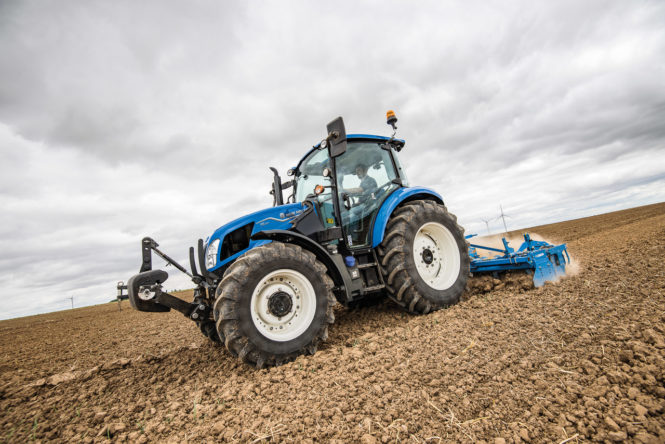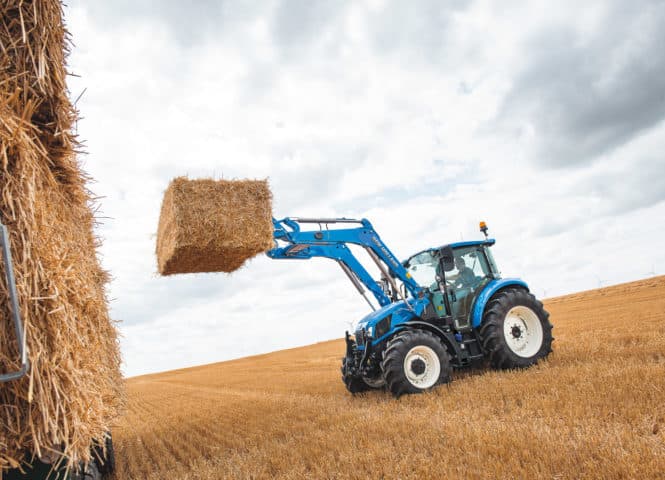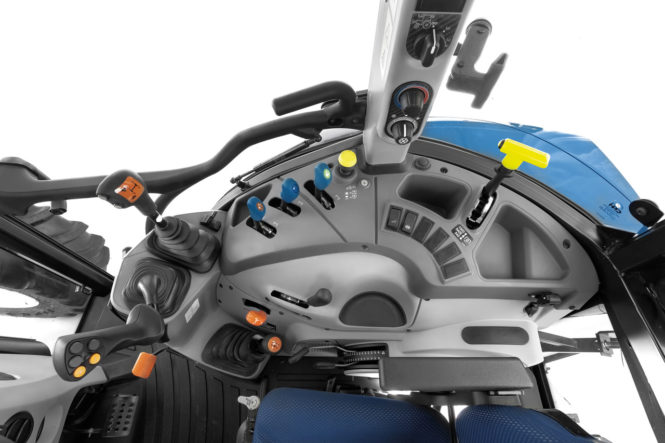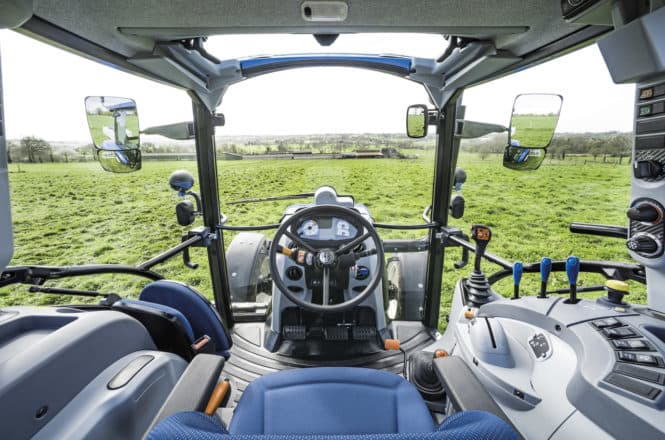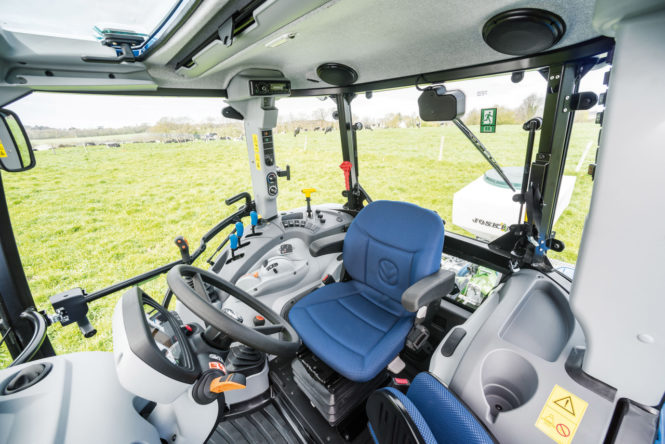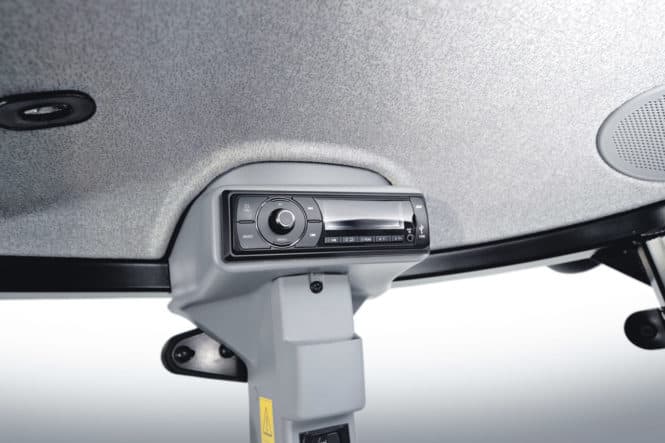 New Holland T5 Utility
EVERYTHING YOU NEED AND MORE.
The new T5 range has been designed to be the ultimate allrounder for today's modern mixed farms. We listened and drew on the T5000 range heritage and updated it for modern farming. Whether it is doing loader work, working with front or rear mounted implements or travelling down the road, the T5 delivers premium features in a compact package. A multitude of customisable options from transmissions to engines, when combined with engine speed management and best-in-class fuel consumption, make the T5 a winning package. The new T5 Utility can be specified with the Smart package to suit operations that require the most important features and options to meet all your needs, ensuring high levels of efficiency and productivity to get the job done.
ULTIMATE COMFORT
The spacious VisionView™ cab offers outstanding all-round visibility, a high visibility roof hatch for comfortable loader operation. All controls are perfectly placed on the CommandArc and easy entry and exit are guaranteed thanks to wide opening doors.
EXCELLENT EFFICIENCY
Equipped with a Stage V compliant FPT Industrial F5 engine, the T5 delivers more efficient power when required and benefits from horsepower and significant torque increases across the range. The optional 40kph ECO transport feature ensures quite and fuel efficient road work.
OUTSTANDING VERSATILITY
The new wide frame front loader offers higher stability, even when working with the heaviest loads at maximum extension. The wide range of powers and transmission options means you'll be able to specify the tractor that's right for you.
INCREASED PRODUCTIVITY
The all-new three speed PTO delivers flexibility of option and operating efficiency. The uprated rear linkage can now lift up to 4,400kg for even more flexibility of operation.
Features
RESPONSIVE POWER. PRODUCTIVE EFFICIENCY.
Common Rail. Common sense.
The entire T5 range boasts larger displacement, 3.6 litre Common Rail F5 engines developed by FPT Industrial that fully comply with the stringent Stage V emissions regulations and results in higher torque, up to 5hp power increases and greater efficiency. New Holland introduced Common Rail to agriculture in 2003, and the optimised engines on the T5 range benefit from the latest generation in this fuel efficient technology. These powerful, super-quiet engines have been updated, and now develop between 80-117hp and up to 506Nm of torque at just 1300rpm for guaranteed productivity. Throw in a power-to-weight ratio of just 34.4kg/hp and the T5 is your perfect farming partner.
FLEXIBLE TRANSMISSION OFFERING TO SUITE YOUR NEEDS
Every farmer has different requirements, and intelligent innovation also means offering tried and tested solutions to improve your efficiency.  Now you have an even wider choice of transmissions. The new Dual Command™, when fitted with the 40kph ECO option offers quiet and fuel efficient transport, and when equipped with the creeper option it offers the ultimate in operational flexibility. But no matter if you like to live life in the fast lane, or if you prefer to take things slow, you'll always be able to find the perfect solution for your operation.
QUIET, COMFORTABLE AND OFFERING A GREAT VIEW
The T5 offers you tailored comfort. The deluxe VisionView™ cab has been designed around you for the ultimate operator experience. A spacious cab means you'll relish spending long days at the wheel. Panoramic visibility is guaranteed. Always. Curved and openable side windows. The extended rear windscreen guarantees a crystal clear view of the rear hitch. Want more? You'll be comfortable too, precisely position the tiltable steering column and dash. You can even choose a ROPS version with a FOPS compliant canopy. Your T5. As individual as you.
HYDRAULIC FLEXIBILITY. DESIGNED FOR MIXED FARMERS.
A one size fits all hydraulic offering was never an option for the T5 range. The standard 48 litre/minute variant features a dedicated 28 litre/minute services pump and is perfect for standard farming applications. The MegaFlow™ option, standard on T5.120 models, delivers up to 64 litre/minutes of hydraulic flow to the main pump, and means you've got the power on tap to breeze through even the most demanding hydraulic applications such as bale wrapping. The 36 litre/minute services pump ensures steering remains light and responsive even during intensive loader and rear linkage work.
Specifications
New Holland T5.80
| | |
| --- | --- |
| Max. horsepower (@1900rpm) – ISO TR14396 – ECE R120 [kW/hp(CV)] | 59/80 |
| Rated horsepower – ISO TR14396 – ECE R120 [kW/hp(CV)] | 59/80 |
| Torque rise (%) | 35 |
| Max. lift capacity through the range (610 mm behind ball ends) (kg) | 3900 |
New Holland T5.90
| | |
| --- | --- |
| Max. horsepower (@1900rpm) – ISO TR14396 – ECE R120 [kW/hp(CV)] | 66/90 |
| Rated horsepower – ISO TR14396 – ECE R120 [kW/hp(CV)] | 66/90 |
| Torque rise (%) | 39 |
| Max. lift capacity through the range (610 mm behind ball ends) (kg) | 3900 |
New Holland T5.100
| | |
| --- | --- |
| Max. horsepower (@1900rpm) – ISO TR14396 – ECE R120 [kW/hp(CV)] | 74/101 |
| Rated horsepower – ISO TR14396 – ECE R120 [kW/hp(CV)] | 74/101 |
| Torque rise (%) | 47 |
| Max. lift capacity through the range (610 mm behind ball ends) (kg) | 3900 |
New Holland T5.110
| | |
| --- | --- |
| Max. horsepower (@1900rpm) – ISO TR14396 – ECE R120 [kW/hp(CV)] | 81/110 |
| Rated horsepower – ISO TR14396 – ECE R120 [kW/hp(CV)] | 81/110 |
| Torque rise (%) | 46 |
| Max. lift capacity through the range (610 mm behind ball ends) (kg) | 3900 |
New Holland T5.120
| | |
| --- | --- |
| Max. horsepower (@1900rpm) – ISO TR14396 – ECE R120 [kW/hp(CV)] | 86/117 |
| Rated horsepower – ISO TR14396 – ECE R120 [kW/hp(CV)] | 86/117 |
| Torque rise (%) | 42 |
| Max. lift capacity through the range (610 mm behind ball ends) (kg) | 3900 |