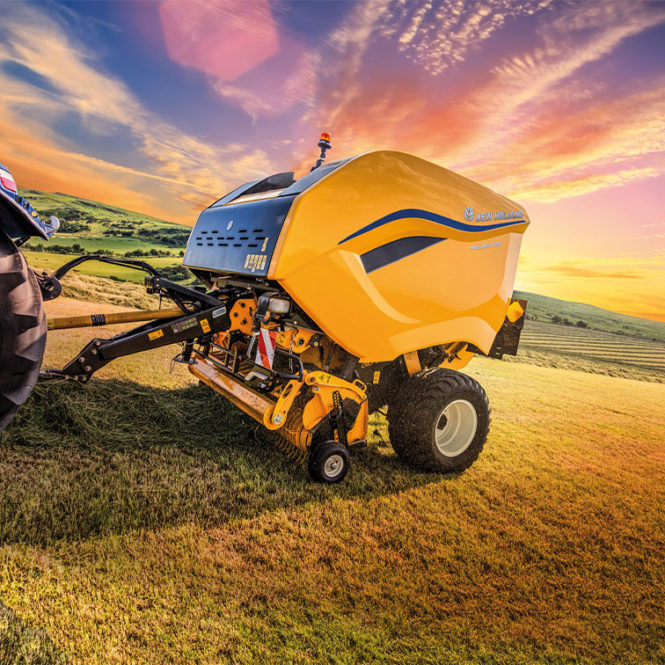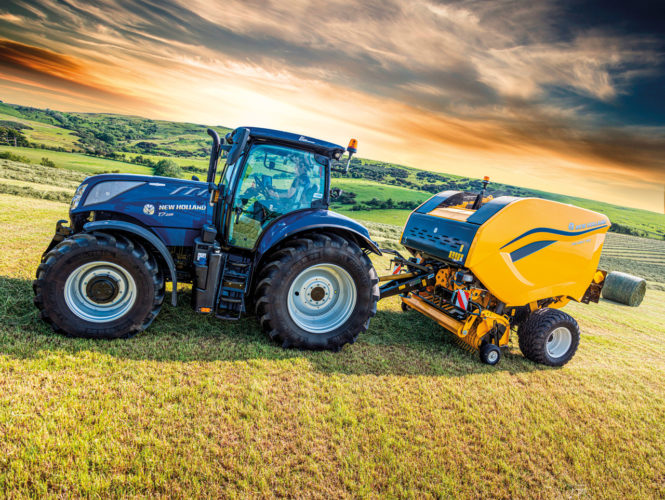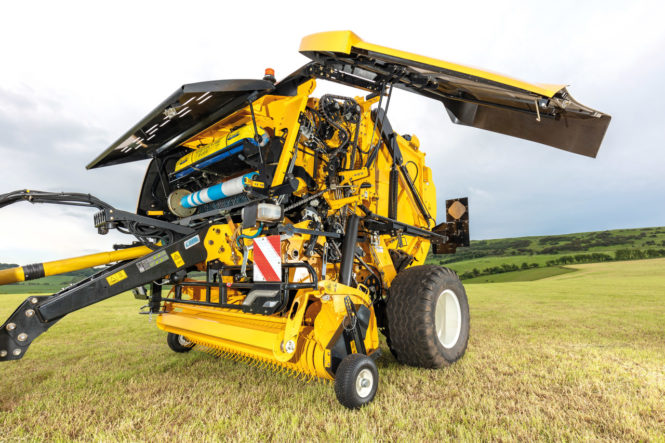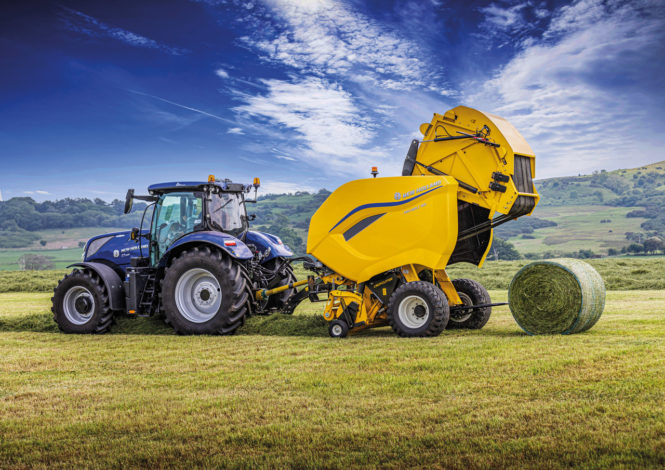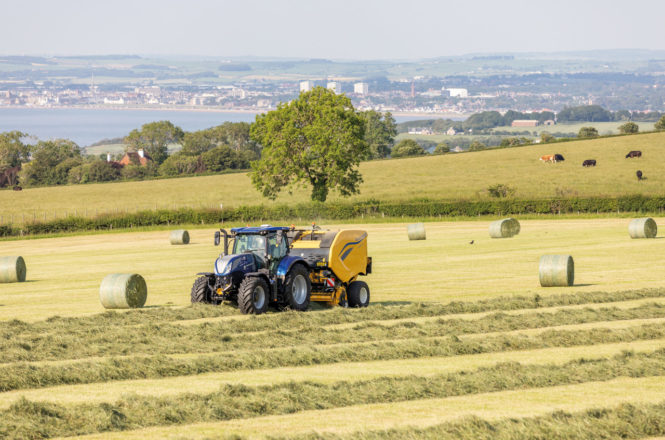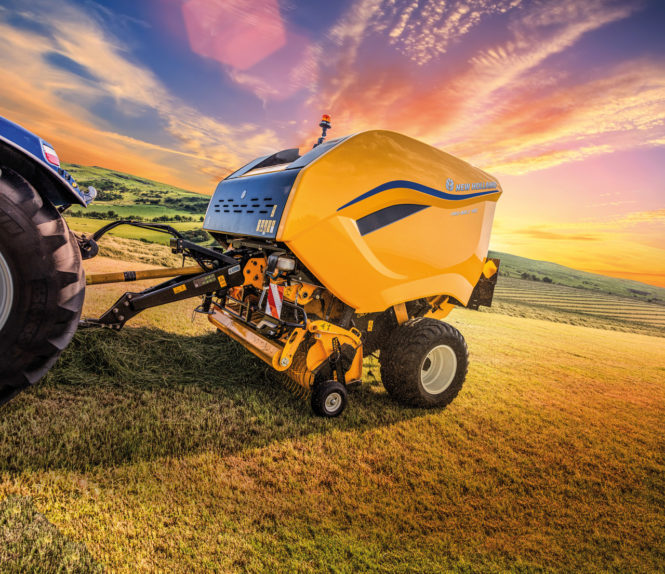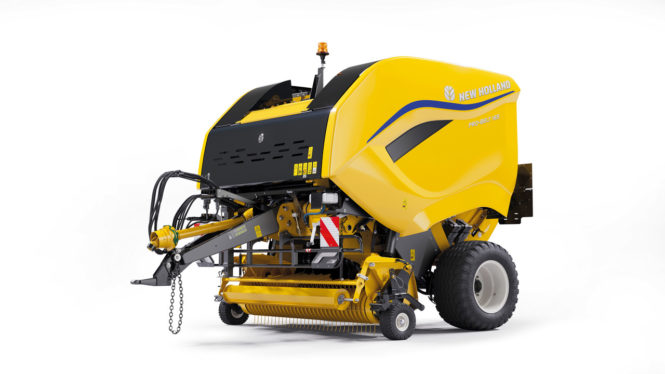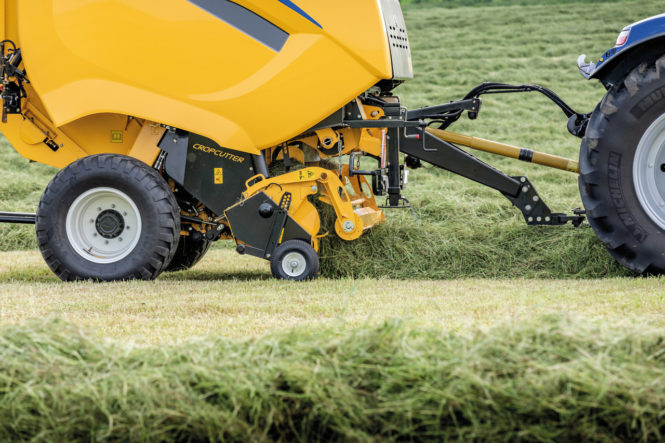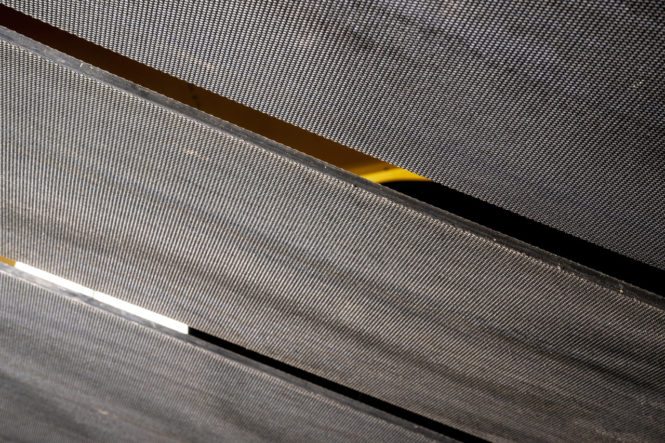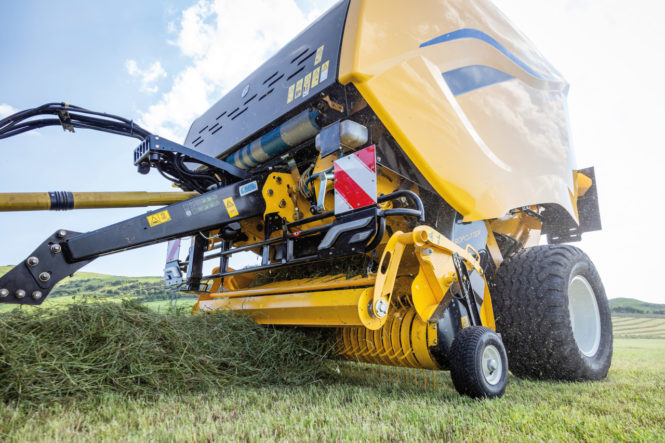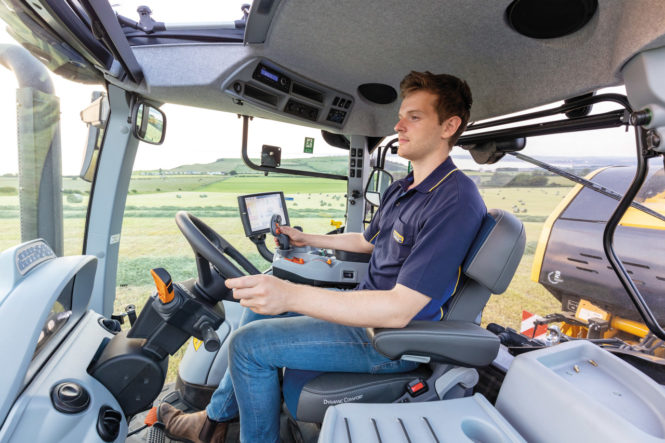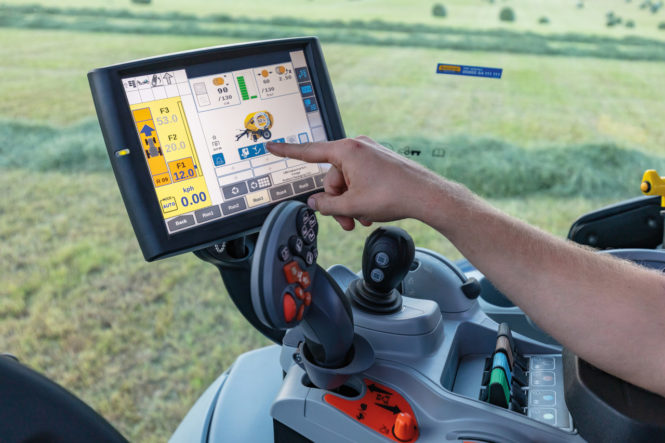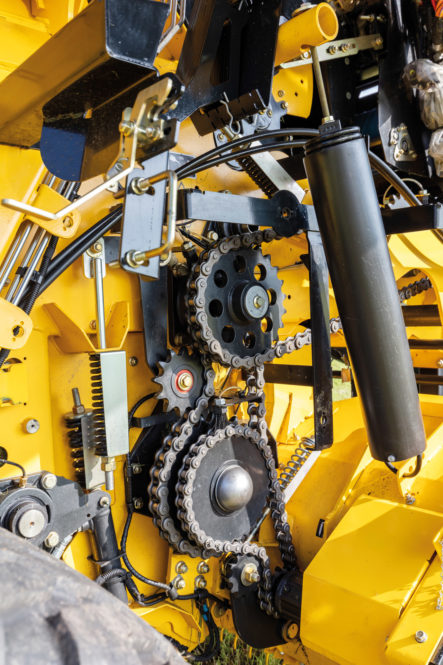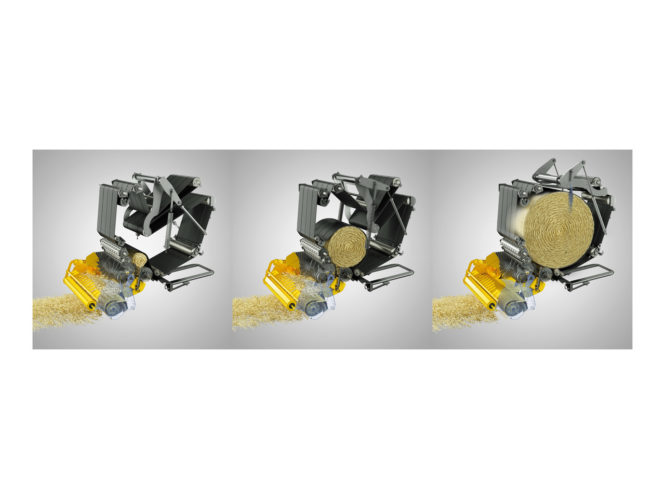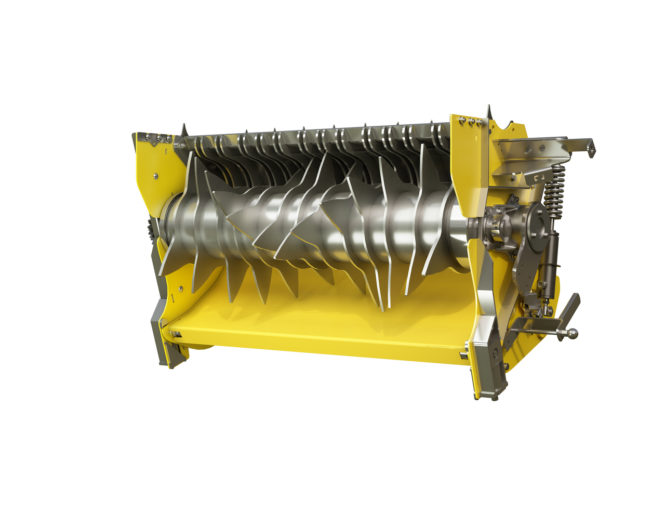 New Holland Pro-Belt
MASTERPIECE IN THE ROUND
The all-new New Holland, Pro-Belt™ premium round baler range delivers the performance and reliability that professionals and contractors can rely on. From the heaviest wet silage crops to bulky straw windrows, the Pro-Belt 165 and 190 deliver solid and square shouldered round bales with impressive capacity from either the renowned SuperFeed™ or new 25 knife CropCutter™ large diameter rotor feeding systems.
Durability by design Pro-Belt round balers have been proven the world over with over 150,000 bales produced. The all-new heavy-duty drivelines, a more robust frame, and the re-imaged bale chamber deliver professional grade uptime and bales with high density.
The latest precision farming solutions including ISOBUS electronics offers a simple user interface to track all baler functions and quickly adjust on-the-go, track individual bale moisture, and average bale moisture then make smart real time agronomic decisions. Completed with New Holland next generation styling the stylish side shields, flowing lines are more than good looking they are a visual representation of crop flow through the baler.
EFFICIENT PICKUP
The Pro-Belt™ baler range features a five tine bar pick-up, which has a mounting angle increased 7° forward for even smoother crop flow into the baler. The pick-up also features a heavy-duty cut-out clutch for overload protection. When combined with the feed assist roller, which positively directs the crop into the SuperFeed™ or CropCutter™ rotor to maintain a constant crop flow at all times, maximizing capacity.
ULTIMATE CROP FLOW
A heavy weight formed steel roller windguard pre-compresses windrows without bunching ensuring a more positive pickup tine engagement. Crop driven it's fully adjustable to match in-field conditions and it's continual rotation delivers a smooth even crop flow over the complete pickup for unparalleled capacity.
FROM ROAD TO FIELD IN THE BLINK OF AN EYE
The castoring gauge wheels quickly transform the Pro-Belt baler from transport to field mode by simply swivelling into position. No tools. No need to remove. No hassle. What's more, when in use, they assist tight turning on the headlands and prevent productivity-impacting scrubbing.
Features
LARGER AND STRONG ROTOR
The large diameter, 520 mm rotor – a full 65mm larger than Roll-Belt models – delivers 'V' shaped feeding to ensure even feeding across the entire width. In line with the Pro-Belt's heavy duty status, the rotor is double the weight of that in Roll-Belt models, which means when at working speed, it smooths out heavy wedges of crop to keep the baler going.
DESIGNED FOR BALING EFFICIENCY
New Holland is renowned the world-over for its perfectly shaped bales, and the Pro-Belt is no exception. The all-new bale formation area features a simplified design with fewer moving parts. The sledge formation rolls have been removed, and with fewer rollers and four endless belts, you can enjoy more reliable operation with less maintenance.
LATEST GENERATION BALE WRAPPING
The latest generation Duckbill system is physically closer to the bale, speeding up the entire wrapping process. Spreader rolls maintain uniform coverage across the entire bale and the net is actively placed inside the chamber, next to the bale for more accurate wrapping performance. The amount of net used is regulated by sensors and this simple, reliable system, guarantees consistent net tension and tighter wrapping.
INTUITIVE BALER MANAGEMENT
The Pro-Belt™ baler can be specified with a choice of monitors to suit your individual needs, from the entry level ISOBUS compatibility, which comes as standard, through to the optional IntelliView™ IV colour touchscreen – which will be familiar to users of other New Holland products. Both systems use the same layout and graphics as those used by the BigBaler High Density range, which will facilitate ease of use for baling contractors.
ACCESS TO MYPLM®CONNECT PORTAL THROUGH MYNEWHOLLAND™ APP
MyNewHolland™ provides owners and users the ability to view and manage their machinery fleets online. Users will be able to access a range of information such as operator manuals and how-to videos as well as an option to view activations and subscriptions via the live link to the VMS tool. Users can even make purchase requests direct with their dealer to activate a service or takeout a subscription. MyNewHolland™ also provides direct access to the MyPLM®Connect Portal.
TWINDRIVE™ GEARBOX
Uniformly spread the load for balanced and smooth operation with greater reliability the TwinDrive™ gearbox directs PTO power to the right and left of the baler without transferring power through the driven rollers.
REDUCED IN-FIELD FOOTPRINT
The Pro-Belt baler can be fitted with a range of tyres, including a 620/40-22.5 option, delivering an ultra-wide footprint for reduced compaction, which can help with regrowth for subsequent silage cuts during the season. 05
Specifications
New Holland Pro-Belt™ 165 SuperFeed™
| | |
| --- | --- |
| Bale dimensions | 90 / 165 x 120 |
| Tractor requirements: Minimum PTO power [kW/hp(CV)] | 74/100 |
| Main drive | TwinDrive™ split gearbox |
| Bale formation | Roll-Belt™ technology (Combination of rollers and belts) |
New Holland Pro-Belt™ 165 CropCutter™
| | |
| --- | --- |
| Bale dimensions | 90 / 165 x 120 |
| Tractor requirements: Minimum PTO power [kW/hp(CV)] | 88/120 |
| Main drive | TwinDrive™ split gearbox |
| Bale formation | Roll-Belt™ technology (Combination of rollers and belts) |
New Holland Pro-Belt™ 190 SuperFeed™
| | |
| --- | --- |
| Bale dimensions | 90 / 190 x 120 |
| Tractor requirements: Minimum PTO power [kW/hp(CV)] | 74/100 |
| Main drive | TwinDrive™ split gearbox |
| Bale formation | Roll-Belt™ technology (Combination of rollers and belts) |
New Holland Pro-Belt™ 190 CropCutter™
| | |
| --- | --- |
| Bale dimensions | 90 / 190 x 120 |
| Tractor requirements: Minimum PTO power [kW/hp(CV)] | 88/120 |
| Main drive | TwinDrive™ split gearbox |
| Bale formation | Roll-Belt™ technology (Combination of rollers and belts) |