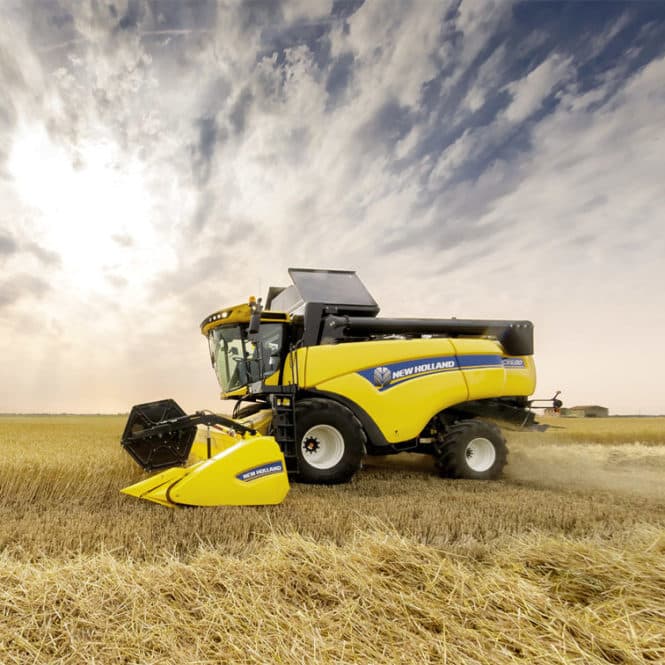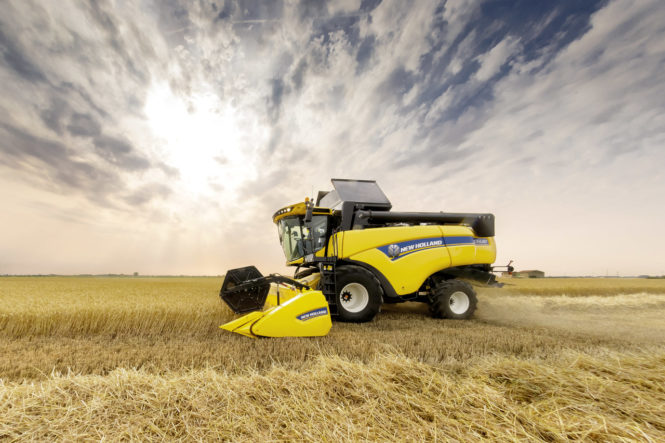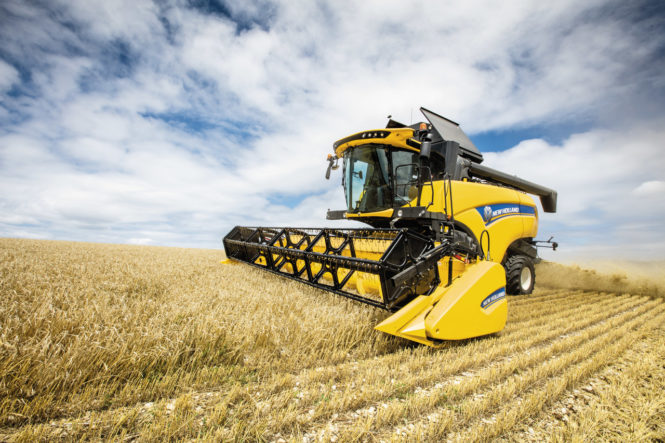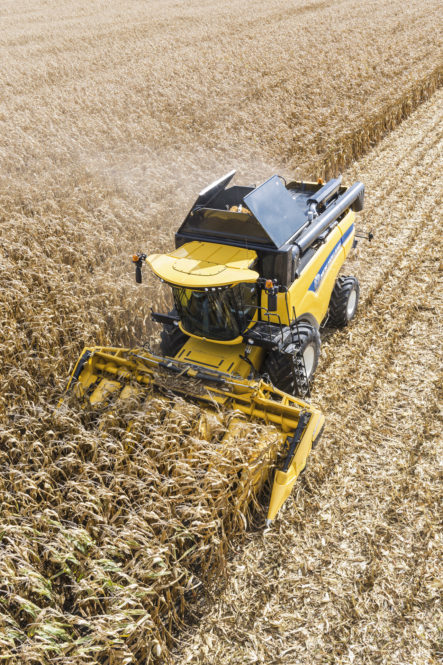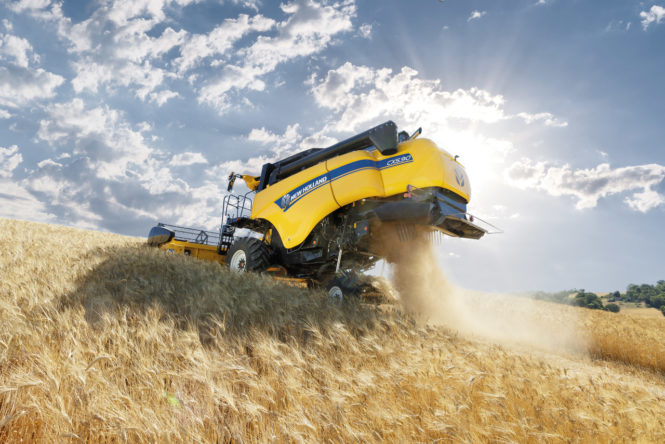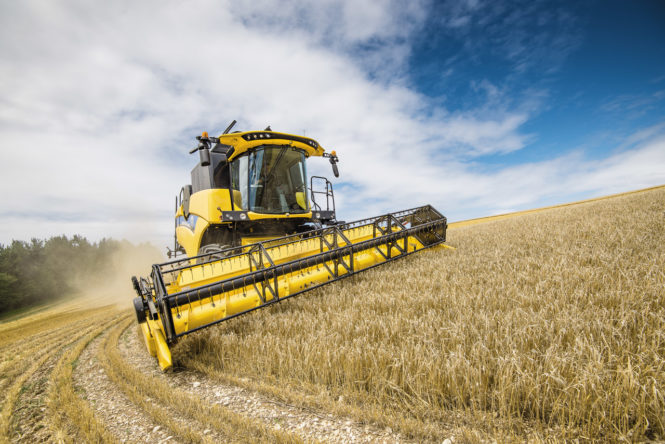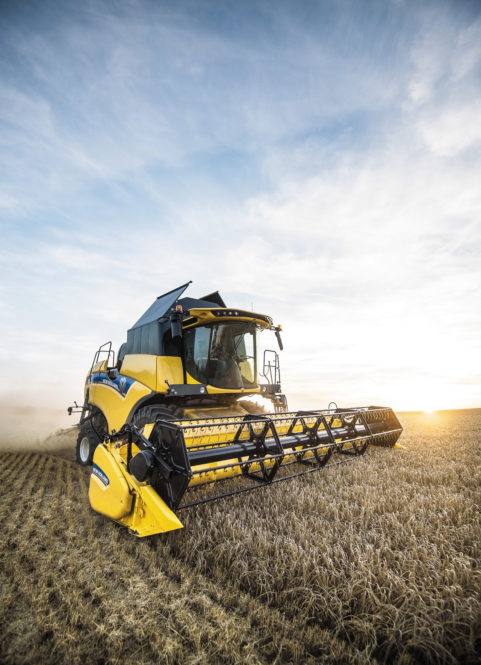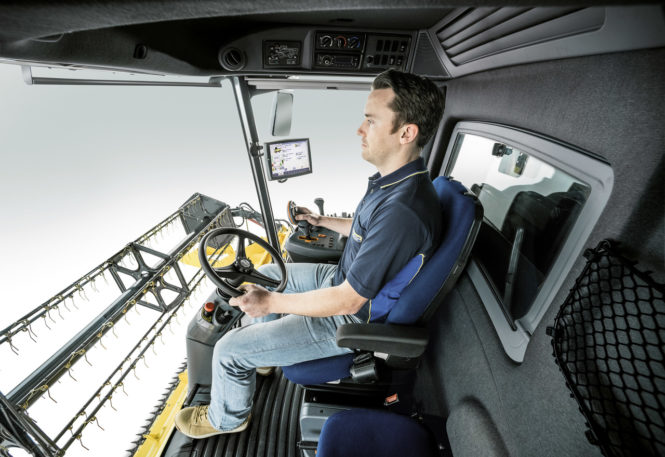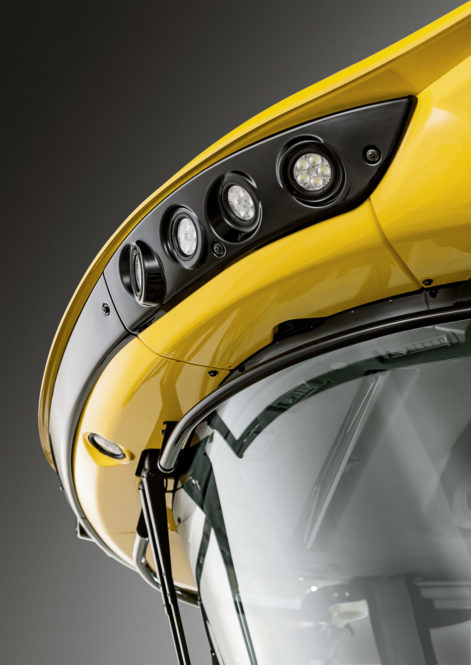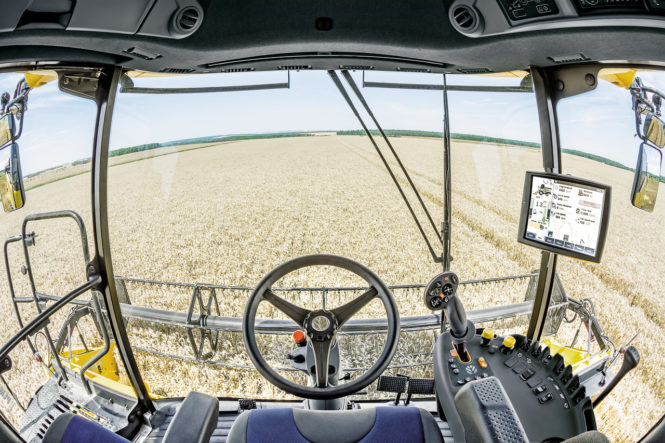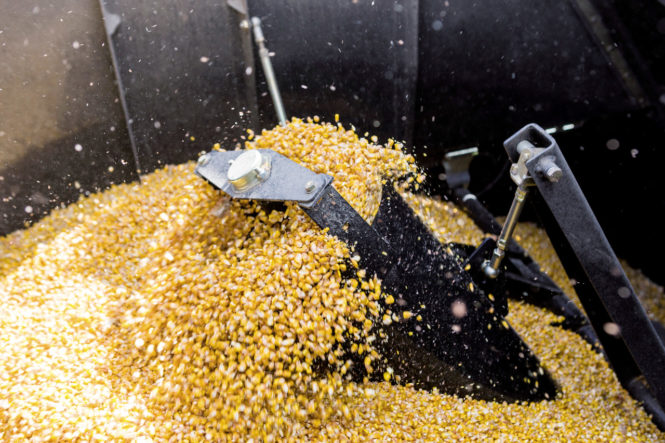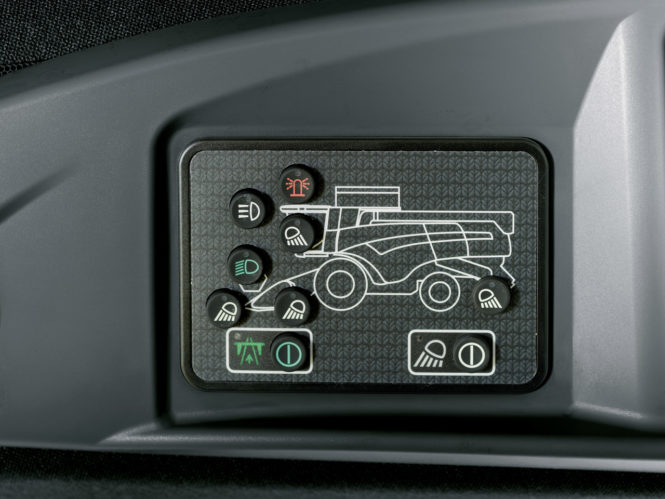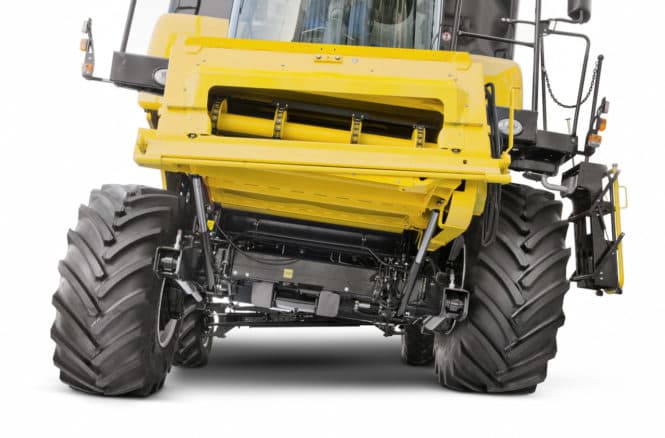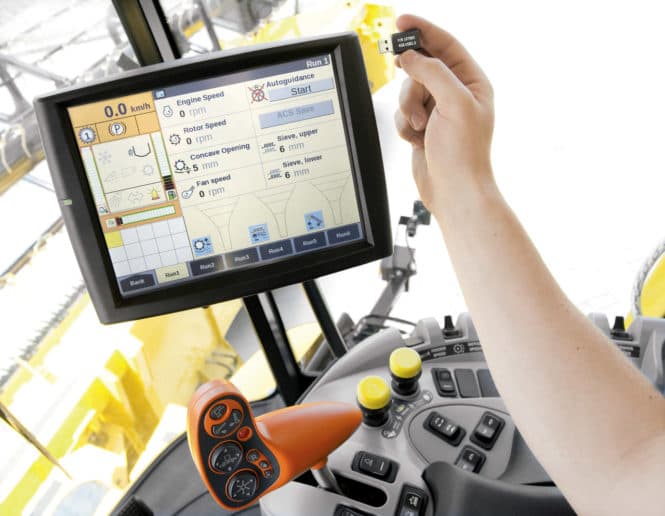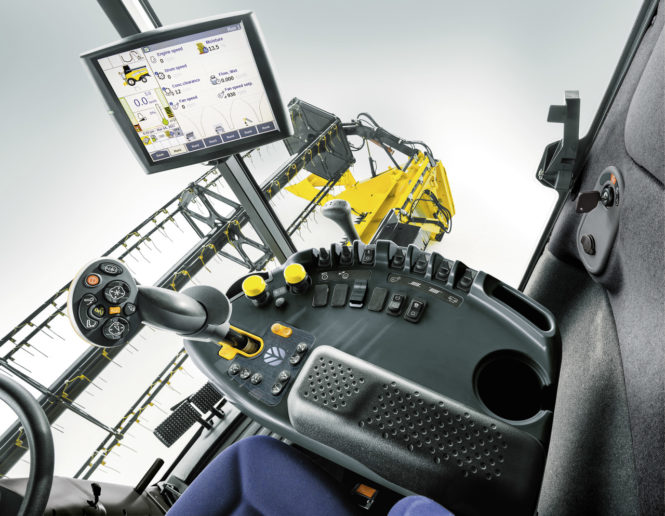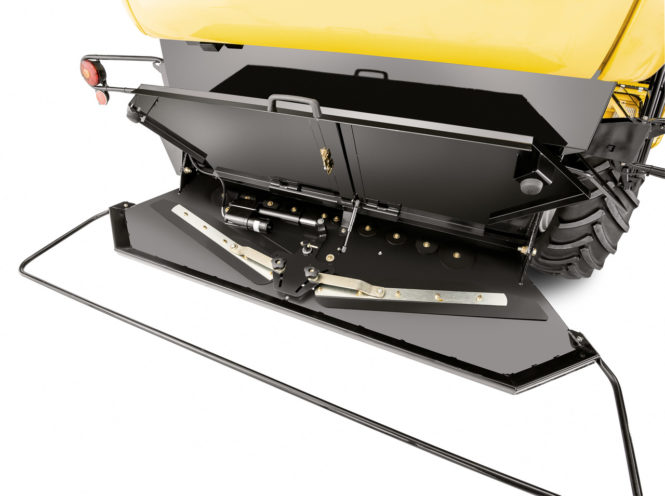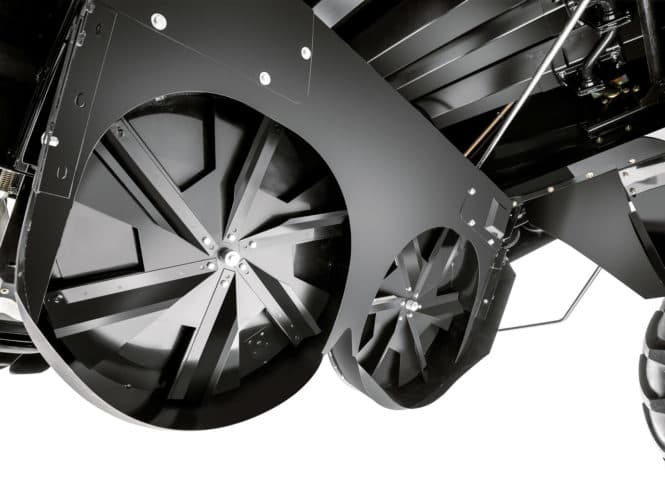 New Holland CX5 and CX6
A COMBINE FOR EVERY FIELD
The four-model New Holland CX5 and CX6 strawwalker combine series offers a specification choice to exactly match specific end user demands. Available with 600mm diameter, 4 drum threshing technology, these five and six-straw walker combines benefit from a host of developments to boost productivity in more demanding terrain. The proven Triple-Clean™ and self-levelling Smart Sieve™ cleaning system – which operates on slopes of up to 25% – is now matched to the Opti-Speed™ variable speed strawwalker system. Proven in the higher capacity CX7 and CX8 combine models, Opti-Speed automatically adjusts the speed of the strawwalkers both up and down slopes to deliver productivity improvements of up to 10% in hilly areas. Other new features include standard hydraulic reel reversal, an automated clean out system to speed preparing the combine when moving between different crops and a new cab with even greater space, improved visibility and enhanced comfort. Power comes from proven NEF or Cursor engines compliant with the Stage V emission standards. Fuel efficient and clean running, the power units develop maximum power outputs of of 258hp – 340hp at a modest 2000rpm. In undulating terrain, these versatile combines have the power and specification to deliver level-land productivity and cleaning performance. For those that operate in more demanding terrain, CX5 and CX6 Laterale models offer slope correction of up to 18% on both sides. The CX5.90 Hillside model offers side hill correction of up to 38%. All models are offered with a choice of headers to include High Capacity and Varifeed™ grain headers of up to 9.15m. For maize, five, six and eight row maize headers are available. New Holland. Specification choice to match specific end user needs.
VERSATILITY COMES AS STANDARD
New Holland CX5 and CX6 match stylish looks with practical features to ease maintenance, enhance visibility and make cleaning and storage easier. The Harvest Suite™ Deluxe cab now features darker interior colouring to reduce glare and provides even greater levels of operator comfort too. Less visible are the detail changes to reduce downtime. There are now fewer grease points and the Auto-clean out function speeds swapping between different crops in the field, further enhancing the crop to crop flexibility. With New Holland, beauty is more than skin deep.
EXCELLENT CAPACITY
New CX5 & CX6 combines deliver outstanding field performance. The advanced threshing design and cleaning mechanism provides superior throughput allowing impressive forward speeds and daily output. Overall cleaning capacity has been greatly enhanced thanks to the innovative Triple- Clean™ cascaded system, which can provide a 15% increase in performance across the cleaning shoe.
BEST-IN-CLASS VERSATILITY
Crop-to-crop flexibility has never been better thanks to easily replaceable concave sections. Furthermore, an easy to use choice of crop-specific settings fine tune your CX combine for optimum performance in any crop or crop condition. A wide choice of grain and corn headers ensure maximum combine versatility.
GREAT HARVEST QUALITY
A clean sample of un-damaged grain kernels and straw quality in line with customer requirements are guaranteed by effortlessly fine tuning the combines many settings. With Opti-Speed™ strawwalker speed control, performance over undulating terrain is now even better.
EASE OF OPERATION
Practical automation of all basic combine functions adds to the operators peace of mind. The overall comfort of the Harvest Suite™ Deluxe cab enhances operator alertness while reducing the need for excessive concentration during the longest working days.
Features
ENHANCED CROP FLOW FOR MORE EFFICIENT HARVESTING
The CX5 and CX6 feed elevator features four chains with connecting slats for improved, continuous crop flow. From the Varifeed™ header through the elevator to the drum, a continuous crop flow is produced. This ensures bunching of crop in difficult conditions is greatly reduced, for more efficient throughput.
FRONT FACE ADJUSTMENT
Available on 6 strawwalker models, the new front face adjusment system allows the cutting angle to be adjusted mechanically to suit different headers or crops for optimized feeding.
FOUR DRUM COMBINING WITH OPTI-SPEED™
New Holland CX5 and CX6 combine models are offered with the four-drum Opti-Thresh™ that adds a Rotary Separator and Straw Flow™ beater. Opti-Thresh adapts to suit a wide variety of crops and conditions, boosting productivity without compromising kernel or straw quality. The design of the adjustable plates on the beater has been improved to further enhance raking of straw from the drum with reduced kernel damage. To further enhance productivity and efficiency, all CX5 and CX6 models are fitted with the same Opti-Speed™ system employed on the larger CX7 and CX8 range. Opti-Speed™ automatically varies the speed of the strawwalkers to compensate for sloping ground. When climbing a slope, the walker speed is slowed to retain straw to ensure remaining kernels are shaken free from the crop residue. When travelling down a slope, the speed of the walkers is increased to help prevent straw falling forward and hindering crop flow. Other developments include a revised beater design, featuring square profile adjustable beater plates to enhance straw rake-off from the drum, reduce kernel damage and perform better in damp conditions.
A STEADY FLOW OF CLEAN GRAIN
The cleaning efficiency of the New Holland CX5 & CX6 combine models matches their high threshing and separation capacity. Large adjustable sieves, moving in opposite directions, and a powerful fan delivering an even distribution of air, are complemented by ingenuous extra features: the Triple-Clean™ cascaded cleaning system, the Smart Sieve™ concept that virtually eliminates side slope effects and the award-winning Opti-Fan™ system that adapts the air flow to the longitudinal slope of the combine.
POWERFUL. RESPECT. FOR YOU. FOR YOUR FARM. FOR THE FUTURE
The CX5 & CX6 combines benefit from the productivity enhancing features of FPT Industrial Nef and Cursor 9 engines, equipped with ECOBlue™ HI-eSCR 2 technology for Stage V compliance. The proven ECOBlue™ technology uses AdBlue to transform the harmful nitrogen oxides contained in the exhaust gas into harmless water and nitrogen. This after-treatment system is separate from the engine which means the engine only breathes clean, fresh air. This results in clean running power units that offer improved performance and enhanced fuel economy.
NEW HARVEST SUITE™ DELUXE CAB
Purpose developed for CX5 and CX6 combines, the new Harvest Suite™ Deluxe cab is 200mm wider and more spacious, an adjustable steering column and smaller steering wheel delivering improved ergonomics and even better visibility over the header. Additional work lights are standard, with detail improvements to include full-width hand rails over the front of the combine to facilitate cleaning through to new control buttons, two USB ports and an optional heated floor mat. Job data recording is now possible via the onboard printer option. The cab volume has increased to 3.7m³ and boasts 6.3m2 of glass, and you can enjoy all that space in the peace and quiet of the near silent 73dB(A) cab. The new automotive inspired interior, features an ultramodern dark grey colour scheme, which has been extended to the headliner, armrest and rear bulkhead. With the new Harvest Suite™ Deluxe cab, there is truly luxury in space.
EFFORTLESSLY MAXIMISING PERFORMANCE
Automation saves time and boosts harvester performance. The multi-function lever on the CX5 & CX6 combine models is the proven CommandGrip™ handle. It is built into the console on the operator's right hand side. The position of this console is adjustable to suit the operator's preference and the CommandGrip™ is a forcebased propulsion handle that always comes back to its most ergonomic position irrespective of forward speed. It provides access to all major controls.
NEW EZ-PILOT™ PRO GUIDANCE SYSTEM
The new EZ-Pilot™ PRO guidance system combines the userfriendliness and integrated feel of the EZ-Pilot™ system with the intuitive functionality of the IntelliView™ IV touchscreen monitor. Mounted on the steering column, the system offers pass-onpass and year-on-year repeatability as high as 1.5cm when used with an RTK correction signal.
Specifications
New Holland CX5.80
| | |
| --- | --- |
| Cutting width: High Capacity grain header (m) | 4.57 – 7.32 |
| Cutting width: Heavy Duty Varifeed™ grain header (575mm of knife travel) (m) | 4.88 – 7.62 |
| Cutting width: High Capacity Hillside grain header (m) | – |
| Knife speed (cuts/min.) | 1150 |
New Holland CX5.90
| | |
| --- | --- |
| Cutting width: High Capacity grain header (m) | 4.57 – 7.32**** |
| Cutting width: Heavy Duty Varifeed™ grain header (575mm of knife travel) (m) | 4.88 – 7.62**** |
| Cutting width: High Capacity Hillside grain header (m) | 4.57 – 6.10 |
| Knife speed (cuts/min.) | 1150 |
New Holland CX6.80
| | |
| --- | --- |
| Cutting width: High Capacity grain header (m) | 4.57 – 9.15 |
| Cutting width: Heavy Duty Varifeed™ grain header (575mm of knife travel) (m) | 4.88 – 9.15 |
| Cutting width: High Capacity Hillside grain header (m) | – |
| Knife speed (cuts/min.) | 1150 |
New Holland CX6.90
| | |
| --- | --- |
| Cutting width: High Capacity grain header (m) | 5.18 – 9.15 |
| Cutting width: Heavy Duty Varifeed™ grain header (575mm of knife travel) (m) | 4.88 – 9.15 |
| Cutting width: High Capacity Hillside grain header (m) | – |
| Knife speed (cuts/min.) | 1150 |