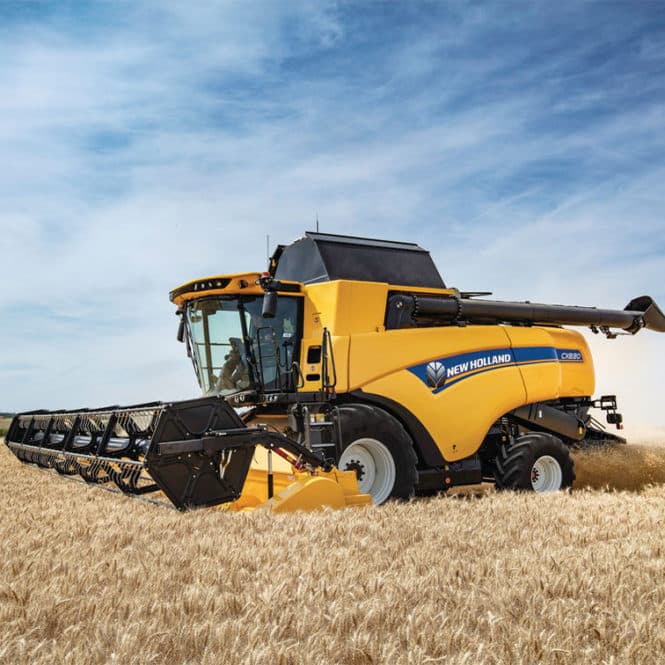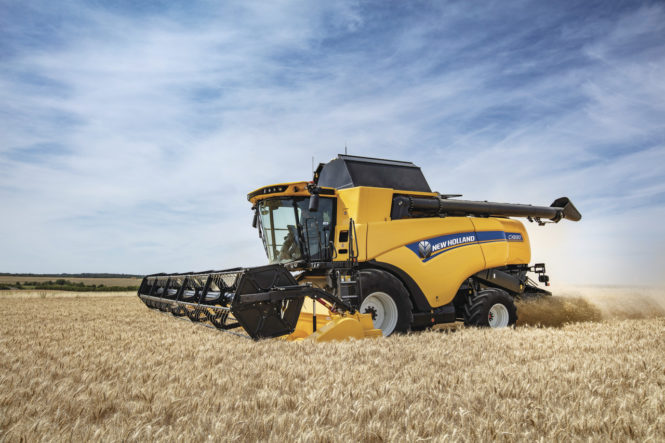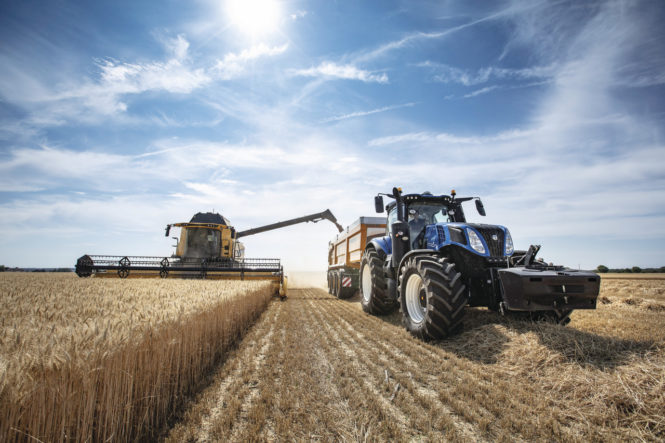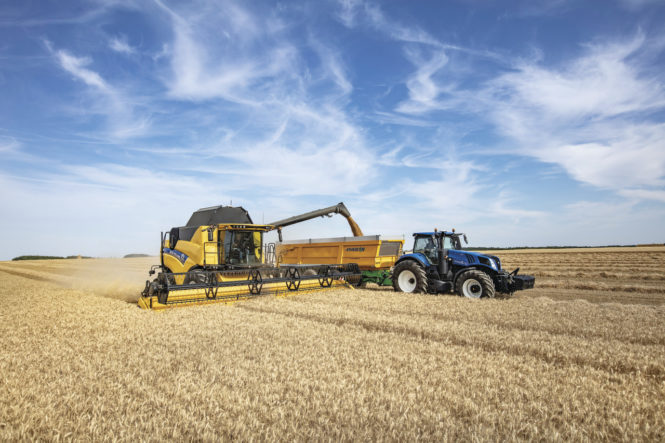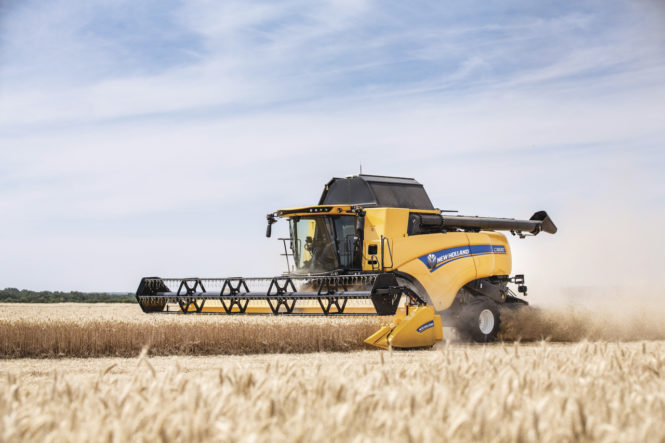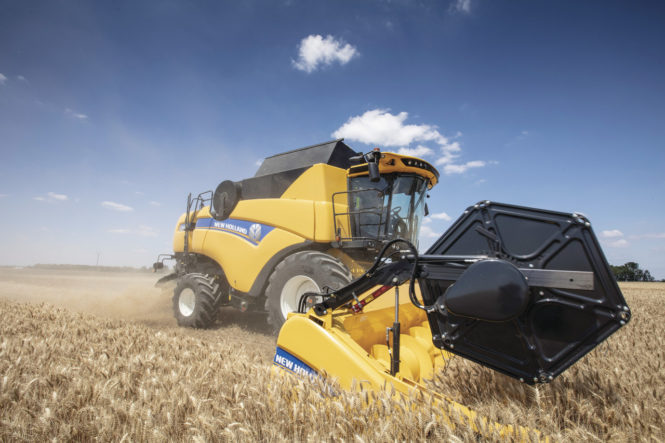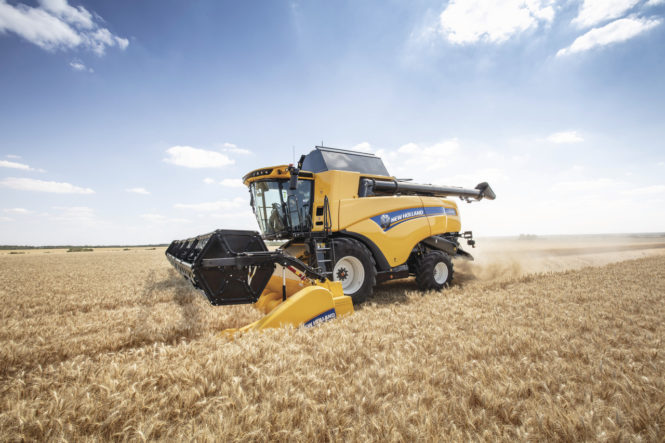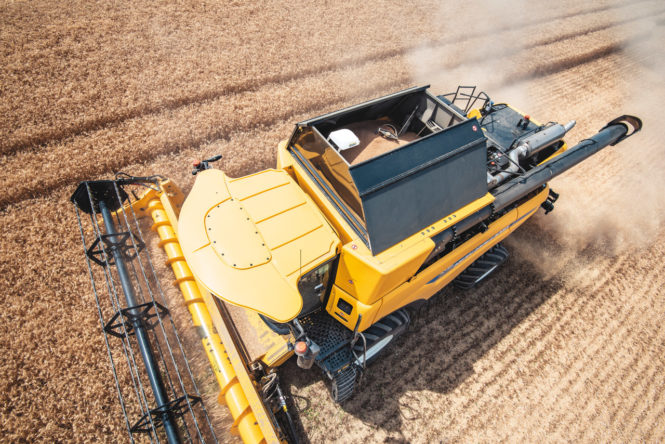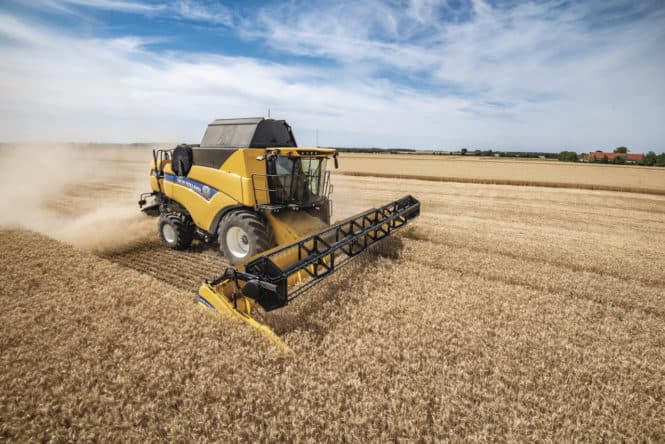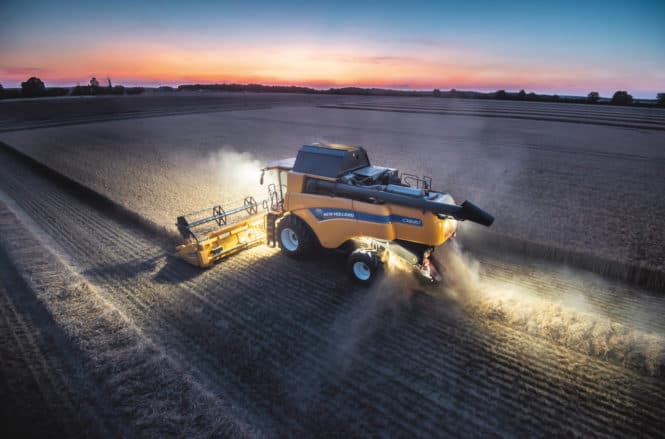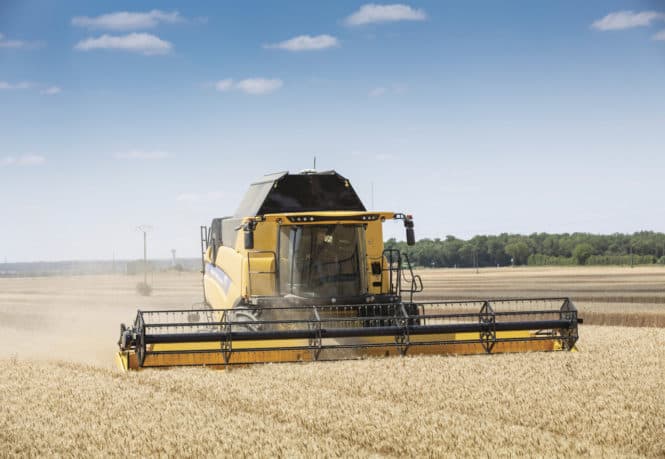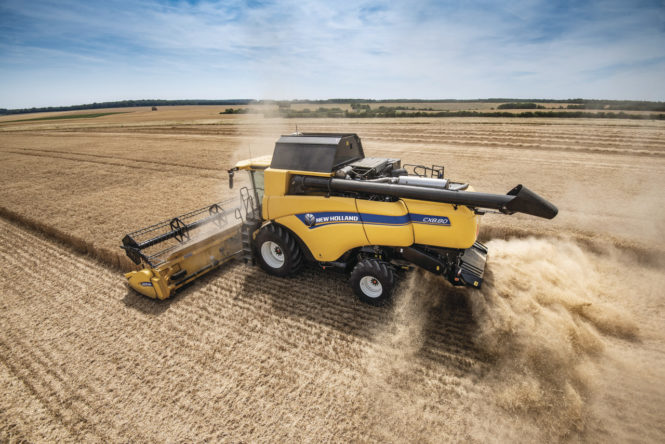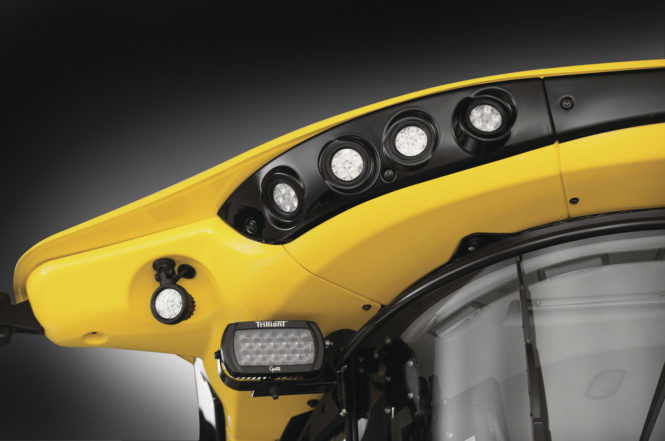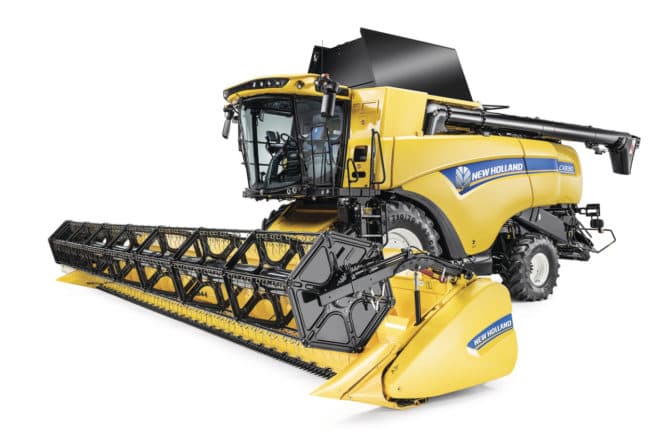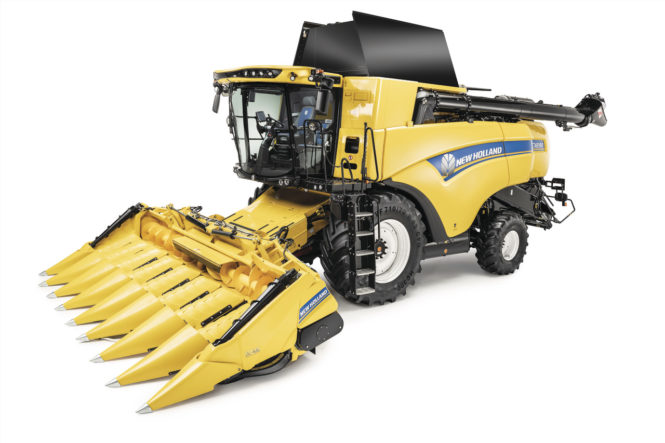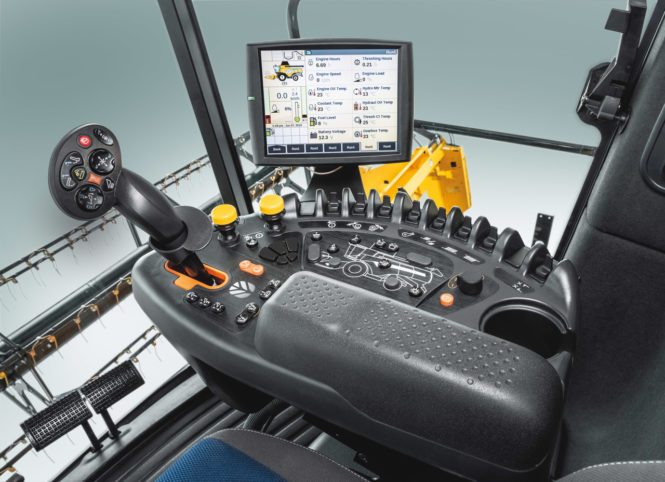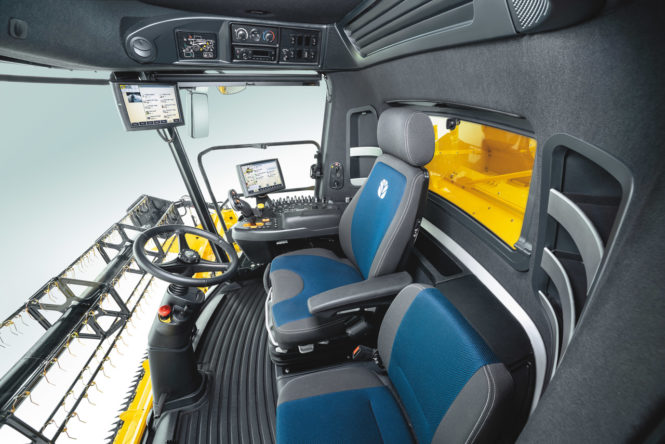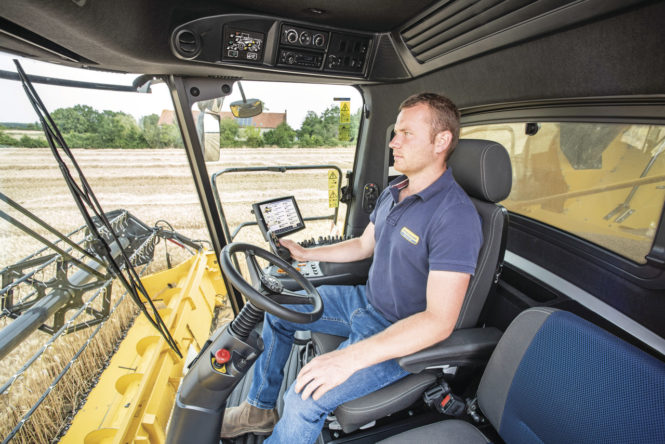 New Holland CX7 and CX8
NEW CX. TONS OF VERSATILITY.
The New Holland CX range has defined super conventional combine harvesting since its launch in 2001, and almost two decades on, New Holland has decided to redefine harvesting productivity. The CX7 & CX8 range delivers super-sized productivity and has further elevated its already impressive capacity. The all new optional, award winning Ultra-Flow™ staggered drum improves threshing performance, with smoother crop flow, quieter operation, reduced fuel consumption and up to 10% capacity increase. Added to this are a host of in-cab controls, allowing management of the rotary separator to give 10% higher daily productivity, the sieve opening and chop or swath selection. These new features are in addition to the industry leading technologies of Opti-Speed™ auto-adaptive variable speed strawwalkers for tailored separation excellence, SmartTrax™, Opti-Fan™ and Opti-Clean™ technology. Your harvest is in safe hands.
OUTSTANDING CAPACITY
The CX7 & CX8 range includes New Holland's most powerful conventional combine, with up to 460hp on tap. The new, optional, award winning Ultra-Flow™ staggered drum improves threshing performance, with smoother crop flow, quieter operation, reduced fuel consumption and 10% higher capacity. The enlarged grain tank, up to 12,500 litres, and increased unloading speed enhance autonomy and harvesting flexibility. Unique in the industry Opti-Speed™ auto adaptive variable speed strawwalkers tailor separation to the individual crop, and offer up to 10% more capacity. Super capacity. Supersized productivity.
SUPERIOR HARVEST QUALITY
The gentle award winning threshing action from New Holland's four drum threshing system gently, yet thoroughly, threshes each and every ear, whilst preserving straw quality. New in-cab controls manage the rotary separator, the sieve opening and the chopping/swathing selection. The powerful combination of Opti-Clean™ and Opti-Fan™ technology delivers clean grain, and has enhanced cleaning efficiency by up to 20%. Super quality. Super-sized consistency.
LOWER OPERATING COSTS
The CX range benefits from industry leading technology for emissions compliance. The entire CX range is fitted with ECOBlue™ HI-eSCR 2 technology to comply with the most stringent Stage V emissions regulations to date and maintains the outstanding performance you've come to expect of the CX range. When combined with long, 600 hour service intervals, and the SmartTrax™ system for reduced soil compaction, more money stays in your pocket.
ABSOLUTE DRIVING PLEASURE
The Harvest Suite™ Ultra cab has been designed to deliver ultimate harvesting comfort and ergonomics. The larger, 3.7m³ cab with 6.3m² of glass, almost 7% more than previous models, means more space and more glass add up to more comfortable and more precise harvesting. At 73dB(A) it is still the quietest cab on the market. The 26.4cm ultra-wide IntelliView™ IV colour touchscreen monitor can be positioned on the ideal viewing arc for every operator. If you are a night time harvester, the LED Lighting package enables true, 24 hour productivity. This is all combined with a new, automotive inspired interior.
Features
ENHANCED FEEDING FOR MORE EFFICIENT HARVESTING
The CX7 & CX8 feeding system has been significantly upgraded to enhance its operation. The feeder now features four chains with connecting slats for improved, continuous crop flow. The elevator is exactly the same width as the main threshing drum for continuous even flow, which prevents bunching, for more efficient throughput. In order to ensure the CX7 & CX8 voracious appetite is satisfied, the speed of the feed elevator has been increased by 5% and now tops 575rpm. Furthermore, the reinforced drives, construction and front face of the cradle have been strengthened to process the largest volumes of harvested crop from the 12.50 metre Varifeed headers.
INTELLIGENT OPERATION
Productive harvesting is a skilled activity which can take many seasons to learn. New Holland has developed technologies which assist operators in assuring efficient and productive harvesting when working in fields with variable yields. New faster responding IntelliCruise™ II technology uses a range of sensors to automatically optimise the CX's performance.
BEST-IN-CLASS THRESHING PERFORMANCE
Threshing is key when it comes to making every grain count. Thanks to the four drum technology gentle, yet efficient threshing is guaranteed. The huge threshing drum featuring a diameter of 750mm threshes even the toughest ears at an unbeatable rate. The 111° wrap angle enhances separation and also delivers acres of concave space: 1.18m2 on six strawwalker models and 0.98m2 on five strawwalker variants. Tough on threshing. Gentle on the crop. Your passport to unsurpassed productivity, grain quality and straw quality!
OUTSTANDING CLEANING PERFORMANCE
Every farmer knows that clean grain is profitable grain. That is why the CX7 and CX8 delivers the segment's cleanest grain sample. The New Holland exclusive Opti-Speed™ variable speed strawwalker system uses auto-adaptive technology to ensure precision separation of all grains, in all crops and in all conditions. Continual dialogue with the award winning Opti-Clean™ and Opti-Fan™ systems ensure that every grain is a clean grain. Super cleaning performance. The CX7 and CX8 has got it covered.
HIGH VOLUME GRAIN MANAGEMENT
The 12,500 litre grain tank, which is now produced in New Holland trademark harvesting yellow, on the CX8.90 can hold 9% more grain than the previous model. Electronically folding grain tank covers come as standard and are activated from the comfort of the cab. Further benefits include reduced grain losses when working on steep inclines and grain is also protected during overnight storage. The bubbleup auger evenly distributes grain in the tank and renders air pockets and grain banks a thing of the past.
A NEW BENCHMARK FOR HARVESTING COMFORT
The CX7 and CX8 range of combines offers you a home away from home during long harvesting days. The Harvest Suite™ Ultra cab is completely new from the floor up and is the fruit of extensive customer consultation. The cab volume has increased to 3.7m³ and boasts 6.3m2 of glass, 7% more than previous models. You can enjoy all that space in the peace and quiet of the near silent 73dB(A) cab. The new automotive inspired interior, features an ultramodern dark grey colour scheme, which has been extended to the seat, headliner and armrest.
SMARTTRAX. REDUCED COMPACTION. SUPERIOR COMFORT.
The SmartTrax™ system has been engineered by design to offer 57% reduced ground pressure thanks to its triangular structure for improved traction and reduced compaction.
NEW HOLLAND GUIDANCE SYSTEMS TO MATCH YOUR NEEDS
A full range of guidance solutions are available from New Holland and include manual, assisted guidance and fully integrated guidance. You can even specify your CX7 and CX8 with fully integrated IntelliSteer® auto guidance direct from the factory to start saving money from your first run. Fully compatible with the most accurate RTK correction signals, IntelliSteer can guarantee pass-to-pass and year-to-year accuracy as low as 1-2cm. SmartSteer™ crop edge guidance and automatic row guidance for maize headers are just some of the numerous options which are designed to increase your harvesting efficiency and productivity.
Specifications
New Holland CX7.80
| | |
| --- | --- |
| Cutting width (m) | 4.57 – 7.32 |
| Number of Strawwalkers | 5 |
| Graintank (l) | 9000 |
| Max. engine power @ 2000rpm – ISO 14396 – ECE R120 [kW/hp(CV)] | 250/340 |
New Holland CX7.90
| | |
| --- | --- |
| Cutting width (m) | 5.18 – 7.32 |
| Number of Strawwalkers | 5 |
| Graintank (l) | 10000 |
| Max. engine power @ 2000rpm – ISO 14396 – ECE R120 [kW/hp(CV)] | 275/374 |
New Holland CX8.70
| | |
| --- | --- |
| Cutting width (m) | 5.18 – 9.15 |
| Number of Strawwalkers | 6 |
| Graintank (l) | 11500 |
| Max. engine power @ 2000rpm – ISO 14396 – ECE R120 [kW/hp(CV)] | 275/374 |
New Holland CX8.80
| | |
| --- | --- |
| Cutting width (m) | 6.10 – 9.15 |
| Number of Strawwalkers | 6 |
| Graintank (l) | 11500 |
| Max. engine power @ 2000rpm – ISO 14396 – ECE R120 [kW/hp(CV)] | 305/415 |
New Holland CX8.90
| | |
| --- | --- |
| Cutting width (m) | 6.10 – 9.15 |
| Number of Strawwalkers | 6 |
| Graintank (l) | 12500 |
| Max. engine power @ 2000rpm – ISO 14396 – ECE R120 [kW/hp(CV)] | 338/460 |